Is Having a Car on Campus Worth It?

Having a car on campus can be a great asset. Whether you picture yourself shepherding all your new college friends around town or easily visiting your family on holiday breaks, owning your transportation can open a world of opportunity.
But there are some potential downsides to bringing your vehicle to campus. After all, having a car means you have to find somewhere to park it!
Before you bring your car to campus, consider these pros and cons.
Pros of Having a Car on Campus
When you pictured yourself going to college, did you envision driving around town with your new friends, attending events and exploring? With your own vehicle, all of that is possible! There are several benefits to having a car on campus, including the following.
Convenience
Want to get some groceries? How about picking up some textbooks? The ability to get around town and run errands without having to walk, bike, or take a bus is hard to beat. Having your own vehicle makes it easier to accomplish everyday tasks.
Independence
Inevitably, there will be some activities that require transportation. You don't have to pester your friends for rides if you have your own car. You can go where you want, whenever you want. This also means that if you need a break from campus, you can do so whenever.
Travel
Owning a vehicle also means you can travel and explore beyond campus. If you want to visit your family around the holidays or even just on a random weekend, you can if they are within driving distance. You can also plan fun road trips with your friends!
At USF, the ability to travel by car means the opportunity to explore the greater Tampa Bay area and the whole South Florida region. Our Gulf Coast location puts you in short driving distance to top-rated beaches, world-class museums, and pro sports games. You can also reach theme parks like Busch Gardens, Walt Disney World, Legoland, Universal Studios, and more.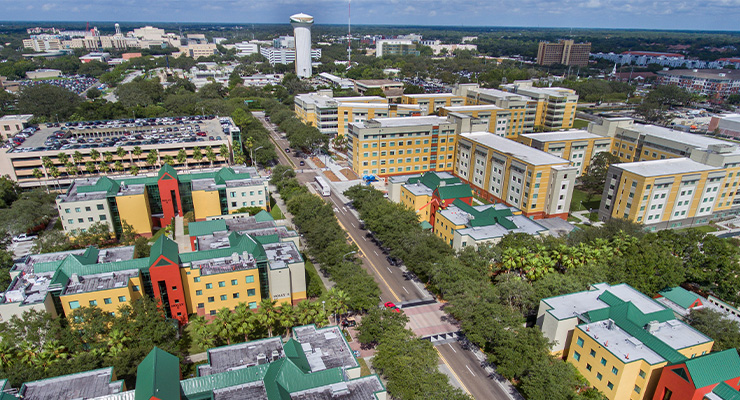 Job and Internship Opportunities
If you have your own transportation, getting an internship or job off campus is a lot easier. Having your own transportation opens the doors to a broader range of professional options — you don't have to choose what's right around campus.
Cons of Having a Car on Campus
Bringing a car to campus might seem like the default option for you, especially if you already own a vehicle. Or, if you don't, it might seem like a great excuse to acquire one. However, having a car on campus does have its downsides, including the following.
Chauffeur
Since not everyone will have transportation, you may become the chauffeur to all your friends — people may ask you for rides on a regularly. While it's nice to transport your friends around with you wherever you all want to go, having to schlep people around can be inconvenient, especially if they don't contribute to gas or parking fees.
Cost
Speaking of costs, having a car can be expensive. Gas, parking, permits, maintenance, licensing, taxes, registration, payments, insurance — all of these expenses can add up. Finance website Money Under 30 estimates that having a car on campus costs around $1,125 per year, and that doesn't include your monthly payments. And, if you get into an accident or something else happens, it can be an unexpected large expense. If you're looking to cut costs in college, not having a car is a way to potentially do so.
Parking
Even if you have a parking permit, finding parking on campus can be very difficult. Having to deal with that every time you want to go to class can be stressful, especially if you're commuting to campus.
Responsibility
Having a car in college means that you have to be a responsible driver. That requires you to be sober when driving. While you may think, "I'd never drive drunk," the research shows that college drinking and driving is a big problem. According to College Drinking Prevention, 1,519 college students between the ages of 18 and 24 die from alcohol-related unintentional injuries, including motor vehicle crashes.
Even if you're not a big drinker, being a responsible driver also means you don't want to put yourself at risk of drowsy or distracted driving, either.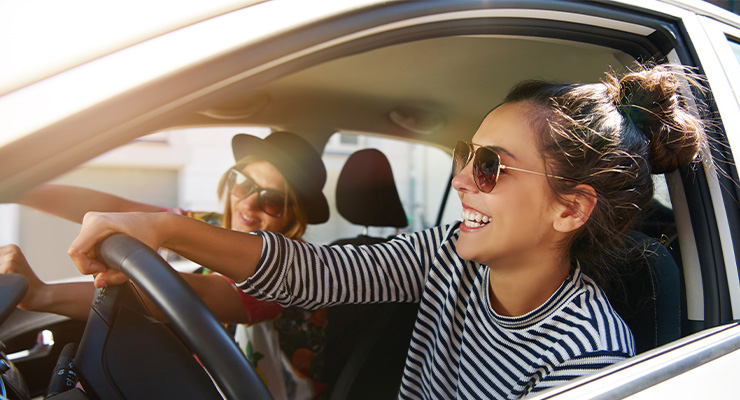 Distraction
Transportation provides independence, but it also means that you can be easily distracted since there are so many places you can go. If you don't have a car, that may help you focus on school instead of traveling or driving around to different social activities.
Questions to Ask About Having a Car on Campus
In addition to evaluating the pros and cons of having a car on campus, you should ask the following questions before you make a decision.
Are You Allowed to Have a Car on Campus?
Some colleges don't permit freshmen to have a car on campus. To make sure you are allowed to do so, conduct a quick Google search for "[your school] [your year] parking." This will typically result in the school's permit and transportation page.
USF allows resident and non-resident students to have cars on campus. The permit types are different depending on your residency status. Learn more about USF's parking and transportation services here.
What's the Public Transportation Like?
If you're going to college in a city with a lot of public transportation, such as New York City or Chicago, it might not make sense to own a vehicle because most people there don't even own a vehicle. However, if you're moving to a town that doesn't have a lot of public transportation options, it might be practical to have a car.
Does the College Offer Transportation?
Knowing what transportation is offered on campus can also help you determine if having a car will be worth it.
At USF, students have the following transportation options:
The USF Bull Runner® Transit: This shuttle bus provides transportation through campus and locations off-campus, including a local grocery store, the University Mall, and off-campus apartment complexes, seven days a week.
HART (Hillsborough Area Regional Transit) Bus: Students can use their USF ID to travel through Hillsborough County on the bus.
Bicycles: Many students use bicycles to get around on campus. There are bike racks located throughout campus, including by residence halls, most buildings, and on the Bull Runner buses. Students can also register their bikes with the BAT (Bicycle Anti-Theft) Program for free.
Can You Afford a Car?
As mentioned above, cars are expensive. Will you be able to afford everything required to own and maintain a car while you're a student? If you are dealing with a tight budget, it might not be worth it.
Will You Be Living On or Off Campus?
If you're living on-campus, you may find that you don't need transportation as much as someone who lives off-campus. And vice versa — if you're living off-campus, you may prefer to have a vehicle to commute to campus even if you live within walking distance in case of poor weather.
Is Having a Car at USF Worth It?
If you're planning on going to USF, you'll have to decide if having a car is the right choice. Here are some handy links if you want to learn more about parking and transportation around campus: