Try These Easy Microwave Meals for College Students

College students need more time. In fact, college becomes a study in how to save time while getting things done. The answer, too often, is eating on the run. If you're trying to get by on vending machine snacks and Red Bull gulped on the way to class, your health and grades are doomed. If you want to burn beneficial calories without burning too much time, try these easy microwave meals for college students.
First, a Look at Necessary Tools and Skills
If you can read a recipe and hit the start button on a microwave oven in a public-use kitchen area, the adventure can begin now. Some of you, however, might want to be able to prep and eat a meal in your personal living space. A small fridge and microwave won't set you back too much, and you would be amazed at what can be done with a microwave, a mug, and a spork.
Comfort food was the inspiration for the sample menu that follows. That's because comfort food is a plus when distance and academic duties keep you from sharing a table with family and friends. And the recipes for these side dishes, entrée, and dessert prove that you don't need a bundle of cash, a pantry, and a full complement of kitchenware to microwave meals for college students.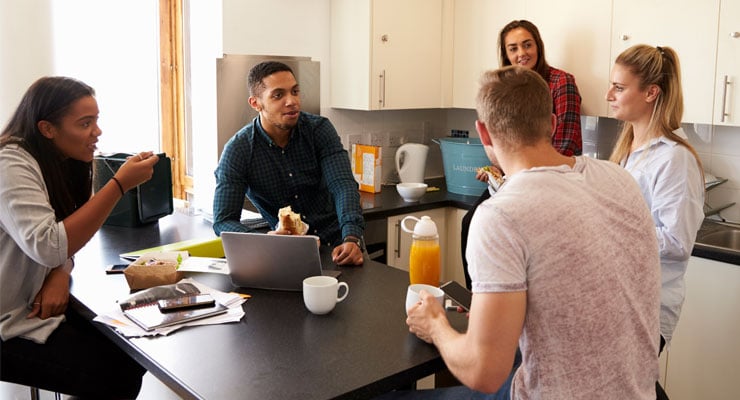 Corn on the Cob
You don't have to be from the Corn Belt to love corn on the cob, and you don't have to be in a hurry to love this microwave recipe. After four minutes (or less) in a microwave, an unshucked ear of corn is steamed and ready to eat.
If you have ever boiled, shucked, and picked the silk off an ear of corn, this how-to video will earn a whispered wow. Those who love to save time and aren't fans of nitpicking corn silk will add a few decibels to the wow.
This microwave recipe received a 5-star review, and it's a simple trick that will save you time.
Baked Potato
An online post labeled 23 Dorm Room Meals You Can Make in a Microwave includes a recipe for a sweet potato stuffed with broccoli and cheese.
Prefer regular potatoes and don't care for broccoli? Tweak the recipe. You could even go minimalist, a plain spud with butter. Or you could add a bit of milk and butter, break out a potato masher, and go old school with mashed potatoes.
Baking potatoes in the oven can take a hour or more, but with this easy tip, you'll have tasty baked, microwaved potatoes in no time.
Meatloaf
Yes, microwaved meatloaf. In fact, it's microwaved Meatloaf in a Mug.
And it doesn't get much simpler than this. There are six ingredients. It only takes six minutes to prepare, and three of those minutes are for cooling. Easy comfort food is only a microwave away.
This recipe has a nearly five-star rating, and it's fitting that the provider is Taste of Home.
Cheesecake
Don't wash your spork until you decide whether to have dessert.
Cheesecake in a Mug is a thing, and this version only has five ingredients – seven if you top it with a Vanilla Wafer and blueberries. It's simple, affordable, and a time saver.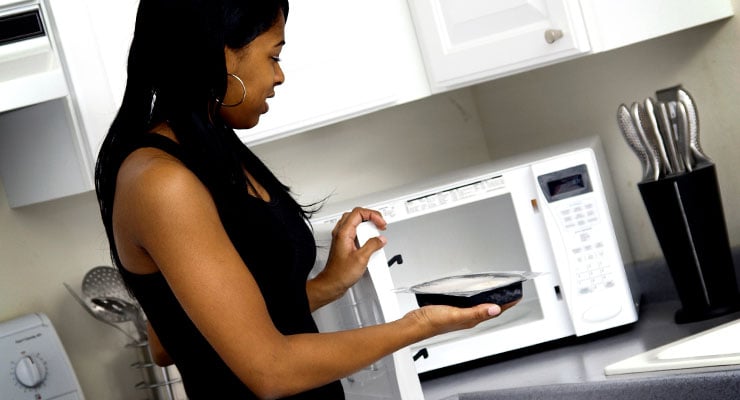 College Housing Rules Apply
The first rule of cooking in college housing is to know the rules. For example, per USF Housing rules, cooking "is strictly prohibited in bedrooms or suites, but may be done in designated cooking areas in each building and within apartments that contain a kitchen area."
The bottom line: Follow the rules and the recipes to put comfort food within easy reach. USF doesn't limit itself to making rules, it also helps with recipes and, if you're financially strapped, food. Plus with a variety of on-campus dining experiences suited to fit the needs of all kinds of students, including those with food allergies, USF Dining Services has something for everyone.
Life as a USF Bull is within reach. Our USF admissions advisors are happy to answer your questions about the USF admissions process, so contact us online or by phone at 813-974-3350.