What to Bring to College: Packing for Success

Starting college can be a daunting experience. You'll find yourself juggling a whole new routine in a strange place surrounded by people you don't know. The adjustment period can be particularly difficult if you're living on campus, which presents its own set of challenges. That's why it's so important to get off to a good start by carefully planning those things you can control. And at the top of the list is what to bring to college. We teamed up with USF Housing & Residential Education to make your move-in day as easy as possible.
5. Find Out What's Provided
When you move into your new college residence hall, it's probably going to have some basic furniture: bed, dresser, desk, and chair. That's about all you should expect, though. Everything else is up to you to remember. That includes shoes and clothing, medicine, toiletries, decorations, and any other miscellaneous items. Some common class supplies USF recommends are pens, pencils, highlighters, notepads, a calendar, sticky notes, a calculator, a flash drive, and your computer or laptop.
Much of what you'll bring depends on your living accommodations. Are you moving into an on-campus residence with a shared kitchen like you'll find at USF's Summit Hall? You'll probably want to bring some basic kitchen supplies to make use of the cooking spaces. If you're moving into a more traditional residence hall without kitchen access, you can leave your dishware and cooking items at home.
Of course, there's a lot of items you're going to need regardless of where you'll live. At the top of this list is laundry, cleaning, and bathroom supplies. Don't forget to bring the correct size sheets, which are usually twin XL. You'll also want to pack your backpack, sunglasses, umbrella, prescription medicines, flash light with batteries, and a small first aid kit. Again, the supplies you bring will depend on your type of housing. A good rule of thumb, though, is to remember that the more independent the living space, the more items you'll have to supply yourself.
4. Consider Your Space
Remember that your new living space, whether on campus or off, will probably be smaller, so you can't bring everything you own to college. Packing for success in college includes taking a good look at what you'll actually need, and then leaving the rest home.
Residence halls may offer limited closet and storage space. The last thing you want to do is to take up valuable living space with some items you won't need. The first way to keep your clutter in check is to leave home any duplicate items. Next, zero in on anything you're bringing "just in case," and consider leaving these items home. If you end up needing them, plan on buying them once you get to college and only if they are necessities.
Remember, you're probably sharing this space with someone you've never actually met before. Be considerate of their comfort, too. And while we're on the topic of roommates…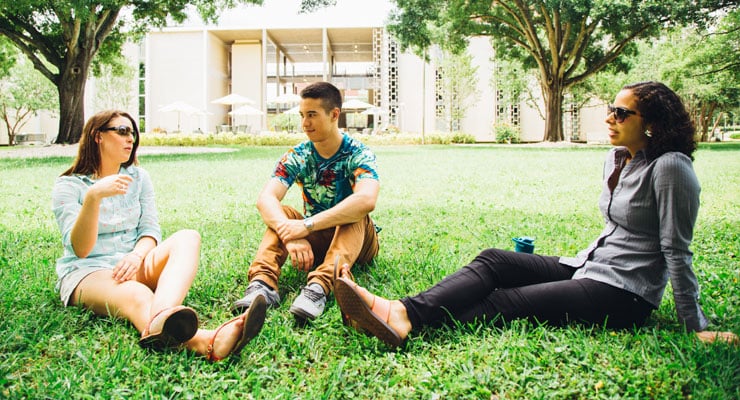 3. Coordinate Packing with Your Future Roommate
Colleges connect you with your future roommate to give you the chance to introduce yourself and discuss your typical routine, including preferred quiet hours and bedtime. Don't forget to use this time to determine the items you want to bring and which to leave home. Discuss any items you both planned on bringing but really only need one of. Remember, space may be tight, so duplicate items may be a waste.
This is also a great time to discover a little more about your future roommate that he or she hadn't shared on the housing application. For instance, you may discover a disconcerting love of music if you're notified a full drum set is on its way. This is a great time to head off any potential conflicts before they appear.
2. Keep Your Hobbies in Mind
Like to stay active by playing sports? A lot of colleges allow you to rent equipment. At USF, our Campus Recreation Center lets you check out a variety of sporting goods and accessories. However, it's always good to double check what your college offers and bring any specialty equipment not available.
This goes for any other hobbies you enjoy, including arts, music, and gaming. While college courses are demanding and will keep you busy, you'll also have downtime, so make sure to bring what you need to enjoy yourself when you're not studying.
1. Leave Prohibited Items Home
You can't discuss the items to bring to college without sharing the ones you definitely need to leave behind:
Knives, firearms, and weapons of any kind
Illegal drugs and drug paraphernalia
Anything that could pose a fire hazard, such as incense, candles, and space heaters
Pets are generally not allowed either, but double check your college's rules and regulations
Important legal and financial documents
Always check with your college's Housing department if you have questions about what to bring or what to leave home.
Watch Our Vlog About What to Bring to College Here
Check out our vlog about what to bring to college and be sure to download our free move-in checklist for a detailed breakdown of all the items you may need.
Plan Your Packing with USF's Move-In Checklist
Still have questions about the specific items you should bring to college? If you require special accommodations, let your college know ahead of time. You may need to provide certain documents to help you attain the housing accommodations you need.
Download our free USF Move-In Checklist below.
If you have questions for USF Housing & Residential Education, don't hesitate to reach out to a USF Housing team member for the answers you need or call 813-974-0001.