What to Know Before Joining Greek Life

Maybe you're a fan of secret handshakes. (I mean, aren't we all?) Or maybe you like the idea of having a big extended family of "brothers" and "sisters" on campus. Whatever it is, you're intrigued by your college's fraternity or sorority, but you're not ready to rush just yet. Here's what you should know before joining Greek life.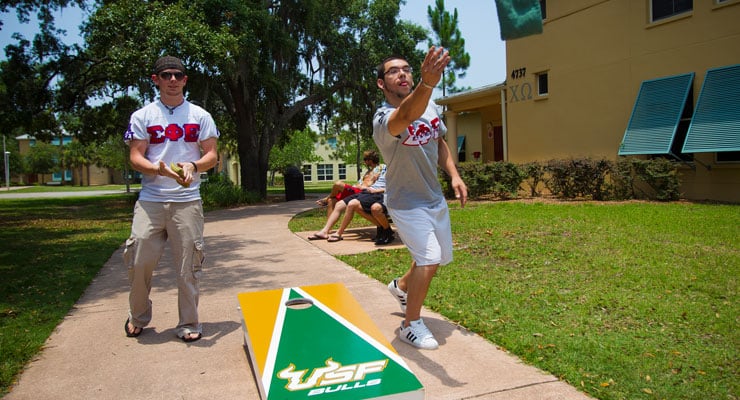 A (Very) Brief History of Greek Life
Cue the "Hamilton" score: Greek life was born the same year as America. During the Revolutionary War, a group of students gathered in a tavern to form a secret society. The founders of Phi Beta Kappa "believed that a new nation required new institutions," and they wanted a place where they could freely debate "any topic they chose." (You can picture them chanting "My Shot" while inventing their special handshake, right?)
In the 1800s and 1900s, women and minority groups formed Greek organizations, which served as crucial support systems:
Today, sororities and fraternities are a huge part of both the college experience and American society, with many of our national leaders hailing from Greek life.
The Basics of Greek Life
Greek life is organized into local and national sororities and fraternities.
Greek Life has different types of fraternities and sororities.
Your interests and accomplishments will determine which kind you join:
Social: Designed to help you get involved on campus, social groups are usually divided by gender: Fraternities are all male and sororities are all female.
Multicultural: Emphasizing diversity and an exchange of cultures, these societies "have a less formal recruitment process" than social groups.
Honor: Unlike social fraternities and sororities, honor societies are often coed. Students are usually invited to join because of academic achievement. Phi Beta Kappa is an example of a prestigious honor society.
Service: These chapters are specifically focused on making an impact through service and leadership.
Professional: Often coed, these groups are based around "common professional and academic interests."
Greek life has its own lingo.
Learn to speak Greek with these definitions from USF's Center for Student Involvement:
Brother: A term used by members of a fraternity when referring to one another
Sister: A term used by members of a sorority when referring to one another
Legacy: A potential/new member whose grandparent, parent, brother, or sister is a member of a fraternity/sorority
Bid: An invitation to become a member of a fraternity or sorority
Pledge: A person who has accepted a bid from a fraternity or sorority or who is trying to join a fraternal organization
Greek life requires a complicated process to join.
"Rush" is the recruitment process for sororities and fraternities. Think of it like dating: Both you and the organization need to feel you're the right match. You'll get to know each other through parties and dinners, tours of the fraternity/sorority houses, and interviews or informal conversations.
To boost their chances of acceptance, some sorority hopefuls go so far as to hire consultants – sometimes costing thousands of dollars – to prep them on everything from small talk to attire. You don't need to do that. Just be yourself, and be professional. (Your school's career services center can help you practice the art of professionalism. And they don't charge thousands of dollars.)
If the fraternity or sorority accepts you, they will offer you a bid. But getting accepted goes beyond being liked. You will probably be required to have (and maintain) a certain GPA. And you should prepare for Greek life's price – from a couple hundred dollars "to more than $3,000 a semester," according to U.S. News & World Report.
If you aren't accepted, don't take it too hard. You will have plenty of opportunities to get involved in other campus organizations.
Benefits of Greek Life
In pop culture, Greek life equals a party scene. (To be called a "frat boy" is not a compliment.) It's true that many chapters have earned this reputation. But if you want to join a fraternity or sorority, there are plenty of good ones. Just look at these positive stories:
Stereotypes abound, but good fraternities and sororities are breaking free of them. "Contrary to negative headlines and popular opinion, many fraternities are encouraging brothers to defy stereotypical hypermasculine standards and to simply be good people," explains this New York Times article. The article cites a study that shows some fraternities are "embracing 'a more inclusive form of masculinity,' based on equality for gay men, respect for women, racial parity and emotional intimacy."
Meanwhile, young women are breaking free from sorority stereotypes and reframing their groups as feminist organizations with the capacity to impact their world. As one former sorority sister says, "I … found myself around some of the strongest, most ambitious and now most successful women I could imagine, both in my own house and across the Greek system."
Greek Life Can Enrich Your College Experience
When you join Greek life, you'll find: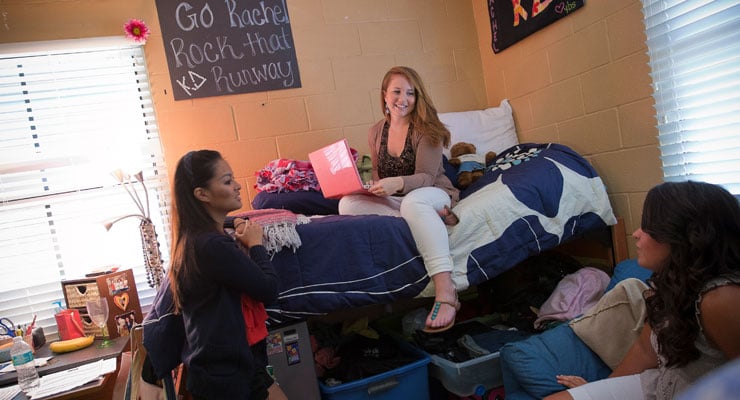 The Risks of Greek Life
Despite its many perks, Panhellenic life has a dark side, and it's serious enough that some people have called for fraternities and sororities to be abolished altogether.
How to Minimize Your Risks
If you're still interested in Greek life, there are ways you can minimize the potential risks.
Don't Join Greek Life Too Soon
Be honest with yourself about your time management skills. Greek life requires a big time commitment, so try not to join "too early in your first year."
Do Your Research
You want to choose the chapter that makes headlines for the right reasons. Before you pledge, put on your detective hat:
Look at the scorecard for the fraternity or sorority and make sure it's in good standing with the university. (You can find USF's Greek life scorecard here.)
Talk to trusted peers and faculty about the chapter's reputation. You can ask, "Have you ever interacted with this chapter? What is it most known for?"
Reach out to the campus newspaper: If anybody knows what's going on behind the scenes, it'll be the student journalists. A good question: "Is this chapter known to participate in hazing?"
Do a Google search. Is the fraternity or sorority implicated in any lawsuits?
Investigate the chapter's stance on hazing. Does it work to prevent it?
Evaluate the chapter's programs. For example, a good fraternity should provide mandatory training on topics such as sexual consent.
Assess the diversity of the chapter members. Is this an inclusive group that embraces people of different races, socioeconomic backgrounds, and sexual orientations?
Look at the fees. National fraternities/sororities are more expensive than local ones. But the price may reveal even more information: Higher fees could indicate higher insurance costs, which signals a reputation for trouble. "The main cause for the price differences between Greek organizations, especially those on the same campus, is the amount of dues that go toward the national organization insurance bill," explains this Best Schools article. "Organizations that have banned alcohol from their events will often charge a lower annual bill to members. By contrast, organizations that have a history of alcohol- or hazing-related violations or fatalities will usually pay astronomical amounts for insurance."
Understand the Dangers of Hazing
Hazing doesn't always begin with someone blindfolding you. Sometimes it seems innocent – like being asked to eat an extra spicy pepper. But seemingly harmless rituals can quickly escalate into sinister, even deadly, situations. Never tolerate hazing, in any form. Here's what you can do:
Know what hazing means. Hazing is defined as "any action taken or any situation created intentionally that causes embarrassment, harassment or ridicule and risks emotional and/or physical harm to members of a group or team, whether new or not, regardless of the person's willingness to participate."
Evaluate potential hazing situations. The organization Hazing Prevention suggests you ask yourself questions such as, "Is this causing emotional or physical distress or stress to myself or to others?" And the real kicker: "What if your parents saw you right now?"
Report hazing. You can start by talking to your parents, your campus counseling center, or a trusted faculty mentor. You can also call a hotline.
If you've experienced hazing, reach out to your campus wellness center for emotional support.
Should You Join Greek Life?
Greek life is a great way to make friends, expand your network, and affect your community, but it's not the only way to get involved on campus. Take some time to explore other campus clubs. The more options you have, the more likely it is you can evaluate sororities and fraternities with an unbiased gaze. You'll also be prepared with a backup plan if you aren't offered a bid.
As you make your final decision, ensure Greek life aligns with your academic and life goals, and evaluate the pros and cons of your potential fraternity or sorority. Whatever you choose, your college will be there for you with a wealth of resources and support staff who can guide you.
Questions about college life? Reach out to the USF Office of Admissions online or by phone at 813-974-3350. We're ready to help.