8 Ways to Have Summer Break Fun While Social Distancing

2020: What a weird summer. Our typical August activities — pool parties, afternoon movies in air-conditioned theaters, cross-country trips — aren't possible in a pandemic. Instead, we're spending a lot more time at home. Does that mean our last few weeks of summer are ruined? Not at all. It just means our entertainment has to get more creative. Check out our list of eight ways to have summer break fun while social distancing.
The Summer of Social Distancing
Social distancing is one of the most effective ways we can save lives during COVID-19, but it's not easy. Breaking our quarantine for just one night to hang out with friends is enough to get us sick (or spread the infection to many others as a "superspreader"). People can be highly infectious without any symptoms, which is why medical experts warn against seeing friends even if everyone seems healthy.
Basically, social distancing means limiting in-person contact with people you don't live with by adhering to some rules on socializing and leaving the house:
Hang out with friends virtually.
Avoid large gatherings of people.
Opt for outdoor activities (like a walk in an uncrowded park) over indoor ones (like a party or a bar).
Use curbside pickup or delivery services instead of entering stores.
If you can't avoid being in public, stay at least 6 feet away from others. (The more distance you put between yourself and another person, the safer you are.) This CDC article on masks also recommends you wear a mask and avoid touching your face. This helps keep you and others safer.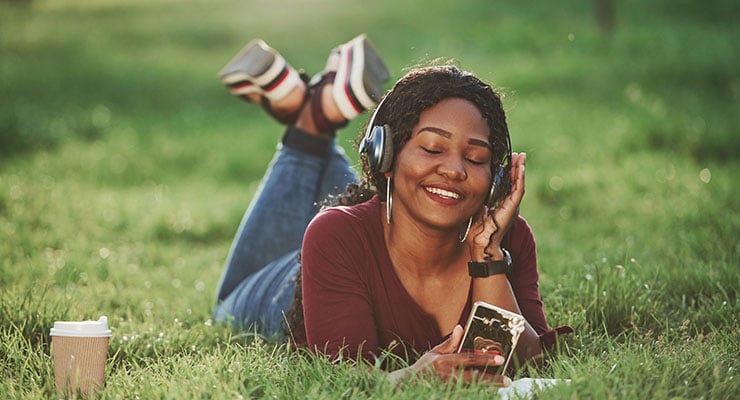 8 Ideas for Summer Fun
If you're like us, you've already run out of things to watch on Netflix and you've baked enough bread to be Pepperidge Farm. Don't worry. There are plenty of other quarantine-approved activities to enjoy over the next few weeks.
Embrace Hygge
The Danish concept of "hygge" is perfect for social distancing. It means "a feeling of cozy contentment and well-being through enjoying the simple things in life," which basically defines our current existence. Here's how to live your best hygge life the rest of this summer:
Decorate. Start by removing clutter and replacing it with coziness. Create warm lighting by placing twinkle lights in mason jars. Soft blankets, squishy pillows, and fluffy rugs will make your space feel as cozy as it looks.
Dress. You've been social-distancing long enough to have this one down already: Wear your favorite sweatpants and thick socks, and you're Hygge-approved.
Eat and Drink. Relax with a cup of English breakfast tea and a baked good.
Connect. Hygge is all about authentic connections with loved ones. Host virtual game nights through Zoom or write your BFF a snail-mail letter.
Bring the Beach to Your Backyard
Going to the beach is a lower-risk activity, especially if you wear a mask and stay away from others. But if the shoreline is too far away (or too crowded), you can bring it to your backyard.
Slather on the sunscreen. It just smells like summer, doesn't it?
Cool off in a wading pool. Let's face it, the best part of the beach is dipping your toes in cool water on a sweltering day. You can replicate that feeling with one of the many inflatable kiddie pool options available online. (Remember to dump out the water each day so mosquitoes don't find your quarantine haven.) Bonus: No sharks!
Bring a cooler. Beach snacks are half the fun. Stock a cooler with your favorite treats, whether ice-cold tea or salt-and-vinegar chips.
Set the mood. Cue up a playlist of "ocean sounds" on a portable radio, close your eyes, and relax.


Cook
Let's be real, summer treats are the new sourdough.
Lemonade. You can whip up this lemonade, sweetened with homemade simple syrup, in just 15 minutes.
Ice cream. Spend five minutes shaking a few ingredients (heavy cream, granulated sugar, vanilla extract, and salt) in a mason jar. Freeze for a few hours. Enjoy.
Guacamole. Cumin, cayenne, and jalapeno pepper add some kick to this creamy dip, which you can put together in 20 minutes.
Listen
Compile a playlist worthy of a summer road trip (even if you're only driving around the block). We'll get you started:
Love You by The Free Design. For when you want to remember the joy of those childhood summers.
Make Your Own Kind of Music by Cass Elliot. When you want to dance to your own beat.
August by Taylor Swift. Who needs to leave the house when we can just stream Swift's new album nonstop?
Relax
Use the slower pace of quarantine life to de-stress and connect with yourself.
Meditate. Learn the basics by downloading a meditation app.
Journal. Spend a few minutes each day processing your emotions by journaling what you're grateful for, what you're afraid of, and what you hope for your future.
Treat yourself. Whether that involves transforming your bathtub into your own personal spa or just indulging in a much-needed nap, take this time to escape the stresses of the world around you.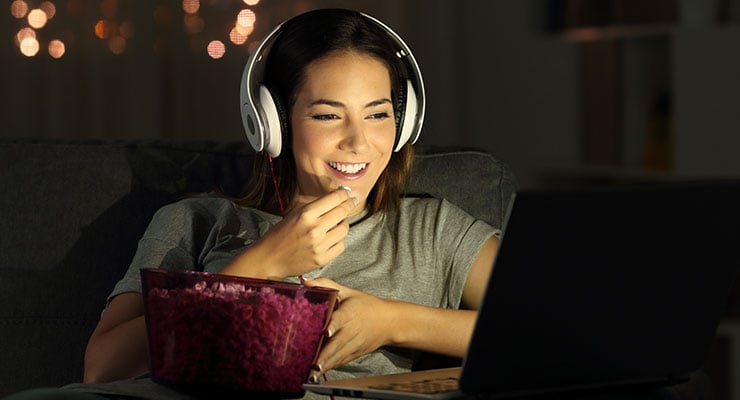 Have a Virtual Movie Night
A movie night is one of the easiest ways to connect with your BFF virtually. Use an online streaming service like Netflix Party or Amazon Watch Party so you can both stream content at the same time.
If you've already watched everything there is on streaming services, we've got you covered with these hidden gems:
Being Human. Part comedy, part campy horror, this obscure BBC Three show follows three housemates: A werewolf, a vampire, and a ghost who are trying to lead "normal" lives in Bristol, England. The show is at its best when it combines the supernatural with the mundane (i.e., the ghost constantly makes tea she can't drink and leaves it about the house, maddening the werewolf). If you wished that Twilight was just a little funnier and more British, this is the show for you. Available on Amazon Prime.
Unorthodox. This binge-worthy drama follows a young woman who leaves an ultra-conservative Hasidic community in Brooklyn to find independence in Berlin. Grounded by Shira Haas' raw performance, the four-part series is ideal for viewers who like emotionally-charged, character-driven stories. Available on Netflix.
Undone. You might feel like quarantine life is trippy, but you've got nothing on the protagonist of this surreal series about a young woman who can travel through time and realities. Watch it if you wish Alice in Wonderland was grittier. Available on Amazon Prime.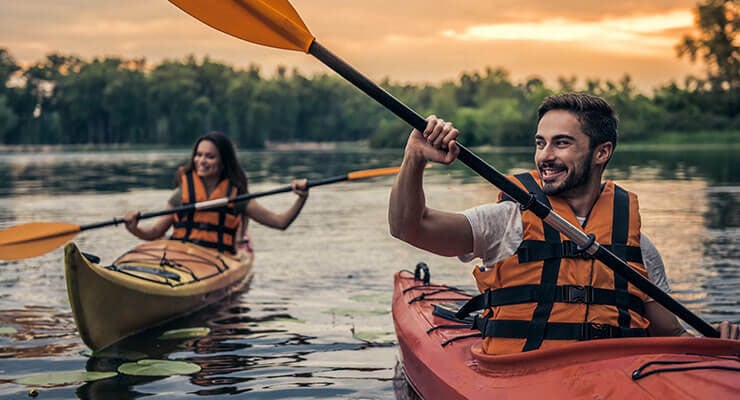 Explore the Outdoors
Exploring the great outdoors is one of the best social distancing activities. "Avoid crowded sidewalks and narrow paths and choose routes that make it easy to keep your distance," Mayo Clinic recommends. "You don't have to wear a cloth face mask while exercising outdoors, but it's a good idea to have one with you if you can't maintain space from others."
If you live on the sunny Gulf Coast of Florida, where USF is located, you might enjoy outdoor activities such as:
Paddle-boarding
Sailing
Kayaking or canoeing
Fishing

Envision Your Future
Social distancing won't be forever. Make a vision board of your future goals, whether that's taking a road trip or just hugging your friend. Remind yourself that each day you stay safe is one day closer to a normal, post-quarantine life.
Remember that the USF Office of Admissions is always ready to answer your questions, including the precautions we're taking for COVID-19. Contact us online, and stay safe!