How Much College Debt is Too Much?

Every year, student loan debt climbs further into the stratosphere, burdening students and their families long after graduation. Yet it's increasingly difficult to attend college without borrowing to pay for it. So, how much college debt is too much? And when does the cost of a university outweigh the advantages conferred by earning a degree?
College Debt by the Numbers
Student loans aren't inherently evil. However, many students borrow too much and aren't prepared for how much they'll have to repay after graduation. Let's look at some of the statistics on student loans:
These are scary numbers, to be sure. However, you can avoid getting in over your head and incurring too much debt by following a couple of simple rules of thumb:
Total undergraduate borrowing should be limited to what you might expect to make in your first year after graduation.
To help determine what your first-year salary might be, check out the online Bureau of Labor Statistics Occupational Outlook Handbook. It's an easy way to look up your intended career along with statistics related to its growth potential, projected need, and average starting salary.
Monthly loan payments should be no more than 8-10 percent of expected gross monthly income.
To make loan payments comfortably, you'll need to maintain a manageable debt-to-income ratio. For example, if your expected starting salary is $35,000 per year ($2,916 per month) a monthly student loan payment of 8 percent should be no more than $233.
Stick to these two guidelines, and you'll be able to meet your repayment obligations while ensuring a positive return on investment for your college degree.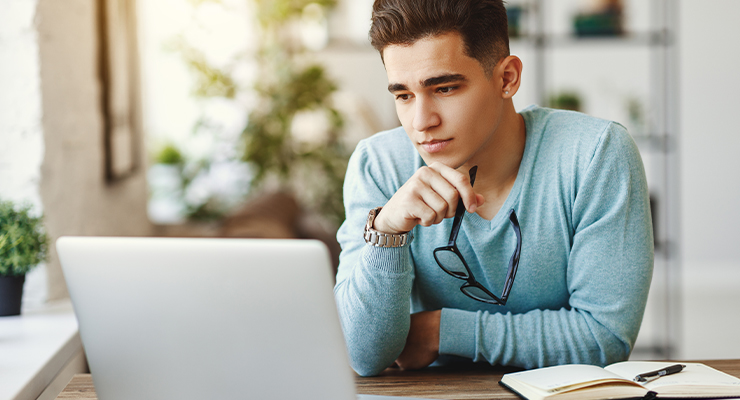 Strategies for Minimizing College Debt
Now that you know the guidelines on borrowing, how can you avoid the need for a mountain of student loans? Here are some smart strategies for minimizing college debt without compromising on your education.
School Choice Matters
When considering colleges, some general rules of thumb can help ensure you keep your costs manageable:
Never choose a school that requires you to borrow too much (see point above).
Always understand available financial assistance before committing to a college.
Consider a

community college

to save before transferring to a university to finish your undergraduate degree.
Avoid a distant school if it makes sense to stay local and save on living and travel expenses.
Pick schools that allow changes in your academic or career plan, which can save you time and money.


Other Ways to Keep Down Costs
Borrow only what you need for tuition, room, and board.
Stick to a budget and avoid credit cards.
Avoid private student loans, which allow higher borrowing limits, but also worse interest rates and repayment terms.
Take extra credits to graduate sooner and save money on room and board you would have otherwise been paying.
Consider cutting your costs and earning money by becoming a Resident Assistant (RA) or working on campus in a work study position.

Consequences of Taking on Too Much College Debt
If you're tempted to borrow more than you can comfortably afford, think twice before signing on the dotted line. There can be serious long-term ramifications.
You May Not Be Able to Afford Grad School
If you leave your undergraduate program with a significant amount of debt, you may not be able to take out another massive loan. That could mean delaying or abandoning plans to go to graduate school.
You May Not Be Able to Get the Career You Want
Do you dream of working for a nonprofit organization or in a field like social work that typically comes with a lower-than-average salary? You might have to forgo those aspirations and accept a higher-paying job that covers your student loan payments.
In addition, some companies conduct credit checks, particularly if you're applying for a position in the financial industry. The amount of debt you hold (and whether you make payments on time) may disqualify you from holding certain positions.
You Might Have to Live at Home
It's the waking nightmare of every college graduate: ending up back in your childhood bedroom surrounded by old concert posters and stuffed animals because you can't afford to live on your own. Massive student loan debt can indefinitely put your plans for post-college independence on hold.
You May Have to Delay Financial and Life Goals
Even if your student debt allows you to live independently, you may have to delay other goals, such as buying a house, getting married, or starting a family. Excessive loan payments make it difficult to scrape together a down payment on a house, save for a wedding, or pay for child-care costs.
Your Net Worth May Take a Hit
Excessive student debt can make it more difficult to accumulate wealth. A 2014 report by the Pew Research Center shows that the median net worth of a household headed by a college graduate under the age of 40 with student loan debt was $8,700. However, the median net worth of a household headed by a college graduate under the age of 40 with no student loan debt was $64,700.
A Final Word: Consider Low-Cost, High-Value Options
State colleges and universities provide some of the least expensive paths to a bachelor's degree in the U.S. But they are often dismissed in favor of flashier private colleges. If you're serious about minimizing college debt without sacrificing education quality, you'll be well served to include them in your search.
For example, USF is a top-50 public research university with some of the lowest tuition rates in the nation, making it an affordable choice for both Florida and non-Florida residents. Use our cost calculator to see what your likely college costs will be, or reach out to our Office of Admissions for more information on college costs, financial aid, and scholarships at USF.