How to Avoid College Debt

As a college student, you have a lot on your mind, especially ways to avoid debt. Yes, odds are you could be in the red when you graduate, but you'll be able to keep more of your green if you spend some time learning how to avoid college debt now.
Here are some numbers that haunt college students' dreams: Almost 70 percent of bachelor's degree recipients graduate in debt; $39,400 was the average debt for each graduate in 2017; and $203 was the median monthly loan payment. Learning ways to manage and avoid debt are important. Here are some tips to help.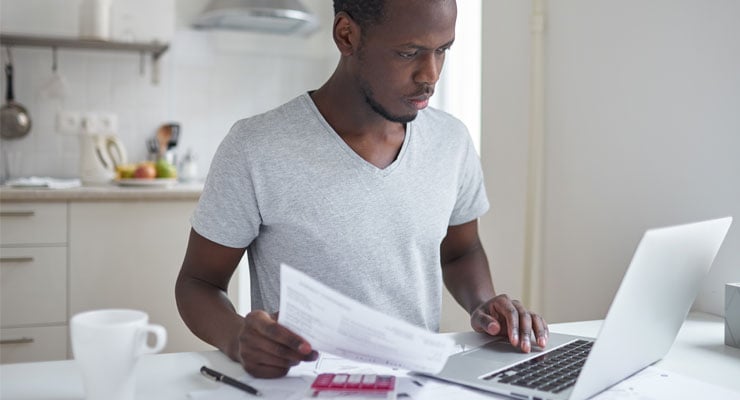 Do Your Homework
Even a family of modest income can finance a college education with minimal debt if it's done strategically over years. The foundation of a good strategy is knowledge. Mastering that knowledge is a daunting but doable task. Consider this short list of frequently asked questions:
What is the EFC? The expected family contribution, or EFC, is how much a family is deemed able to pay for college, and it dictates eligibility for federal and state aid. The formula to determine EFC was established by law, and "a family's taxed and untaxed income, assets, and benefits (such as unemployment or Social Security) are all considered in the formula." FAFSA is the key to EFC.
What is FAFSA? It stands for Free Application for Federal Student Aid, and it is the application administered by the U.S. Department of Education that details a family's financial capacity to pay for college. It is an annual task during your college tenure that can qualify you for federal grants, loans, and work-study funding. State scholarship agencies, foundations, and colleges all use the FAFSA in deciding financial aid awards.
What is a section 529 plan? These are qualified tuition programs, either prepaid tuition or savings plans, that allow a family to, in the words of the IRS, "prepay a beneficiary's qualified higher education expenses at an eligible educational institution or to contribute to an account for paying those expenses." Tax breaks are the heart of the plan's benefits.
Early and continual focus on how to minimize college debt are important. Bottom line: There's a lot to learn, and it will take time.
Exhaust All Supplemental Financing Options
College greatly benefits students, and the high level of assistance available from private and public sources shows others know that an educated populace helps everyone. Peterson's clearly and concisely maps what's available. Here's the abridged version:
The primary sources of aid are federal, state, postsecondary institutions (schools), and private organizations.
The primary types of aid are grants, scholarships, loans, and work-study programs.
FAFSA unlocks the doors to these forms of aid for those who qualify, but opening those doors is the recipient's responsibility. Along with applying for available grants, loans, and work-study programs (as needed), you should:
Determine whether your state has need- and merit-based aid. Florida, for instance, has Bright Futures, which are state-funded college scholarships that award academic achievement in high school.
Remember that although FAFSA usually taps available state aid, some states require a separate application process for state aid.
Get in the scholarship hunt early, and gun for everything that's available.
The student's contribution to funding college expenses can be more significant if it's a long-term effort. Summer jobs through high school can pad the main savings account or be funneled into one the student can use for day-to-day costs once the college experience begins.
In high school and college, try to balance the need for a job with the importance of excelling academically. Financial realities can limit study time, hurting academic performance. That can hurt finances, too. Solid academic performance makes it easier to secure financial assistance.
In short, be sure your high school or college job doesn't cost more than it's worth.
Choose Your School Wisely
So, you've got the I's dotted when it comes to income and the T's crossed when it comes to a stellar high school transcript. Now, it's time to pick a postsecondary path.
Here are some don'ts for those trying to avoid after-college debt:
Don't choose a school you just can't afford.
Don't choose a distant school if your finances would be better served by a hometown option that can cut living and travel expenses.
Don't choose a school that can't accommodate changes in your academic or career plan, resulting in a waste of time and money.
Don't pick a school without knowing what financial assistance it offers or what it can do to help you navigate the financial obstacle course.
Don't be too quick to reject community college as an affordable option before attending university. Considering this option can save you a lot of money and can also allow you to transfer to a university to finish your undergraduate degree. It's not where you start that's important; it's where you finish!
Here are a few more things to consider when mulling how to cut costs:
Avoid private student loans. Borrowing limits are higher, meaning the burden can be, too, and many of these lenders don't pass muster on interest rates and payment plans.
Consider accelerating your degree. A bachelor's is less expensive if earned in three years.
Borrow only what you need and will be able to afford, and try to avoid credit cards.
Live within your budget, and that means knowing how to budget.
Apply to become a Resident Assistant (RA). These are students who live in on-campus housing with their peers and help facilitate the social, academic, and personal adjustment of students to campus life. Being an RA provides you with free on-campus housing and food, in addition to a small stipend (paycheck).
Find an employer with a tuition reimbursement program. Some employers will help you reach your academic goals by paying for some of your college expenses. This option is typically available later in your academic career, such as when you attend graduate school.

There's Help Available – Free and for Hire
Positioning yourself to maximize the benefits of college and minimize the ensuing debt is an intimidating task. Some people even turn to financial aid consultants. It's a tactic that can boost financial aid and effectively manage assets, but it can be costly.
High school college counselors might not be able to give you as much time as a financial consultant, but the price is right. The schools you court and the one you choose can help, too. However, the best place to get your financial aid questions answered is from the schools where you're applying to college.
Want more information about financial aid at USF? Visit the University Scholarships and Financial Aid Services website, or contact financial aid at 813-974-4700