Benefits of Dual Enrollment

If you're considering dual enrollment classes, you're probably aware of some of the immediate rewards, such as an early dive into college-level academics and the chance to tackle topics you won't explore in high school. But the benefits of dual enrollment classes extend well beyond high school. Taking dual enrollment classes supports your undergraduate degree, graduate studies, career, and more.
If you're a strong student who's trying to decide which acceleration program is right for you, keep reading to discover the benefits of choosing dual enrollment. You may be surprised at all the ways this accelerated program option supports you today and for many years to come.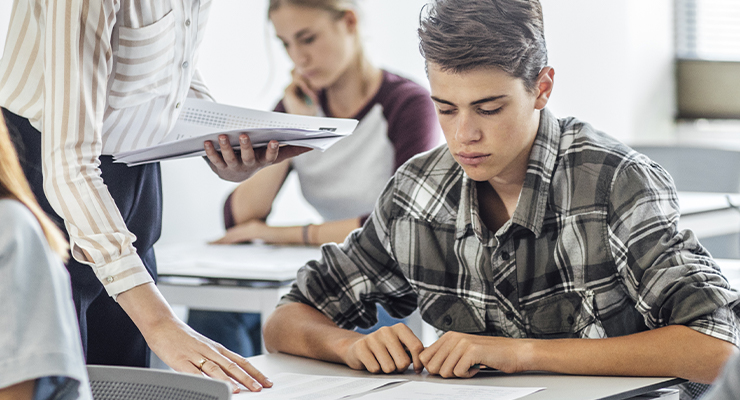 Save for College With Less Expensive Classes
While dual enrollment classes may not always be free, they're typically offered at a steep discount over college courses. Pearson explains that the cost per class runs anywhere from $0 to $400, not including books. Dual enrollment course costs depend on where you live because the tuition may be covered by your state or school district, or your family may have to pay.
As a dual enrollment student, you can expect the greatest cost savings if you're planning to attend an expensive college after high school. Taking transferable required courses in high school can save you from the higher cost of these courses during college. The key here is to ensure the dual enrollment classes you take in high school will transfer to your college and major of choice. In many cases, there are restrictions in place for certain programs.
Save Time by Doubling Up
If you're the type of student who wants to hit the accelerator on your academic career, dual enrollment might be perfect for you. This program allows you to fulfill both high school and college credit requirements simultaneously. Some students even earn an associate degree or professional certificate while they're still enrolled in high school. The sooner you complete required courses for college, the greater your benefits moving forward:
Finish your college degree sooner.
Get exposed to a broader array of classes and potential careers sooner.
Reduce college pressure with a lighter academic workload.
Begin graduate school sooner.
Enter the workforce earlier.
Prepare for College-Level Academics
Many students who are used to breezing through their high school classes are shocked once they get to college. College-level courses demand much more effort, and students may struggle during their first few months or semesters. According to a report for the U.S. Department of Education, many college instructors agree, feeling that incoming students are often underprepared for the rigors of college-level academics.
Students have reported that if they knew the academic expectations demanded of them, they would have worked harder to prepare for college. Dual enrollment gives you this opportunity to learn what's expected of you by introducing you to challenging college classes before you actually step on campus as a freshman. Once you know what to expect, you can enter college more prepared and avoid the academic slump many students experience.
Start Your Major-Specific Classes Sooner
Dual enrollment gives you the opportunity to complete required courses before entering college. This includes introductory math and English courses that every student must take. Completing these required courses before college frees up your schedule to begin major-specific courses sooner. In addition to helping you finish your degree sooner, you can immediately tackle the classes that you find most interesting, increasing your chances of success. With fewer introductory courses to take in college, you'll have more time in your schedule to take other courses in your major that you may not have had time for otherwise.
However, it's important to realize that if you don't perform well in a dual enrollment class during high school, it can hurt your chances of admission. USF requires a minimum 2.5 GPA for all dual enrollment courses. On the flip side, students who earn a 3.0 or better in dual enrollment courses receive extra consideration because it proves they can handle college-level work.
Set Yourself Up to Double Major
Want to make the most of your college degree? Pursuing a double major offers big benefits over single majors:
Better employment chances
Higher earning potential
More diverse skill set
Expanded graduate program options
One of the big drawbacks of double majors is that it's a significant time investment, which is where dual enrollment comes in. By completing introductory courses in high school, you free up your college schedule for the additional courses you'll need to take as a double major.
Take Advantage of College Clubs and Services
Depending on the college where you're taking dual enrollment classes, you may also be welcome to take advantage of some student clubs and organizations, as well as student services, such as the writing center and career services. In some cases, a club specifically for students who are early in their college career or participating in dual enrollment may be available. This offers you the chance to interact with students like you who are transitioning to the college environment while still in high school.
Participation in these college clubs and services heavily depends on the institution you're attending. At USF, dual enrollment student participation in on-campus events and activities depends on the policies for that specific organization or event. However, USF notes that there are still many community events that Early University students are welcome to attend.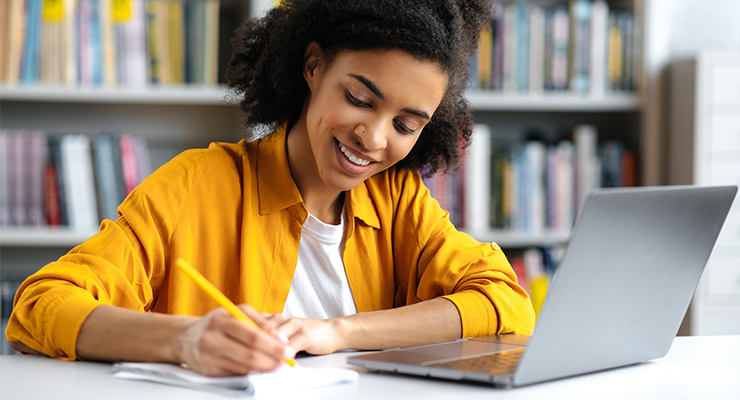 Get a Head Start on Your Future With Dual Enrollment
It's important to realize that dual enrollment can vary widely between school districts. Depending on the partnership your high school formed with the local college, you may be physically on a college campus or learning remotely, or you may be learning college content right in your high school from a current teacher or a professor who travels to you. No matter what this accelerated program looks like at your school, it offers big benefits that you shouldn't overlook.
Whether you plan to enter the workforce after college or move on to an advanced degree, dual enrollment will let you get a jump on the next stage of your career. That means you'll finish your degree faster and have more time in your career field to earn money, gain experience, and advance. Download our quick-reference dual enrollment guide to get an overview of the benefits and factors to remember when considering dual enrollment.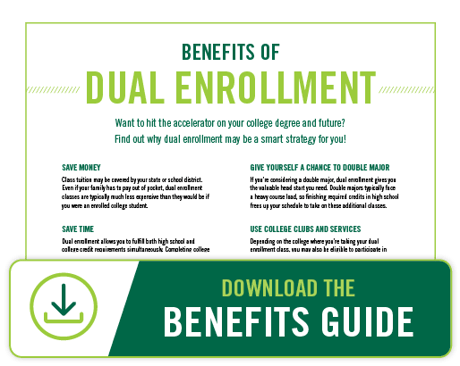 Questions about applying or participating in dual enrollment at USF? Reach out to our Early University Programs at dualenrollment@usf.edu for more support.