How to Research Campus Safety

No matter what types of colleges you're exploring – small or large, rural or urban – chances are you're wondering how safe you'll be on each campus. It's a valid concern for both students and families as crime continues to increase. An important safeguard is to gather crime data and learn about the safety measures in place at each college you're considering so you can make informed decisions. Not sure how to get started? Here are five ideas on how to research campus safety at your target schools.

5. Examine Campus Safety Stats
According to the FBI Uniform Crime Report, more than 65,000 crimes were committed on campuses across the U.S. in 2017. The vast majority, 94.2 percent, were property crimes such as burglary and theft. Violent crimes such as assaults, rapes, and murders make up only 5.4 percent of the total.
Colleges go to great lengths to keep their students safe, and it's unlikely you will ever fall victim to a crime. One way to further minimize the risks are to know them, and that's why crime statistics are important.
The Clery Act requires all colleges participating in federal financial aid programs to maintain and disclose campus crime statistics and security information through an annual report, which is typically available on the official college website. Another good source of information is the U.S. Department of Education's Campus Safety and Security Tool. It allows you to compare data for multiple schools at one time and download the data for personal use.
4. Explore Crime in the Surrounding Community
When evaluating a college's safety, it's important to consider more than what happens on campus. Students typically spend a lot of time in the surrounding town or city, and the FBI Uniform Crime Report is a good resource to see crime trends in these areas. You also should take time while visiting a school to explore these areas to make sure you feel comfortable.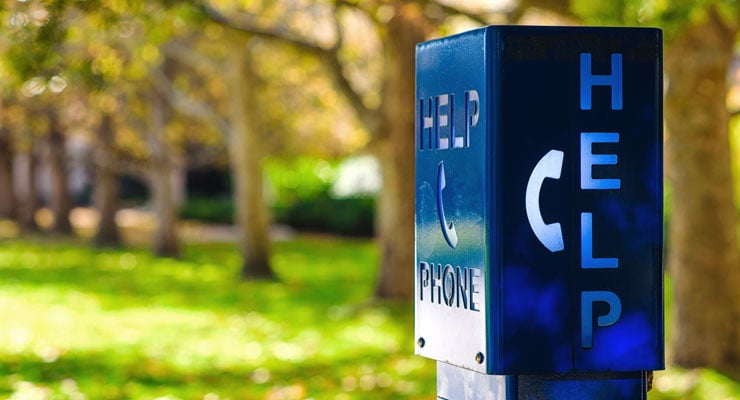 3. Check Out Prevention Efforts
Every college employs a variety of methods to prevent crime. Explore your target schools' websites and talk with staff while visiting to find out what's available. Some of the prevention efforts to look for include:
Emergency calls boxes: Phones placed strategically throughout the campus allow you to contact the police. They serve as an important backup if your cellphone dies or you don't have service at that location.
Nighttime escort services: Walking or golf cart escorts may be available between campus locations during designated hours.
Campus police: Some small colleges rely on the local police department to serve their needs. However, most universities employ their own police force to protect the campus and immediate surrounding areas.
Crime prevention programs: Educational programs help students learn how to avoid becoming victims of crime. Topics can include date rape, self-defense, burglary, theft, drunken driving, property engraving, etc.
2. Investigate Emergency Notification Systems
Nearly every college now offers an emergency text alert service. It's one of the fastest ways to get notified when an urgent situation is unfolding on campus. Some of the alerts you might receive on your cellphone include active shooter incidents, bomb threats, outbreaks of serious illnesses, and tornado warnings.
It's also important to ask about the variety of alerts a school uses beyond text messages. USF's emergency notification system includes computer pop-ups that can override classroom lectures, messages that display on digital signs across campus, a siren system, loudspeaker messages, and alerts on social media.
1. Ask Staff and Current Students
It may seem obvious, but querying college staff can be one of the best ways to get information about issues specific to that campus. Prospective students should also ask current students about their perceptions of campus safety. Current students may be more open about a school's culture and access to health and safety resources than a tour guide.
Now that you know how to research campus safety, you can be prepared to make informed decisions about your target schools. For information about USF's safety resources, please visit our website.
If your questions are enrollment related, the USF Office of Admissions always is ready with advice and answers. Contact us online, or reach us by phone at 813-974-3350.