Student Employment Opportunities in College

In what figuratively and literally is a working relationship, students, colleges, and employers on and off campus are teaming up to create well-rounded graduates by maximizing student employment opportunities in college.
In what is a natural partnership for employers, colleges, and students:
Colleges are committing significant resources to connect students and employers, which prepares students for careers by making the workplace a classroom.
Employers benefit from access to graduates with essential skills and knowledge who are ready for high-skill jobs. Graduates gain these skills by working for them as part-time employees.
Fifty-two percent of undergraduate students work at least 27 weeks a year, supplementing incomes and getting real-world educations through hands-on experience in the workplace, according to U.S. Census Bureau data from 2015.
Tampa's recent raking as one of the best U.S. cities for jobs and cost of living helps as well. Our metropolitan area's rich economy supports students considering their post-college employment plans.
Learning While Earning Pays Off
A recent report published in 2015 took a close look at working college students to highlight the trends over the past 25 years. Here are some of the major positive findings that support engaged student employment during college:
Working while going to college helps students develop good work habits and makes it easier for them to make career connections.
Students gain valuable experience and develop the essential skills that employers look for when hiring new college graduates.
Students who mix work and studies leave school more upwardly mobile and with a better chance of becoming managers.
Students who work while attending school graduate with less college debt.
Studies show that working a reasonable number of hours makes students more likely than their nonworking peers to graduate. It has everything to do with vested interest and maturity. Putting in too many hours, however, can hurt grades and make graduation less likely.
Our Career Services office recommends that students work no more than 20-hours per week in part-time or internship positions in order to be successful both on the job and in the classroom.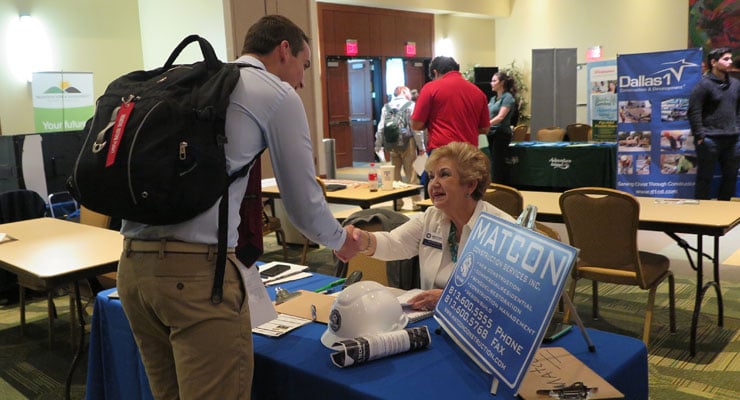 Schools Connect Students and Employers
Like most good schools, the University of South Florida doesn't just tout the benefits of students connecting with employers, it makes the connection easier! A big part of that is the department of Career Services, and their website highlights the career and job-related services they offer.
Career Services also provides opportunities and events to connect with employers face-to-face.
Part-Time Job Fair: This fair provides an opportunity to network with employers who are looking to hire USF students for part-time and seasonal jobs that are on-campus or close to campus. Part-Time Job Fairs are more casual and less crowded, and employers know many of the prospective employees have never had a job. They also are a learning experience that can help you make your first full-time job fair more rewarding.
Bulls Connect Career and Internship Fair: This fair is designed to help students connect with employers who are looking to hire for full-time and internship opportunities.
Careers & Coffee: These informal sessions allow students to grab a free cup of coffee while they chat with employer representatives about career opportunities.
Resources for the Job Search
There are a wide variety of job search resources available at USF. There are tips on job search prep that feature links to things such as a job search log and part-time job search guide, lessons on how to research a potential employer, videos, and even advice on how to dress and network.
Here's a sample of the services at USF that can make the job hunt easier and more productive:
Career Express: No appointment needed to get person-to-person coaching on writing résumés and cover letters, job interviews, and the art of the job hunt. It's also a great way to learn what job-hunting tools and services are available and how they work.
Handshake: This career management system helps students search for and apply to jobs and internships with its advanced machine-learning technology. The more a student interacts with the system, the more it learns about their likes and dislikes, and the better it can refer specific opportunities to them. All students have free access to Handshake, even after they graduate!
Careers@USF: This online link to jobs at USF features a digital platform that allows students to identify and apply for on-campus jobs.
Suit-A-Bull: Suit-A-Bull provides access to more than 600 items of business professional clothing, all of which can be borrowed by students for free.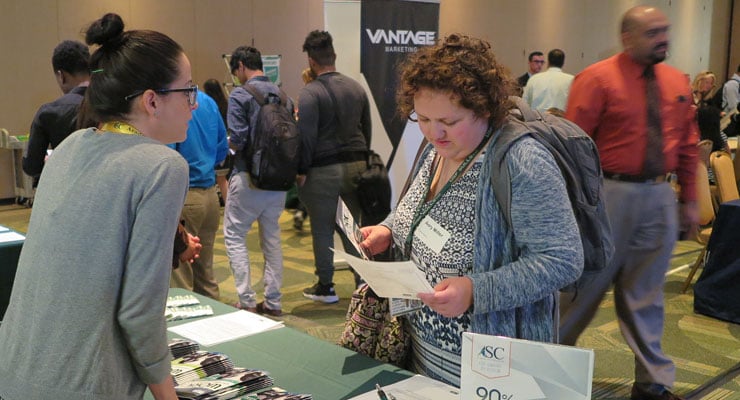 USF Career Services Tips
The Careers Services team is ready to help students learn about student employment opportunities in college and more. Career Services offered some final tips to support your career search:
Part-time jobs help students with their finances, allow them to explore different fields, teach essential skills that employers look for, and strengthen résumés.
Employers familiar with USF will work with you to create a school-friendly schedule and are flexible come exam time.
You don't have to be a current student to access some of these services and tools. Career Services' job coaching is free to Bulls for one year after graduation, along with access to Career Express.
Any USF graduate is welcome at job fairs, and they can access the online job system free through Handshake for life. And for those with an active Alumni Career Services account, CareerShift is an additional job search system.
Our USF admissions advisors are happy to answer your questions about the USF admissions process, so contact us online or by phone at 813-974-3350.