Tips to Stay Healthy During the Spring Semester

When you enroll in college, you're embarking on a quest of self-discovery. What major interests you? What's your dream job? And, just as importantly, what makes you feel healthy? A successful college experience encompasses your whole self. It goes deeper than academics, teaching you daily habits that lead to physical, mental, and emotional balance.
As you begin your college journey, you may not be aware of the many health resources your school offers. We've assembled a guide to help you discover them and included seven tips to stay healthy during the spring semester.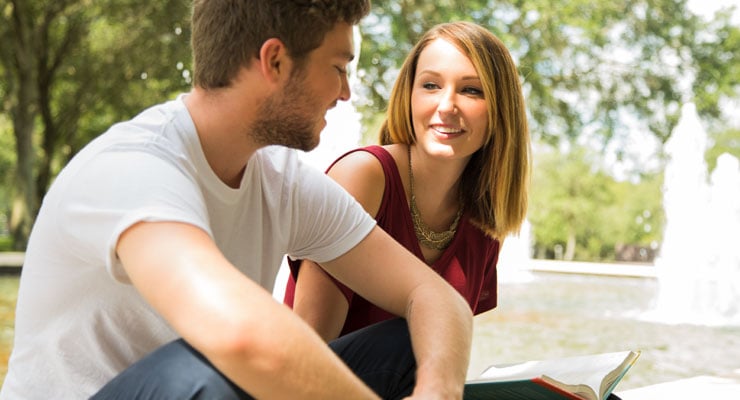 7. Make Healthy Friendships
Good friendships are vital to your well-being. Studies indicate that people with a strong sense of community are both happier and healthier. A college campus is a great place to forge lifelong friendships. You'll meet new people from all over the world, experience different cultures and viewpoints, and bond over shared experiences. Here are four ways to get to know your fellow students:
Join a campus club and hang out with people who share your interests, from the weird to the wonderful.
Explore the New Student Connection events, where others students can help you get connected on campus.
Start a class study group and bond over those late-night study sessions.
Reach out to others. Loneliness is common on campuses, so you might be doing them a favor, too.
6. Get Closer to Nature
When you're cramming for an exam, you can lose hours to a computer screen. It may be tempting to cede your next study break to your phone: scrolling through social media, answering texts, and gazing at yet another screen. Try to avoid this. Instead, take a deep breath. Close those (many) browser tabs. Step outside.
Spending time in nature is the best kind of study break, whether that means sitting in the sun or jogging down USF's shady running trail. Not only will time in nature help you relax, it might even boost your brain power. A 2015 study found that if students even looked at a picture of a green space, they performed better on a difficult cognitive task.
If you can't step away from your homework yet, set up your study space near a window. Natural light can increase productivity. Sitting near a window will also encourage you to look away from your screen more often, which is good for your eyesight. Experts recommend that every 20 minutes, you should spend 20 seconds staring at something 20 feet away. (It's called the 20-20-20 rule.) This will reduce eye strain and — if your view includes nature — it might even give your brain a little extra power.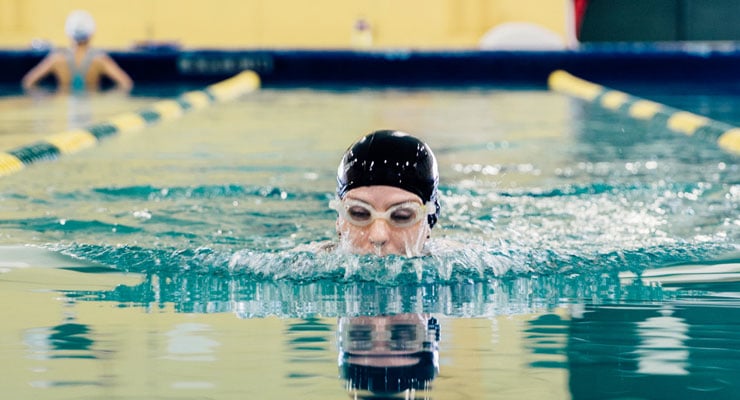 5. Exercise Regularly
Think about your "exercise personality." Are you an extrovert who'd benefit from a group fitness class, or an introvert who'd rather work out in your residence hall? Would you prefer a relaxing yoga session or a fast-paced spin class? You're more likely to keep exercising if it's something you enjoy, so feel free to experiment until you discover a routine you like. You can also combine exercise with another wellness goal:
If you want to grow your social circle, join a student organization that centers around fitness, such as a paddleboarding group.
If you want to relax, sign up for a college yoga class that incorporates meditation.
If you want to spend more time in nature, check out your college's outdoor recreation center. At USF, students can dive into affordable adventures ranging from moonlit canoe trips to obstacle courses and zip lines.
It can be hard to stick to an exercise regimen, but the payoff is huge, both physically and mentally. Research indicates that just 10 minutes of daily exercise can boost your mood (although more is even better). The benefits aren't limited to a type of exercise — you can feel happier whether you go for a run or practice yoga — so make sure you choose a fitness style that fits you.
4. Eat Healthier
If you're living on campus, you could eat ice cream for every meal. Who's going to stop you? But with great power comes great responsibility — and a balanced diet is a crucial component of a healthy life.
So, what foods count as "healthy?" Experts recommend the Mediterranean diet, which is heavily plant-based and includes whole grains, olive oil, and lean meats, but it's best to ask a nutritionist what will work best for your body. USF offers students individualized sessions with nutritionists who can help you begin this culinary journey.
Once you know what foods are healthy, learn recipes you can cook in your residence hall, such as quiche-in-a-mug. Pick a few days a week when you plan to cook for yourself, and schedule meals in your daily planner.
Bonus points: If you tend to snack during classes, pack yourself healthy choices such as trail mix so you're not tempted by the vending machines.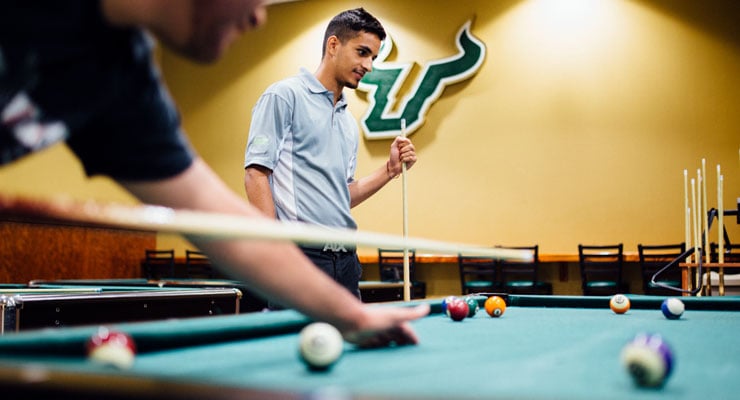 3. Practice Mindfulness
Mindfulness is a popular meditation technique that's been practiced by everyone from Buddhist monks long ago to U.S. soldiers now. It helps you pay attention to the present instead of worrying about the past or the future. For this moment, your last grade doesn't exist; neither does the next exam. All that matters is now: your breath, the sounds you hear, the way your body feels sitting in your chair.
If you do mindfulness regularly, it helps reduce stress, among other benefits. MRI scans show that it changes how the brain works: It shrinks the area that responds to stress with a "fight or flight" response while strengthening the part that helps us concentrate and make decisions, according to Scientific American.
You can practice mindfulness wherever you are, whether you're chowing down on cafeteria pizza, studying in your room, or sunbathing on a sugar-sand beach. To get started, try downloading a meditation app like Headspace or enrolling in a college meditation class. Remember, it's also important to get plenty of sleep.
2. Talk to a Counselor
Have you been struggling with anxiety? You're not alone. Sixty-one percent of surveyed college students felt "'overwhelming anxiety' within the previous year," according to U.S. News & World Report. Rising levels of anxiety in college students have been met with rising campus services. Many colleges, including USF, offer counseling centers where you can meet with licensed mental health practitioners. Never hesitate to make an appointment, and remember that no problem is either too big or too trivial to discuss with a counselor.
Even if you aren't experiencing negative emotions, consider dropping by your college's counseling center. College is about exploring who you are and learning new things about yourself, and a counselor can help you on this journey. Just as you visit your primary care doctor for a yearly physical, you should have a checkup for your mental health. Your brain deserves just as much care as the rest of your body.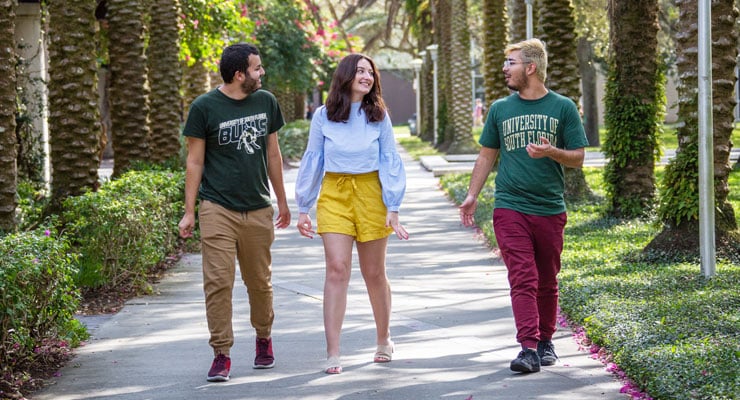 1. Visit Your College's Health and Wellness Centers
If you want to have a healthier life, a good first step is contacting your college's health services center. USF's Student Health Services (SHS) encompasses some of the resources mentioned in this article, including a counseling center and nutritionist services. Through SHS, students can also meet with a primary care physician, receive testing for sexually transmitted diseases, get vaccines, and learn how to quit smoking. Many of these resources are either free or have minimal fees . Meanwhile, USF's Center for Student Well-Being can help students develop life habits for greater health.
In college, you have an unusually strong support system. You are surrounded by a community of people whose jobs are to help you succeed physically, mentally, and emotionally. Take advantage of this unusual time in your life and study yourself. Learn what makes you feel healthy and happy, and start using the tools that lead to a well-balanced life.
If you have questions about any of the health and wellness resources offered at USF, feel free to contact the office of Health and Wellness online or by phone at 813-947-3684.