Top 5 College Facts for Families

Starting college can be a tricky time for both students and their family. Use our top five college facts for families of college-bound high school seniors to help ease the transition and the anxiety.
No. 5: Keeping Tabs on Academic Schedules and Shifting Calendars
Does your college observe certain holidays? Is a hurricane bringing an unexpected academic holiday? If roommates and wall calendars can't answer your schedule questions, go digital.
Find the website where students and staff can access pretty much anything they need to know about life on and around the campus. At USF, that digital information clearinghouse is MyUSF.
Turn to your smartphone or email for alerts or advisories that schools use to keep students informed about unexpected campus developments.
Browse academic calendars, such as the one USF maintains, to get the long view (yes, we close to observe Veterans Day).
Flip through student handbooks to see where to go online for real-time information. Most of them list important telephone numbers.
Bookmark useful internet links, keep important telephone numbers handy (campus directories), and be prepared to deal with power failures that disable your digital tools.
A school's telephone switchboard also is a go-to in an emergency, but be prepared to wait because you can expect it to be handling the same questions for hundreds of other people.
No. 4: Enjoying Life Beyond the Classroom
Schools strive to connect students to the larger college community. On-campus participation yields many academic, social, and career benefits. At USF, the Center for Student Involvement facilitates student participation in campus and community activities, entertainment, recreation, and volunteer work.
Tips to Make the Most of Your Free Time
Online student portals put thousands of activities and extracurricular pursuits at your fingertips.
Private and public groups take great pains to tout activities and local offerings. Think chambers of commerce; arts and tourism councils and groups; and the official websites of states, counties, cities, and towns.
All Play and No Work Makes for Dull Weekends
Part-time work offers a great opportunity to gain a little independence and work experience, not to mention entertainment money for the weekend. Career services and student employment are examples of on-campus programs available at most schools to help you find a part-time job or internship on campus or off.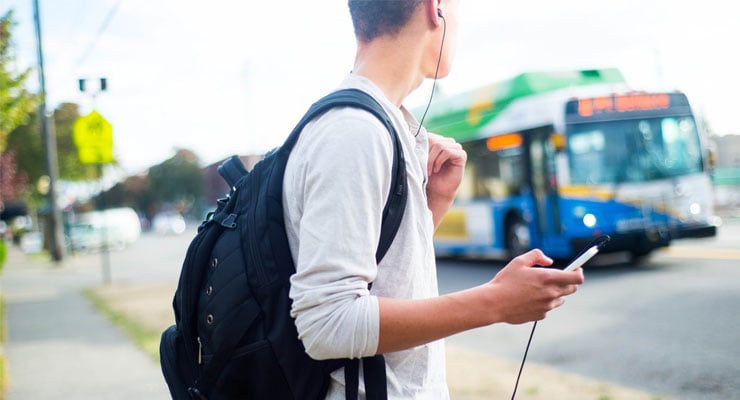 No. 3: Getting Around Town
If you plan to take a car, first explore parking options, parking costs, insurance needs, licensing, maintenance, and anything that could become an obstacle to bringing a car to college. If the costs and difficulty outweigh the benefits, a bike and public transportation may be your best option.
Questions You Need to Answer Before Bringing a Car on Campus
Does the school offer transportation?
Do you know anything about the public transportation infrastructure?
Does an off-campus job or obligation justify the use of a personal vehicle?
No. 2: Keeping Your Education Records Private
By law, you become an eligible student on your 18th birthday or as soon as you start college. "Eligible student" is a legal status that covers your school records and protects them under the federal Family Educational Rights and Privacy Act (FERPA).
As an eligible student, you have the final word on who may access your education records, which are fiercely guarded. Even parents need an eligible student's consent to access or release certain types of personal information. Only a few specific parties and scenarios justify exceptions to this rule.
What FERPA Means to You and Your Parents
Parents or eligible students may review education records the school maintains, and they may request corrections.
With some exceptions, schools must have the permission of a parent or eligible student to release this information.
Browse USF's online FERPA tutorial that addresses key issues, including types of education records:
Admission records
Academic records
Financial aid records
College advising records
Financial records
Disciplinary records
Medical records
Psychological/counseling records
Career placement records
Student employment records
In addition, the State of Florida has a law that limits access to educational records once an application is submitted to a college.

No. 1: Taking Advantage of Your School's Health and Safety Resources
Your college may be hundreds of miles away from your family doctor, but don't worry. Schools will put medical information and care at your fingertips. USF Student Health Services illustrates the types of services you can expect to receive at a major university health center:
General medical information
Primary care services
LGBTQ+ health services
Mental health services
Testing for ADD, ADHD, and learning disabilities
Immunizations and allergy shots
Nutrition counseling
Travel health services
Other health services that may be available to students at major universities include food pantries to address food insecurity and pharmacies.
In Case of Emergency, Know Where to Turn
The USF Emergency Management website shows how many resources a school can have when it comes to dealing with emergencies. Many schools offer text message alerts in case of emergency. Find out if you are automatically enrolled in text alerts or if you or your parents need to sign-up for it. From planning to public safety programs, this is your go-to resource when confronted with any type of emergency:
Active threat
Bomb threat/explosion
Criminal behavior (USF and many other schools have their own police forces)
Fire
Hazardous material
Hurricane
Infectious disease
Medical emergency
Suspicious persons and activities
Threatening behaviors
Utility failure
Questions About Any of Our Tips?
Our USF admissions advisors are happy to answer your questions about the USF admissions process, so contact us online or by phone at 813-974-3350.