College Campus Resources: What You Can Expect

For many students, heading off to college can be both exhilarating and a little scary. You'll be living on your own (probably for the first time in your life), meeting new friends, exploring new places, managing your own money, and learning to study without "parental supervision." Fortunately, there are college campus resources that can help you stay on top of your game and adjust to life as an undergraduate. Here are just some of the services available on most college campuses:
Getting Help with Academics
If you find yourself struggling with college-level coursework or need guidance when deciding what to study, help is just a short walk across campus. You likely will be assigned an academic advisor, whose job it is to help you decide on a major and select coursework that will help you achieve your goals.
Tutoring services of all kinds also are available should you find yourself struggling in a particular course. At USF Tampa, the Academic Success Center offers students tutoring assistance in a wide variety of subjects. Help is available on a drop-in basis or via appointments in a collaborative peer-to-peer group setting.
Taking Care of Your Health & Wellness
No one likes to think about getting sick, but it's good to know that most colleges offer on-campus medical clinics and pharmacies if the need arises. At USF Tampa, Student Health Services offers a variety of health care services, including general medical care, immunizations, nutrition counseling, smoking cessation, laboratory services, allergy shots, travel health, and a full-service pharmacy.
Most colleges also operate a counseling center with comprehensive psychological services to help students navigate the challenges of college life, and take advantage of opportunities for personal growth.
Meeting Special Needs
For students with disabilities, starting college can be a time of adjustment. However, your campus disability services office can provide a plethora of services to ensure your success in the classroom. Some of these services can include preferential seating, class note takers, interpreters, and course materials made available in audio formats or braille. Check with the colleges where you're applying to see which services they offer.
At USF, the office of Student Accessibility Services works hard to promote equitable and accessible education, meaningful self-advocacy, awareness of disability issues and inclusiveness for the USF community. Check out USF's office of Student Accessibility Services to learn more.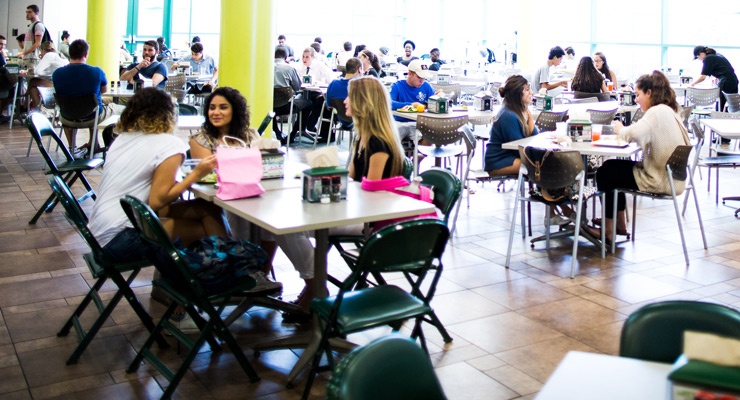 Blowing Off Steam
Keeping your body moving is a great way to manage the stresses of college life (and keep you in top-shape). Most campuses offer a wide variety of physical activities to help you blow off some steam and stay healthy.
For example, Campus Recreation is a way of life at USF Tampa. Our highly ranked recreation center features two gyms, an indoor track, racquetball/handball/squash courts, an indoor heated pool, expansive cardio equipment, group fitness classes and personal training. Numerous outdoor playing fields, an outdoor pool, running trails, a ropes course, disc golf, canoe/kayak/stand-up paddle board (SUP) rentals, and more than 30 intramural sports round out our offerings.
Making Friends and Having Fun
College isn't ALL about studying. It's also about meeting new friends, exploring new activities, and having fun! A great way to do that is to check out the student organizations on campus.
Most campuses offer something for everyone, whether you're into music, sports, films, volunteering, traveling, or Greek life. Here at USF, we offer 600 student organizations, and major events like Week of Welcome, Bullstock concerts, comedy shows, film screenings, and more.
Finding a Job
For most students, the point of going to college is to not only earn a degree, but also snag a fulfilling job. Most colleges offer comprehensive career services to help you successfully launch your career or prepare for graduate school. Some of the career services USF offers include assistance finding a "best fit major," co-op and internship placement services, job search preparation, and on-campus job placement assistance.
Want to learn more about the top factors to consider when choosing a college and outstanding college resources available at USF? Check out our student life website or contact us online or at 813-974-3350 for help with all of your questions.