5 Tips to Meet New People at College

Moving away from home and leaving behind your friends and family can be tough. Sixty-six percent of college students report being homesick in their freshman year. I remember coming to USF and feeling overwhelmed about meeting people and becoming acclimated to campus life. However, I found it easy to befriend my roommates and neighbors in my residence hall. Making new friends in a place far from home may seem like a difficult task, but it doesn't have to be. Here are our top 5 tips to meet new people at college and get more engaged on campus.

5. Attend Guest Speaker Lectures
Attending guest speaker lectures is a great way to start networking. Your college may have posters throughout the halls about upcoming guest speakers or events, so keep an eye out for them. It is a big hit at USF and has featured guests such as Bill Nye and Viola Davis.
Lecture events allow you to meet other students who share your passions. You will also be able to connect with people working in fields you may be interested in, an
I was able to attend a lecture with a panel of influential women including Laura Brounstein, the special projects director for Cosmopolitan. At the end of the discussion, I had the opportunity to speak to Brounstein, and she said she noticed my smile. I got to take a photo with her, connect with her, and hopefully leave a lasting impression on a director for a major magazine.
4. Campus Events
Most colleges offer a variety of regular events to help students connect with new friends. These include athletics, festivals, and new freshman introductory celebrations. There are lots of ways for you to get involved on campus.
At USF, New Student Connections helps students get out of their residence halls during the beginning of each semester by holding events and providing one-on-one coaching for students to succeed. Events include Week of Welcome (WOW), First Fifty Days, and CampU.
USF's also provides fun experiences where students can get to know each other. CAB hosts the annual Bullstock concert and offers Patio Tuesday on the first Tuesday of each month during fall and spring. At Patio Tuesday, students can participate in different activities, explore a showcase of student organizations, and enjoy free food and music.
Fall Homecoming is a week full of events, including comedy shows, a parade, and a Homecoming concert, which has featured guests such as 2 Chainz and Rae Sremmurd. It is hosted by the Center for Student Involvement.
At sporting events, students can have fun with peers by rooting for their college team. USF features 17 men's and women's NCAA teams for you to cheer on. During football season, Bulls Blitz provides buses to shuttle students to Raymond James Stadium. Bulls Blitz is an amazing way to meet new people who are excited about supporting their school while on the way to or from a football game.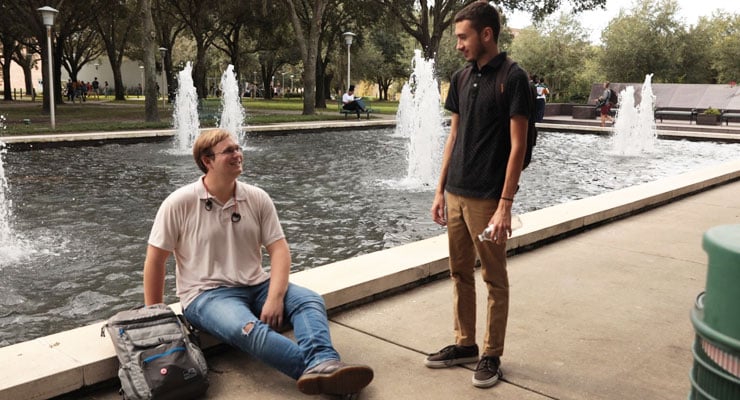 3. Intramural Sports
Even if you aren't an athlete (or athletic, in general), intramural sports are a great way to meet new people and release stress from the semester. Intramurals are an affordable option for playing organized sports in college. Currently, USF Campus Recreation offers 30 men's, women's, and co-rec .
Intramural sports can be one of the most diverse clubs on campus. You can be on a team with people who have never played that sport before and people who have played their whole life. The main requirements for playing an intramural sport are having great sportsmanship and a fun spirit.
If you're not sure you want to commit to an intramural, you can register as a free agent. If you don't want to play a sport but still want to be involved in intramurals, you can also apply to officiate games.
2. Join Student Organizations
Student organizations provide students opportunities to get involved on campus and meet people with similar interests. They encourage students of all backgrounds to work together and enjoy their college experience with others.
USF has over 600 student organizations, ranging from pre-med clubs to the Quidditch team. With so many student organizations, there is something for everyone.
Use BullSync to connect with student organizations and find out about meetings. If you stay involved with your student organization, you can also become eligible for a higher position such as president or vice president, which will boost your resume.
At USF, I was a Peace Corps Ambassador and became a secretary for PCA. I was also treasurer for the following year. Being able to work with professors and Peace Corps recruiters at USF allowed me to graduate with a Peace Corps Prep certificate.
You can also start your own student organization if you see that something you would like isn't yet an option for a club. Who knows? Maybe other students are looking for the same thing.
1. Get to Know Your Residence Hall
Your roommate may be the first person you meet in college. This will be an important relationship during your college years, so it's important to cultivate a healthy dynamic by setting boundaries and respecting one another. You may end up spending a lot of time together and meeting each other's friends.
Residence halls can foster a feeling of home and togetherness. You'll run into your residence hall neighbors during floor meetings or in common spaces like the study room or kitchen. Don't be afraid to talk to them. They may be incoming freshman from other states or countries, and, like you, they may feel homesick.
At USF, you can get more involved in your residence hall by joining a Living Learning Community (LLC), which connects students based on their major or common experiences. You can also apply to be a council member for your residence hall association. Throughout the year, USF residence halls host a variety of events such as carnivals and spooky poetry readings. The more events you try, the more friends you'll have the chance to meet.
For more information on meeting new people, USF has many resources available online or on campus. You can contact New Student Connections online or by phone at (813) 974-2896.