Tips for Traveling to Out-of-State Colleges of Interest

Would you buy a house without touring the property and checking its history? Choosing a college you haven't visited is the Imax version of that scenario. Unfortunately, out-of-state college visits can mean spending time and money you don't have and dealing with logistical challenges. Our tips for traveling to out-of-state colleges of interest can help.

Planning Visits to Out-of-State Colleges of Interest
You should be putting together a list of prospective college choices by junior year of high school. It's a good time to start the visits, too. If you really like a school and there's a decent chance you'll pick it, plan a visit.
Your circumstances will dictate how many you can check out. Five or six is a reasonable number to visit, enough to yield comparisons but not so many that the experiences begin to blur. Here are some tips to help make the visits productive and simplify the process:
If You Can't Afford the Visits, Find a Workaround
Travel is expensive, especially when plane tickets, multiple destinations, and overnight accommodations are in the mix. There are ways to bridge the dollar gap:
Academic excellence, minority and immigration status, and financial hardship are among reasons some schools will underwrite visits, including overnight stays and airfare.
Student airfare discounts are available, and a little advice from travel insiders might help.
Team up with another school shopper and share the expense.
See if the school will be participating in a college fair or hosting a reception in your area for potential students.
Many school and student service websites offer free virtual tours.
Make a List of Must-Visit Out-of-State Schools
Organizing a different trip to each distant school might be necessary, but it's costly in terms of time and money. Getting your core list ready as soon as possible makes a big difference here. Once you know your out-of-state targets, you can begin mapping visits.
"Mapping" is precisely what you need to do:
Are the schools located where one trip could check more than one target off your must-visit list in a reasonable amount of time?
Are your targets so distant and far apart that doing full days or overnighters at two or more would burn the better part of a long vacation?
Out-of-state schools within reach of day-trips lend themselves to multiple visits. You can get the big picture, but in pieces. Rushing through a visit at a distant school to get to the next target will leave you with new and unanswered questions and less time and money to address them.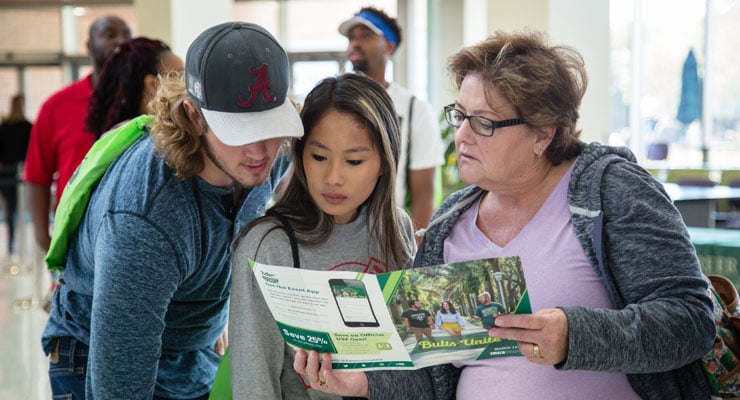 Plan Visits for When Classes Are in Session
Getting a feel for a campus is easier if you visit at the right time, which mostly means when classes are in session. Late summer, early fall, and spring are good times. Also:
Avoid exam time; students will be too busy to engage with you.
Be sure faculty and admissions staff will be available to answer questions.
There are upsides to winter visits, including the benefits of chatting with freshmen who have a semester of experience.
The pros and cons of summer visits typically include more flexibility in your schedule and fewer students and staff on campus.
Airfare prices have dead zones, or seasonal decreases, that might shape your decisions.
There's another important consideration on when to go: weather. If choosing a school means adapting to weather you aren't accustomed to, visiting when the weather usually is at its worst will let you know if it's a game-changer.
Check Schools' Visit Offerings and Availability
Applicant visits are the way schools close the deal, and they approach them accordingly. At USF:
Visitor information is a phone call or a few keystrokes away.
Individual, family, and group visits include a guided campus tour and information session(s) presented by admissions staff.
Visitors can stop by the Office of Admissions for self-guided-tour materials or make an email request for the information.
The school holds Stampede to Success open houses featuring sessions on academic programs, admissions requirements, campus life, scholarships and financial aid, and undergraduate research.
You can contact admissions officers to schedule meetings with them or faculty or just discuss what USF calls the Campus Visit Experience.
Do an Overnight Visit if Possible
Most schools will arrange stays in campus housing with students for overnight visitors. You'll sample the food, living quarters, and amenities while gathering invaluable information from students and others on campus.
Parents Should Go, Too
You and your parents should team up to absorb the ocean of information needed to make the countless decisions involved in picking a school. Their experience with travel and in other areas can make the trip planning easier and the visit more pleasurable and productive.
Remember, though, that you should be the driving force in this experience. A few tips for parents on how they should approach the visit can make it less likely that they will default to protective parent mode and dominate interactions on campus.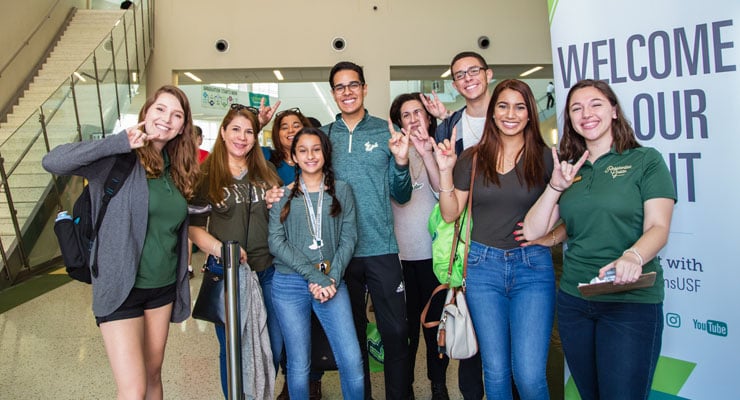 Preparing for Your Trip(s)
Once you decide to visit a school, it's time to take the research to the next level. Do what it takes to explore the campus and community more deeply, from the academic offerings to nightlife to geography.
You can connect digitally or directly with chambers of commerce, city halls, and media outlets to learn as much as possible. Social media, from student and alumni forums to Facebook pages, also can give you a look beneath the school's veneer.
Then there's the nitty gritty of the trip itself. You'll need to:
Have a list of questions you want answered, and be prepared to take plenty of notes and pictures.
Determine who's going, how, and when.
Craft an itinerary that includes backup plans.
Schedule a tour and related activities with the school(s).
Pack based on the weather where you're going.
Engage with the admissions office(s) to ensure you make the trip as productive as possible.
The USF Office of Admissions is ready to engage. Contact us online, or reach us by phone at 813-974-3350.