Take a Campus Tour from Home

Visiting colleges is an important part of the college admissions process. You want to make sure that the college is the best fit for you and offers the resources you need to succeed. Over the past few years, more and more colleges have started using virtual campus tours to make it easier for students and their families to check out potential schools.
We know how busy students and their families are, so we've developed virtual tours of each of USF's three beautiful campuses for you. Now, you can meet students and take a campus tour from home.
Online from Your Computer
Going on a virtual tour is especially useful for those universities that are out of state. Traveling across the country to visit a college may be nearly impossible for a variety of reasons. When you take a campus tour from home, you learn about the college and its campus without having to actually be on campus, saving you time and money. All you need is a computer, tablet, or mobile phone and access to the Internet.
At the University of South Florida, our virtual tours allow you to walk around campus and check out key buildings and landmarks. And if that wasn't enough, our tours are led by USF students to create an authentic experience. Tours include 360-degree views, too, so you can get a panoramic view of the place you'll call home. You'll see our beautiful campuses while learning about everything USF has to offer you. It's the best way to explore USF without actually standing on campus.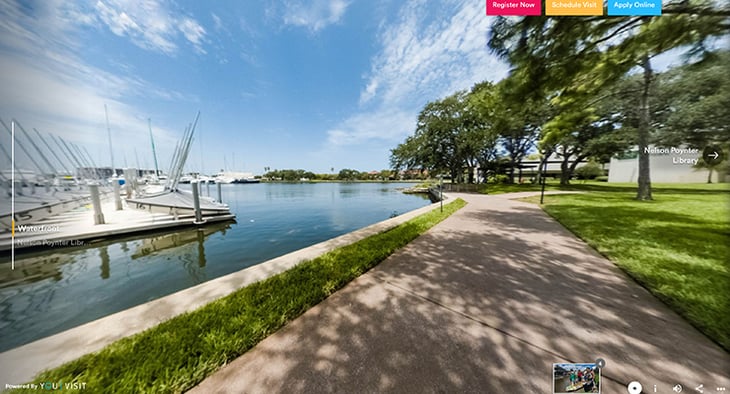 Goggles
Take the visit experience to the next level with virtual reality goggles. You can use virtual reality goggles for a more immersive and interactive experience on your mobile phone as you "walk" around our campuses.
After downloading the app for your phone, place your phone inside the virtual reality goggles and enjoy the campus experience. You'll be able to check out 360-degree views of the campuses, landmarks, and even the inside of buildings.
Our student guides are with you during the virtual reality experience, and they will share important information as you take the virtual tour. Feel free to share the virtual tour with your family, friends, and college counselors.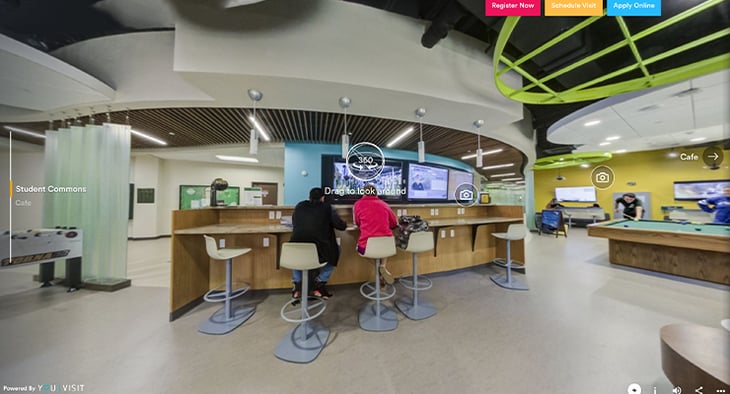 Hotspots
Go even more in depth on your virtual tour by checking out featured hotspots during the tours. Our hotspots are designed to take your virtual tour to the next level by providing more details.
Learn about USF, our students and diversity, majors and concentrations, and amenities while you're on the go. Our hotspots include videos, photos, and cool extras. You'll get an inside look into what it's like to be a USF Bull.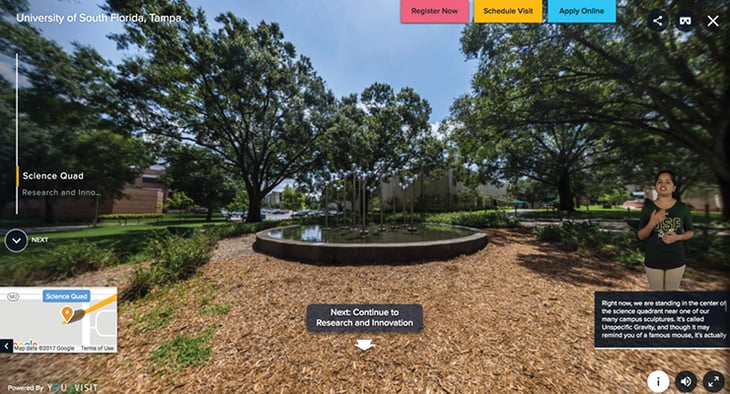 Your Virtual Campus Tour Maximized
We can't wait to show you everything our stunning Tampa, St. Petersburg, and Sarasota-Manatee campuses have to offer. Take the next step and visit us online with our virtual tours.