How to Get Involved on a College Campus

Campuses are communities designed to embrace and nurture students as those students search for, explore, and make the most of their passions and strengths. The essence of that is ensuring there are countless opportunities for students to connect with the campus community. Consider what USF puts, quite literally, at the fingertips of students who are trying to decide how to get involved on a college campus.
Students Simply Need to Reach Out
Most new college students might not know where to find out how to get involved on their college's campus. However, all colleges offer students many ways to meet new people, make connections, and more. At USF, we offer our students a variety ways to get involved on campus. As with other colleges, the USF Student Affairs office offers opportunities for students to engage with campus life outside the classroom.
Student Affairs wants Bulls connected because engaged students are more successful in college and beyond. Here are some of the ways you can get involved: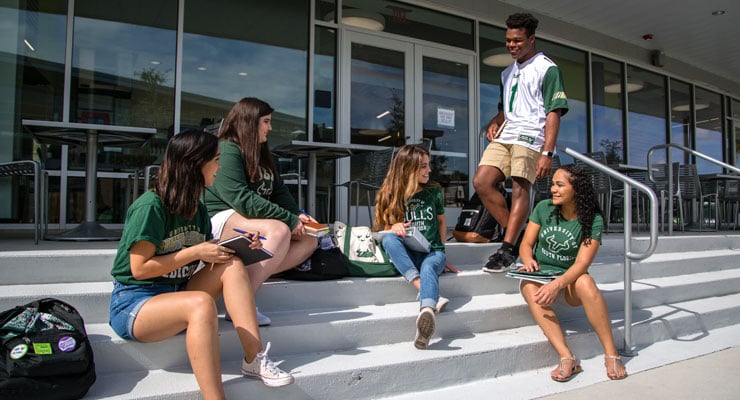 Center for Student Involvement
Do you like music? How about sports? Do you exude USF spirit? Do you like community service? Do you love planning events? At USF, there are so many ways that you can get involved with the campus and the community while having fun and exploring your passions!
The Center for Student Involvement exists to not only coordinate many of these activities, but to help you find just the right ones for you. Our peer involvement consultants can help you identify opportunities to get involved from everything offered on campus. An easy visit to our office and we will point you in the right direction and/or connect you with some of our own programs.
New Student Connections
The aim of New Student Connections is to provide social events, programs, and meet ups to help new students connect. To that end, it provides things such as:
Information on important campus dates, events, and programs
Peer coaching on issues ranging from academics to getting involved on campus
Maps, parking information, and other things related to getting where you want to go
Links to other student advocacy services such as the Dean of Students Office, Center for Victim Advocacy, Student Outreach and Support, Student Ombuds Office, and Office of Academic Advocacy
Center for Leadership & Civic Engagement
The Center for Leadership & Civic Engagement's name defines its mission. Students are invited to engage in community service on or off campus, participate in leadership development programs, and get involved with any of more than 600 student organizations. If there is not an organization matching your interests, don't worry. CLCE invites you to start a new one!
Office of Multicultural Affairs
The Office of Multicultural Affairs oversees educational, cultural, and social programs "to foster experiences which create interculturally mature global citizens who are prepared to thrive in diverse environments."
Students who get involved with the experiences offered by this office will have the opportunity to understand and appreciate a multitude of identities. Through programs, trainings, and interactions with its staff and services, OMA helps support USF's inclusive environment and enables students to become conscientious global citizens.
Student Government
Either as paid employees or volunteers, Bulls are the hearts and souls of Student Government. Its appointed and elected student members are the faces of the Legislative, Judicial, and Executive branches. Those members serve as the voice of the student body, advocate on behalf of all students, helping to shape university policy and fostering school pride.
Student Government offers numerous services for all students, including:
Bulls Blitz, which provides free bus rides to football games
Bull's Country, a partnership with local businesses offering discounts to students
Bulls Radio, where students can get hands-on radio experience (technical, on the mic, and in production) and keep up with Bulls sports and campus and community events and news
And much more!
Campus Recreation
Campus Recreation is the force behind intramural sports teams and clubs, trips, and a host of fitness classes. With an award-winning main facility and three conveniently located satellite facilities plus USF Riverfront Park, students can enjoy include:
Two gymnasiums
Indoor suspended track
Racquetball/handball courts
Squash court
Indoor heated pool and outdoor pool
Expansive cardio and fitness floors
High ropes course
Kayaking and canoeing
Fitness classes
Adventure trips (local, national, and international)
Plus more!
Religious & Spiritual Life
Religious & Spiritual Life is a network of faith communities that serves as a gateway "to programs, services, and activities that encourage a campus atmosphere of healthy religious and spiritual expression." In addition, Religious and Spiritual Life at USF is "an organization of religious professionals who have come together from a wide variety of religious traditions to serve the student body at USF."
Career Services
Are you looking for a part-time job or internship while at USF? Guidance in defining and achieving career goals? Help in your job hunt before and/or after graduation? Career Services is the department you need.
Focused on Bulls, Career Services supports students in the process of dreaming, planning, and achieving career goals. They teach students how to use a strategic approach in planning for a career path and job search. They also help students self-assess, learn how to conduct career research, seek out experiences that will give them transferable skills, and search for full-time employment or prepare for graduate school.
Career Services specializes in career fairs and other employment-related events designed to connect job hunters and employers.
Housing & Residential Education
You don't need to leave your residence hall to get the skinny on getting involved. Housing & Residential Education recommends tapping your resident assistant's institutional knowledge to help you connect with activities and people, "or maybe consider becoming an RA!"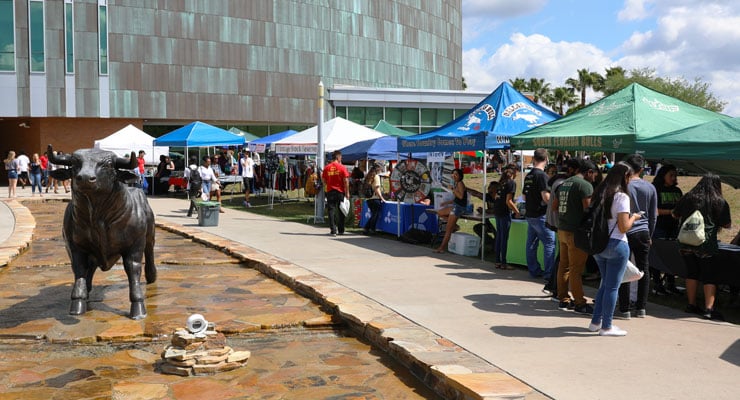 Marshall Student Center
The Phyllis P. Marshall Student Center is the heart of campus and is the place where students love to hang out, eat, study, game, meet, and snooze. Home to many Student Affairs offices, Student Government, and the hub for student organizations, there are always lots of programs and activities taking place in the MSC.
Building amenities include:
25 meeting rooms
10,000-square-foot ballroom
750-seat auditorium
Gaming room
Food court, full-service restaurant, and buffet-style restaurant
Wellness center and pharmacy
Credit union, copy center, and computer lab
Art gallery and serenity room
The focus of each of these departments differs, but all them share a common goal: Engage and serve all Bulls. Their message for that new college student looking for ways to be part of campus life: Whether you attend, volunteer, or plan -- be it through sports, community service, clubs, events, or activities -- just get involved to make some of the best memories and friends of your college years!
If you're not a Bull but like what you're hearing about resources at USF, remember that our USF admissions advisors are happy to answer your questions about joining the Herd, so contact us online or by phone at 813-974-3350.