Types of Transportation at College

It's another Monday at college. Your to-do list features three classes, a consultation with a professor, a four-hour shift at the children's museum where you intern as a docent, intramural softball league practice, and a study group session at the library. So today you'll have to be at six places on a campus the size of a small town and also at the museum, which is three miles from campus. It will be a busy but doable day because you made wise choices on the types of transportation at college that meet your needs.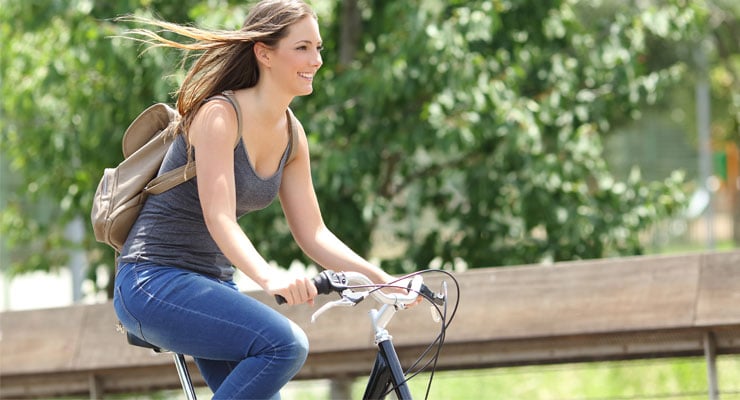 Challenges and Needs Define Choices
The most basic limitations on what you choose to get you where you need to go are physical and financial challenges. Are you capable of using a skateboard, long board, in-line skates, bicycle, Segway, motor scooter, or car? Can you cover the distances you must travel on time if using those options or if on foot? What can you afford?
These are just a few of the questions you need to answer before making smart choices, and only you know all of the applicable questions. Here are a few more things you likely will need to know:
Have you decided whether to live on campus or off?
How far away is home, and how often will you be making the trip?
Will you be working or have academic responsibilities off campus?
What is the campus setting? Urban? Suburban? Rural?
Once you define your basic transportation challenges, you can narrow the choices to what your physical and financial realities allow; then it's time to narrow the field further based on external realities.
Study Weather, Maps, Infrastructure, Rules
The questions get more granular at this stage of identifying viable transportation options, and getting the right answers will take a bit of research.
What are the weather challenges you will face? Identify weather patterns and how they will affect your choices.
What about the geography? Study maps of the campus and community to see what modes of transportation are suited to the terrain and distances you will face.
Is the infrastructure adequate? This covers a lot of territory: Airport accessibility? Roads suitable for bicycles or scooters? Public and private transit options?
What are the school's rules on transportation? Can you even bring a car? And what about motor vehicle laws and insurance requirements for out-of-staters?
Transportation issues should be on your mind at orientation, and getting answers to transportation questions is another good reason not to miss orientation. You also can use social media to connect with students and locals who can educate you on traffic and infrastructure problems and plusses.
And don't overlook local news sources, including school radio stations and publications.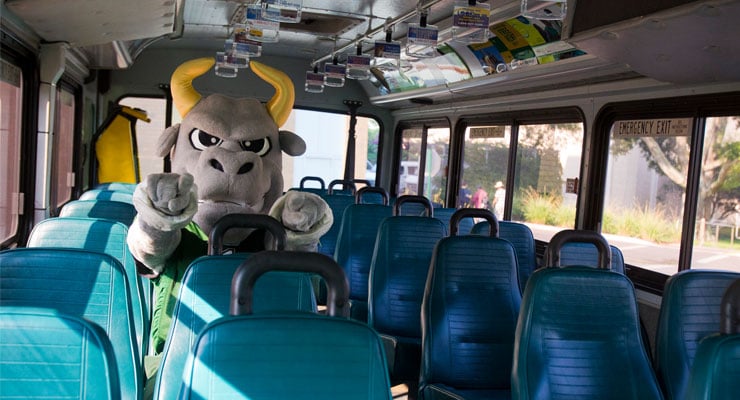 What Types of Transportation Does Your School Offer?
Transportation resources vary by school. A look at USF's division of Parking & Transportation Services is an excellent indicator of what a good school can offer.
Along with being bicycle- and pedestrian-friendly, USF touts a parking system with more than 20,000 spaces, including four garages, and a six-route transit system that runs seven days a week. It's called the Bull Runner, and the bus service, which runs charters, too, is free to faculty and students.
There's more. Under alternative transportation, USF lists car-pool and bike-share programs, electric vehicle charging stations, Enterprise CarShare, public transit system information, New North Transportation Alliance, Tampa Bay Ride Share, Emergency Ride Share, Red Coach, Zimride, and Tampa BayCycle, "your spokespeople for all things cycling."
At USF, the student whose Monday schedule opened this blog could walk to the three classes, bike to the library study session and the consultation with the professor, take the Bull Runner to the softball field for practice, and use a public transit bus to get to work at the museum and back to campus. That covers a lot of ground and some of the most popular types of transportation at college.
Our USF admissions advisors are happy to answer your questions about the USF admissions process and USF resources, so contact us online or by phone at 813-974-3350.