Why Is Attending College Orientation Important?

Now that you've accepted an offer of admission, the first big hurdle of your college career is over. Congratulations! You've already visited the campus and fell in love, so there's no need to attend orientation, right? Not exactly.
Orientation is often a mandatory part of your enrollment, a rite of passage required to enter the hallowed halls of academia. Think of it as your first official act as a college student. In fact, in the State of Florida, attending orientation is mandatory for all new incoming students.
Why is attending college orientation important, you ask? Here are just a few reasons you don't want to miss it, even if you're not required to attend.
Make Friends Before Classes Start
Worried about meeting people on campus? Rest assured, so is everyone else (even if they won't admit it). Attending college orientation is a great chance to get to know other students, bond over awkward icebreakers, and learn about your new home together. You may not become BFFs, but you'll leave knowing there are a few friendly faces waiting for you when classes begin.
Find Your Way Around Campus
Get to know the major landmarks and hidden corners of campus. In-depth guided tours are often an integral part of the orientation program, particularly at large universities. You'll also have a chance to do some free-range exploration, so you'll have no trouble confidently navigating the campus on your first day.
Learn About Your College's Resources
You probably heard a quick overview of your college's resources on the admissions tour. Now is the time to get details. Find out what to do if you get sick. Learn where to get tutoring if you're struggling in class. See when the recreation center is open. You may not use all of your college's resources, but it's good to know what's available before you need it.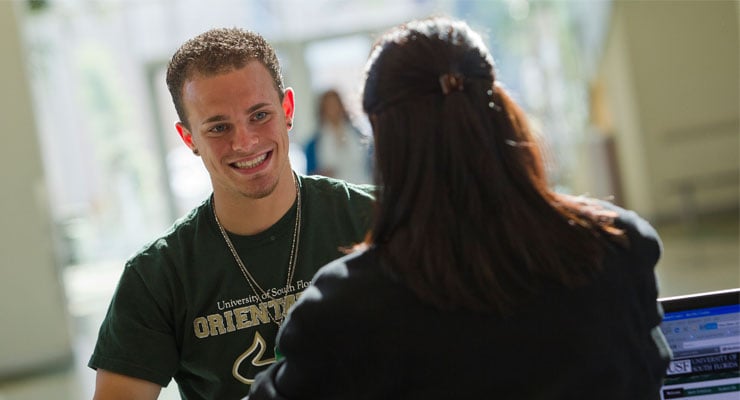 Get Help Registering for Classes
At many colleges, you'll meet with an academic advisor at orientation. They'll review the general education courses needed to complete your degree, and if you've already selected a major, discuss any prerequisites, courses, or internships that may be required. Lastly, they can help you select classes for your first semester and complete the registration process.
Explore Campus Activities
There is so much more to college than just the classroom, and campus activities are a great way to explore your passions, try new things, and make lifelong friends. At orientation, you'll learn about all the activities available on your campus (USF offers more than 700 across our three campuses), from student government to theater to Greek life. Just remember the sage advice of Becca's dad in Pitch Perfect: "This is college. Join in!"
Check Out Residence Hall Life
Are you looking forward to living on your own? Attending college orientation is your first chance to experience it! Many colleges require an overnight stay in a residence hall where you can see what it's like bunking with a roommate and chowing down in the dining hall. You might even come home with a few ideas to make your home-away-from-home more comfortable.
Practice Letting Go
Let's face it – heading off to college is a big change for you and your parents. To help ease the transition, many schools offer orientation sessions to help parents prepare and make college a good experience for everyone. Typically, your parents will attend the program separately from you, so it's a great opportunity for them to practice "letting go" while still showing support. Talk to your parents about attending if your school offers this option.
Finish Last-Minute Business
Orientation is a great time to finish up tasks that require you to be on campus. Get your student ID. Drop by the financial aid office. Pick up your parking pass. Buy some school swag at the bookstore. The more boxes you check off now, the easier it will be when the semester starts.
Remember, in the State of Florida, attending orientation is mandatory for all new incoming students. If you're starting at a new college, you'll have to register and attend orientation in the State of Florida.
To learn more about why attending college orientation is important or to register for an orientation session at USF, visit the USF Office of Orientation website at the Tampa campus, Sarasota-Manatee campus and St. Petersburg campus. Sessions fill up quickly – act fast to secure the date you want!
A quick note for students attending colleges far from home: Many schools offer orientation sessions a few days before the fall semester starts, so students like you don't have to make a separate long-distance trip. Check with your college to see if this is an option.