Top Factors to Consider When Choosing a College

If you're like most high school seniors, you've likely spent the last few months bombarded by hundreds of brochures, emails, texts, and social media posts with a single message: "Come to XYZ College. It's the BEST! And we can prove it with all these pictures of smiling students in XYZ College gear!"
Full disclosure – I probably wrote some of those messages. However, to atone for blowing up your inbox, allow me to help you cut through all that marketing hype. How DO you choose the college that's right for you? What are the truly important things to consider?
It comes down to knowing yourself and what you value most. Here are some of the top factors to consider when choosing a college.
Academic Majors Available
Do you already know what you want to study? Fantastic! Check to see if the colleges on your short list offer the specific major you want.
Not sure what you want to study? That's OK, too! Make sure the colleges you're interested in have a wide variety of majors to choose from, so you can explore and select your ideal field without transferring to another college.
Keep in mind that many students switch majors (sometimes several times) throughout college. Even if you know what you want to study, you may change your mind later. It's helpful to have a variety of programs available at the same college. Here at the University of South Florida, we offer more than 200 majors and concentrations across our three campuses.
Affordable Cost of Attendance
The cost of higher education can have long-term implications on your life, so it's an important factor to consider when choosing a college. Find out up front how much tuition and fees will cost and whether there are different rates for in-state and out-of-state students.
At the same time, don't let the sticker price of your dream college scare you. Ask about financial aid opportunities and scholarships. Many times, they can bring the tuition cost down to a reasonable level. Wait until you've received a financial aid/scholarship decision from a school. Then consider your ability to pay the balance and how much debt you're willing to accumulate.
Keep in mind that the cost of a college is NOT indicative of its quality. Many state colleges provide an exceptional education at a fraction of the cost of private schools. For example, USF is a top-50 research university, and our cost of attendance is one of the lowest in the entire country! We also offer generous financial aid packages and merit-based scholarships to lower the cost even further.

Location, Location, Location
This old real estate mantra holds true even when selecting a college. Make a note of the following at colleges on your list.
What's the climate like – warm and sunny or cold and snowy?

Is it in an urban, suburban, or rural area?

Is it close to your family or a bit further away?

How close is transportation to get home (airports, train stations, etc.)?

Are there things to do off-campus?
As an example, USF may be an ideal choice if you're a sun worshipping urbanite. Our average temperature is 70-90 degrees, and the greater Tampa Bay metro area offers countless cultural, recreational, internship, service-learning, and employment opportunities, along with some of the top beaches in the country. It's perfect for those who love the sunshine and city life, but not so ideal for ski enthusiasts or those who prefer the rolling countryside.
On-Campus Facilities and Amenities
You're going to be spending a lot of time on campus – living there, in fact. You'll want to be comfortable in your home away from home, so learn everything you can about:
Residence Halls: What types of halls are available – singles, doubles, suite-style, apartment style? How much do they cost? Who is eligible? Are there communities for like-minded students (same major, special interests, etc.)?
Dining Halls & Restaurants:

What kind of meal plans are available? Where can you eat with the meal plan? Are there restaurants on campus or only dining halls? Do they accommodate special diets such as vegan or gluten-free?
On-Site Services:

Are you able to get medical care right on campus? Does the college offer an on-campus pharmacy, counseling center, bank, grocery store or other needed services?
Recreation Opportunities:

Does the college have a rec center? What type of equipment do they have? Are fitness classes offered? Is there a pool, basketball court, track or other amenities that interest you? Are there other recreation opportunities on campus?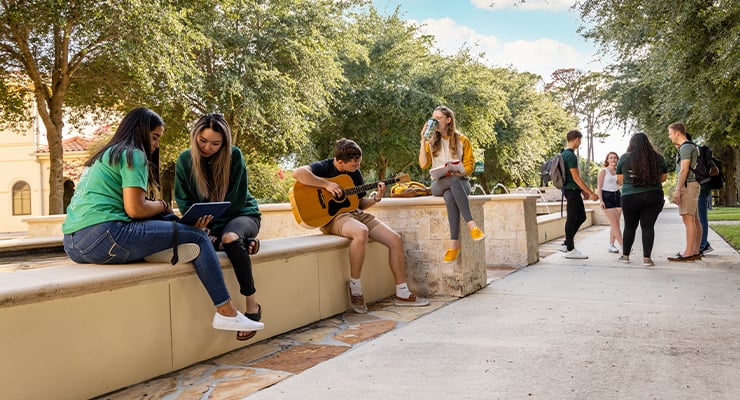 Student Activities
Are you into football? Theatre? Underwater basket weaving? Whatever your interests, find a college that allows you to pursue them! See what sports are offered and check out the student organizations on campus.
Some schools even offer special student perks not available to the public. For example, USF gives every student a FREE ticket to all home football games. We host 18 men's and women's varsity athletics teams, intramural sports, over 1,000 student organizations, and major events like Week of Welcome, concerts, comedy shows, film screenings, and more. You never have to leave our campuses – until you graduate.
Career Services
For most students, the point of going to college is to get a fulfilling job that contributes to society (and avoid moving back into their parents' basements). Check to see if a college offers comprehensive career services to help you successfully launch your career or prepare for graduate school. Some of the career services USF offers include assistance finding a "best fit major," co-op and internship placement services, job search preparation, and on-campus job placement assistance.
Do You Feel at Home on Campus?
Perhaps the most important factor to consider when choosing a college is whether you feel comfortable on campus, so be sure to visit. There's nothing like experiencing the spaces where you'll eat, sleep, study, and play first-hand. If you can't make it to campus, many colleges offer online virtual tours.
Intrigued by the University of South Florida and want to learn more? Visit us online to learn more about our Preeminent research university!