Why Rankings for the Best Public Universities Matter

The University of South Florida has once again been named one of the top 50 best public universities in America by U.S. News and World Report for 2021. Over the past 10 years, USF has dramatically risen in the rankings from No. 181 to No. 46 today, marking an unparalleled trajectory among public or private universities in the United States. This is the second consecutive year USF has ranked among the top 50 public universities in the nation.
"USF is proud to maintain its position as the fastest rising university in national rankings among institutions both public and private over the last decade," said USF President Steve Currall. "We will continue our strategic focus on initiatives that will help propel USF to even greater heights in the future."
What Do the Top Public Universities Offer Students?
Despite the excitement surrounding this accomplishment, the rankings hold even greater importance for students. During USF's historic rise, the university has been able to match the accomplishments and resources of the top public universities in the nation. Below are three of the important factors measured, why to consider them, and how they directly influence student education quality.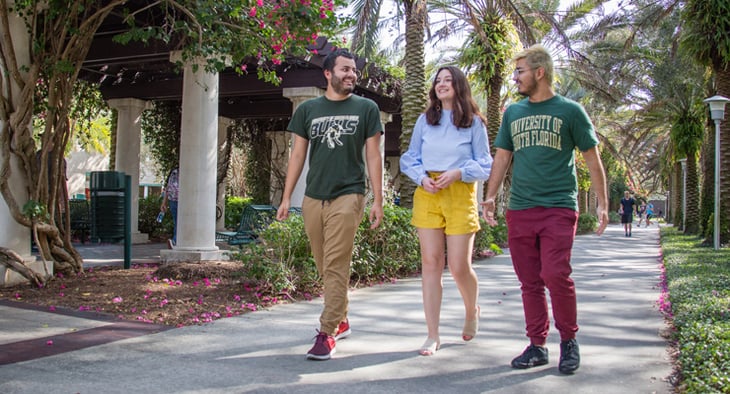 Student Success Outcomes
These metrics measure important figures such as graduation and retention rates. The figures offer strong insight into the support students can expect at the university they attend. Particularly for Pell Grant students, who come from lower-income homes and traditionally struggle to stay enrolled and graduate, these numbers can be a crucial predictor of college success.
Students at top public universities can expect plenty of academic support and resources, including tutoring and study services. However, this also includes additional support services that fall outside of academics yet still play a major role in student graduation and retention rates. Social support and counseling services are two examples.
Faculty Resources
Another important benchmark U.S. News used to determine the best universities were faculty resources. This includes factors that directly impact the quality of education students receive in the classroom:
Faculty-to-student ratio: A low faculty-to-student ratio means smaller class sizes, allowing for personalized attention, more interaction, less classroom distractions, and better instruction.
Faculty with the highest degree in their field: By hiring faculty at the top of their field, universities ensure their students learn from thought leaders in their discipline.
Student Excellence
Student excellence measures the academic strength of admitted students at the university. This includes the GPA, class rank, and standardized test scores of enrolled students. These metrics remain one of the best predictors of student success at the college level.
Those entering a university with high student excellence metrics will be surrounded by academically gifted peers who will push them to excel. Classes will be enriched with motivated students who contribute to the instruction quality, and there are fewer distractions from less-engaged classmates.
Student excellence also impacts the general university atmosphere. With a strong student body made up of dedicated learners, academics takes precedence. An emphasis on open-minded discovery, inclusivity, and inquiry tend to pervade these institutions. Classes will also be geared toward exceptional students who enter campus with a solid academic foundation and push themselves to continue to excel.
How Else Can Students Identify Top Colleges?
Accolades for top college rankings are a great place to start for students seeking an exceptional learning environment, but there are other factors students can explore as well. This includes several important services, departments, and opportunities that hint at the quality of education:
Honors programs: Does the school offer honors and accelerated programs that cater to high-achieving students?
Research opportunities: Do students have research opportunities at the undergraduate level?
Outside community: Is the institution located in a vibrant community that allows for internships and other off-campus opportunities that support classroom lessons?
Study abroad: Do students have numerous study abroad opportunities so they can expand their learning and develop a greater global perspective?
Outcomes: Does the university have a strong track record of job placement and average starting salaries?
Learn More about USF's Commitment to Excellence
"At USF, we believe that world-class education and research reputation goes hand-in-hand with gains in student and faculty success," said Ralph Wilcox, USF provost and executive vice president. This new U.S. News ranking affirms the university's commitment to academic excellence for all students.
To learn more about this ranking and USF's unprecedented rise, view our press release. For more information about admission, requirements, programs of study, or student resources, view our Office of Admissions resources for college counselors.