5 Best Fall Semester Weekend College Activities

The fall semester at college is an exciting time of year. College students are busy studying, attending classes, and getting involved on campus. With so much going on during the week, you might be wondering what there is to do on the weekend. Here are the 5 best fall semester weekend college activities to help you have fun, connect with friends, and engage with your school and community.
5. Explore the Community
Weekends are a great time to head off campus and check out the area around you. That might include cool museums, fun eateries, state parks, galleries, professional sports teams, theaters, shopping, and outdoor festivals. You can even take regular trips to some of the best beaches in the nation. There is so much to do in and learn about your college town and community.
You can also get involved with community service projects or with a student organization that is active in the community. At USF, Campus Recreation offers fun excursions to help you explore, such as night bike rides to downtown Tampa and regular trips to the beach.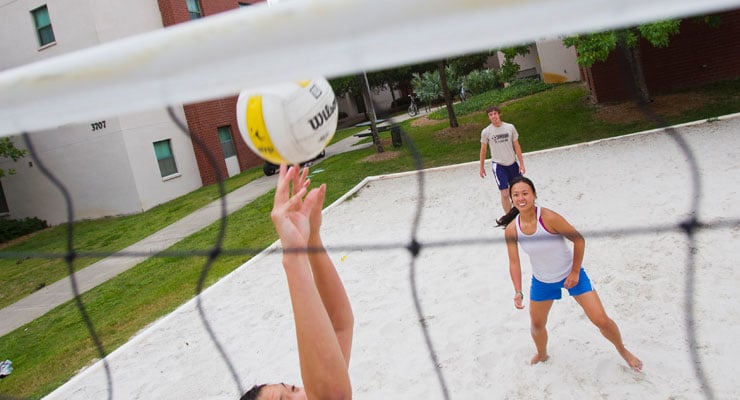 4. Football Games and Athletics Events
There is nothing more fun than a college football game, even if you're not that into the sport! Get some friends together, wear your school colors, grab your tickets, and head to a game. Join in a little tailgate pre-game action to get in the spirit. The team spirit is infectious, game snacks are delicious, and people-watching is just as much fun as rooting on your team to a win.
3. Adventure Trips
Everybody loves the cooler temperatures that fall brings. What better way to enjoy them than to head outdoors on an adventure trip? Check out Campus Recreation, the most likely host of off-campus adventure trips, to see the list of upcoming excursions.
At USF, we offer day or weekend trips to go hiking, canoeing, camping, biking, paddle boarding, and more. Typically, all the needed equipment and accommodations are provided, and the trips are affordable for students.
2. Intramural Sports
Weekends are a great time to let off a little steam and make new friends through Intramural Sports. From flag football to soccer, disc golf to basketball, Intramurals offers dozens of indoor and outdoor sports for students to join as an individual or with a team of friends. Intramural sports are as much about connection as they are about activity. They are a great way to make friends on the spot, and be active.
Typically, Campus Recreation can provide equipment. But, you can always double check what's available, and make sure you have all the necessary equipment. Try something new or continue with your favorite sport.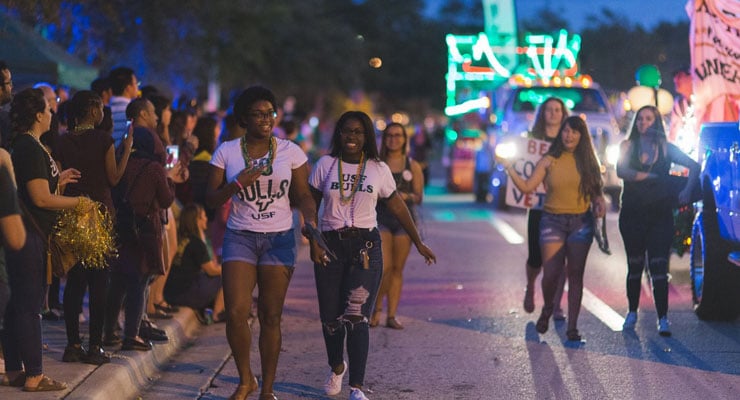 1. Homecoming
Most universities celebrate Homecoming during the fall semester and chock their celebration full of entertaining and spirited events before culminating in a football game that brings together the entire community.
At USF, we usually celebrate our Bull pride in October. Our students enjoy a pep rally, a national comedian, a ball, and a concert during the week. Then the weekend really kicks in with a carnival and night parade before USF Bulls head to a packed stadium to cheer on our team to a win.
Also, this may be around the time that your university hosts family weekend, which is a great time to show off your school to your family and spend some time catching up with those you love.
General Safety Tips:
Watch out for your friends.
Make a pact to leave and return with the same people.
If you're of age to drink, make sure to monitor your consumption and resist pressure to overdo it.
Speak up if something seems off.
If you don't have a stadium on campus, check for free transportation to and from the game provided by the university.
Remember that drinking isn't necessary. USF is piloting sober tailgates to encourage students to have a good time and stay sober.
Check to see if there are any restrictions before attending an adventure trip.
Bring your friends for added fun.
Plan for different types of weather conditions based on the trip.
Look for campus-sponsored trips to explore the community, or join a campus group with activities in the community, such as crew, water skiing, volunteering, and more. This way, you get to make friends within the group and explore the community at the same time.
Explore the community with a group of friends, and be sure everyone stays together.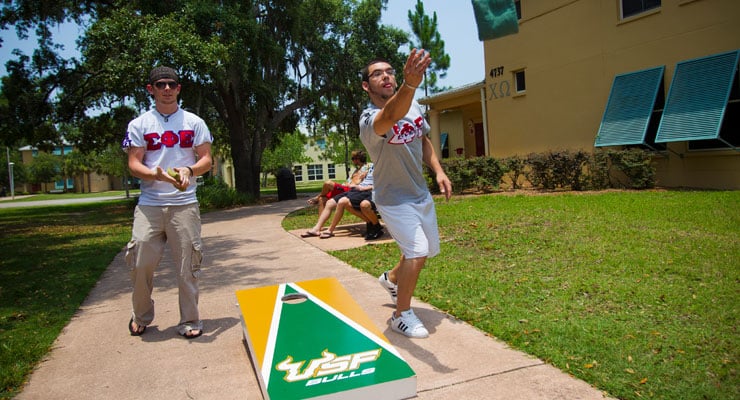 Get Connected
While you're busy studying and making good grades, remember to enjoy some of the weekend activities that make college fun. Remember to be safe and speak up anytime you feel uncomfortable or have a question. Colleges have teams of people dedicated to making your college experience excellent and safe.
For more information on becoming a USF Bull and joining our traditions, the Office of Admissions is always ready with answers. You can contact us online or by phone at 813-974-3350.