8 Sustainability Tips for College Students

Plenty of cool planets exist in the universe. One may be made of diamonds. Another — once thought to be a twin to Earth — burns forever, all fire and heat. But Earth is the only planet teeming with life, in ways we don't always realize. That spider, quivering in its web, is dreaming. Your dog knows exactly when you are coming home because it can smell time. Those trees you passed — pines, oaks and magnolias — communicate through fungal threads, a kind of tree language. Earth really is worth saving. But you already know that. You're Gen Z.
"We do care more about sustainability," says Iris van der Veen, vice chair of the USF St. Petersburg Student Green Energy Fund. That's partly because Gen Z — born between 1997 and 2012 — knows the worst-case climate scenarios that could come in their lifetime. "Do I want to live with the consequences of the actions of the people before me, as well as my earlier years? No, not really. We as a generation have a lot of fighting power and willpower… We want to see change."
On Earth Day, follow these eight simple sustainability tips for college students to join your generation in fighting for Earth.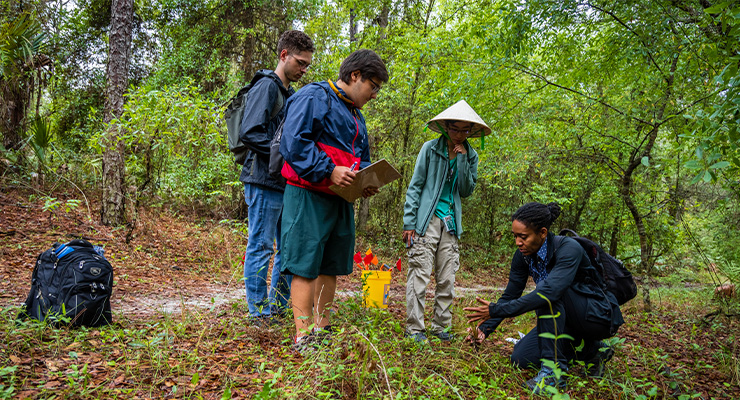 8. Educate Yourself
The first step is to learn more about the environment, the climate crisis, who it affects, and how we can help.
7
. Reuse and
Recycle
You can't ever truly throw something away on Earth. By 2100, 4 billion tons of material will go into landfills each year. That's why it's important to opt for reusable items rather than single use ones. For example, plastic water bottles usually end up in landfills even if you try to recycle them, so it's best to replace them with a reusable water bottle. While metal and glass can be recycled infinitely, plastics degrade after one or two uses.
When you do recycle, make sure you do it properly. "Many people don't realize you can't recycle things that have grease on them or haven't been rinsed out," van der Veen says. "Nobody washes those recyclables for you. So if you put a recyclable in there that has liquids in it, and (the liquid) gets all over the other recyclables in the bin, they will just trash the whole bin and take it to the landfill." Make sure you also dry wet recyclables before you put them in a mixed recycling bin which also includes paper.
6. Take the Bus or Bike
At USF, students can check out free bikes on and off campus to get around. This is a great way to reduce emissions from cars. If you're going further afield, consider public transportation, like the SunRunner in downtown St. Pete, which is free until November 2023, or the TECO streetcar line in Tampa.
5. Use Less Electricity
This tip can also save you money on your electric bill. Opt for LED light bulbs, which are more energy efficient. Unplug electronics when you aren't using them (like your toaster oven). And in the summer, consider setting your AC a degree or two warmer, suggests Cimitile.
4. Reduce Food Waste
"The carbon footprint of U.S. food waste is greater than that of the airline industry," according to this article in the Washington Post. When you stock up on dorm snacks, put older items in front so you're more likely to eat them before they expire.
You can also participate in campus composting initiatives. For example, at USF St. Pete, students are encouraged to leave "food on their trays after they're done eating," says Cimitile. The food waste is taken to the campus bio-digester.
3. Try Meatless Mondays
"Every day that you forgo meat and dairy, you can reduce your carbon footprint by 8 pounds — that's 2,920 pounds a year," explains this blog post from Columbia University. Aim for a diet high in fruits, vegetables, beans, and grains. And if vegan food isn't for you, that's okay, too. Even small actions help, like replacing your lunchtime hamburger with a meatless alternative each Monday.
2. Take Care of Yourself
Make sure you support yourself emotionally and physically throughout this journey. "Sometimes it feels hopeless, because there's so many issues you wish you could fix but there's only so much you as an individual can do," Van der Veen says. To cope with these feelings, remember "why you're a part of the movement, why you care so much about it. For me, that looks like sitting in the grass every once in a while, going to the beach and watching the sunset … different things that help you reconnect with nature and feel at peace, as well as remind you there is something you're fighting for."
Van der Veen also cautions against feeling guilty every time you make a less sustainable choice, like drinking coffee from a plastic cup: "There are multimillion dollar companies that are doing far more damage than you as one person."
1. Get Involved
If you care about the environment — or want to learn more — reach out to your campus sustainability clubs. "It's helpful to meet like-minded people who care about the things you care about," Van der Veen says. "Hearing other people talk about why they are a part of the movement is so eye-opening and really makes your heart happy.… It reminds you that there's so many people that are standing with you. It's not you alone. It is not you as an individual. It's all of us together."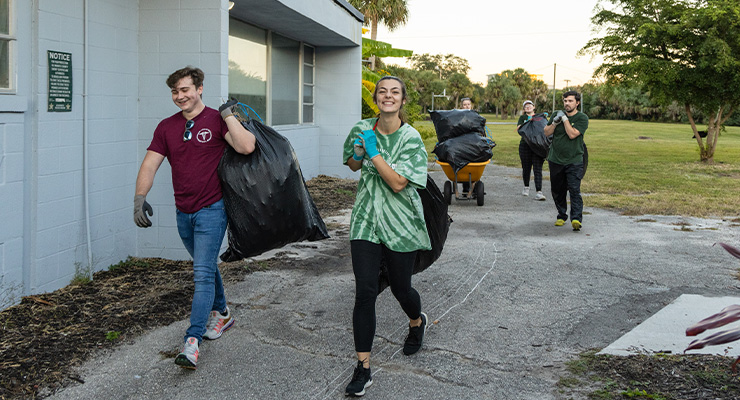 You could also consider taking an environmental science class, even if that's not your major. If you are interested in majoring in environmental sciences, check out USF's robust majors in this field.
Most importantly, vote for people and policies that help the environment and align with your values.