How to Succeed During Your First Year at College

College can be challenging if you do not know the ropes. Thirty percent of freshmen drop out after their first year, according to CollegeAtlus.org. Here's how to succeed during your first year at college, so you do not become a statistic.
Keep Your Grades Up
Lots of college students have that one class that just won't let up. No matter how much you study, it's just not getting through. Maybe it is the teacher, or maybe it is the course material. In any case, most universities have free on-campus services that can help you.
I thought I was good at math and that I would succeed in that area my first year. Unfortunately for me, college was not pulling any punches. Math is like a language, and I spoke quadratic. So, statistics was like learning German. I had never been introduced to the bell curve, and I had never seen a z-score. I needed some help.
Tutoring was available at the college I was attending, so I took advantage. I was in the math lab at least two hours a day. I passed the class with a low B, but I surely would have failed the class otherwise.
At most colleges, there are tutoring services for those hard subjects and writing centers for those ever-present paper assignments. Tutoring can be done by appointment and in a group setting. For instance, USF offers tutoring in economics and chemistry. They also have a writing center and a SMART Lab for math, where students can learn at their own pace.
Are you organized? I know I'm not. Once, I even showed up for an exam a day early. Remember that colleges have a vested interest in your success. The problem is not that help isn't available; it's that students do not know where to get it.
Organization is listed as one of the top 10 issues freshmen struggle with according to Mental Health America. There is help available on campus, if you take the time to look.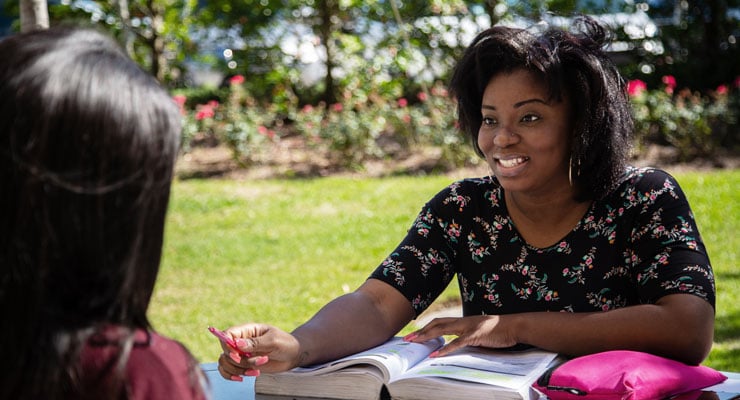 Practice Self-Care
There are other stressors in life that can develop into pain points and become a barrier to success in your first year. These stressors can include homesickness, sleep issues, and even relationship issues.
First, be aware that universities all over the country have counseling centers where you can talk with a professional about the issues you are having during your first year at school. Don't be scared to reach out.
It is important to manage stressors with positive self-care. This can be anything from going to a movie with friends to eating healthy and exercising. Here are a few musts for success.
Go to Bed
Sleep is a recurring issue for first-time students because it can drastically reduce your GPA.
In college, you will have unfettered access to things like energy drinks, technology, and social events. It is not hard to imagine that this will throw your sleep cycle out of whack.
Up to 60 percent of all college students suffer from a poor sleep quality, and 7.7 percent meet all criteria of an insomnia disorder, according to an article published in the National Institute of Health.
Lack of sleep will skew your mood and your ability to concentrate. Furthermore, when you are not sleeping, it is hard to manage time.
You can experience the negative consequences of not sleeping, or you can practice some self-control by not going to parties every weekend. If decide to go, most colleges offer services that can help minimize the damage.
USF, for example, has two wellness centers. There are bean bags, napping stations, and even a free massage chair to battle the sleep monster. USF also offers tips on how you can get a better quality of sleep.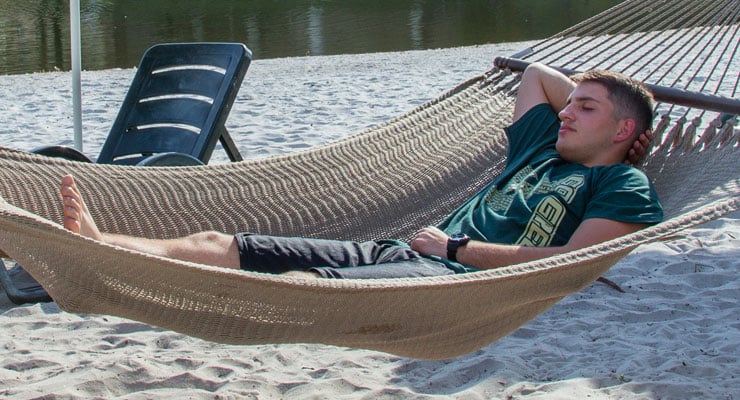 Stay Active
Most universities have a ton of activities to help you maintain your physical, social, emotional, and intellectual wellbeing. At USF, these activities include guided meditation, group fitness, canoeing, outdoor recreation, and even a ropes course. Team sports and other social activities can help you battle homesickness as well.
I have struggled with homesickness before. At the time, I had a group of friends who loved to work out. One of my friends was a lifter and serious sports fanatic. He made it his goal in life to put some muscle on me and a couple of others in our group. Hanging out with them made me feel less lonely, and we remained friends outside of the gym. I also got ripped.
Staying active will help you take your mind off things and build a new social network that just might last for years after college.
Maintain Balance
If you have had someone else, like parents, help you manage your time, you may find yourself out of balance when you become more independent. For example, if you spend too much time socializing at night, you may not get enough sleep. Or, if you do not socialize enough, you may start getting homesick.
One or more of these scenarios are likely to play out in your life. Remember, organization is one of the biggest challenges freshmen struggle with, and time management is part of organization. Adjusting is a process, and there will be a little give and take. Colleges know this and will work with you.
Again, the problem is that students do not know about what is available to them. So, make sure that you find out about these services and use them to your advantage!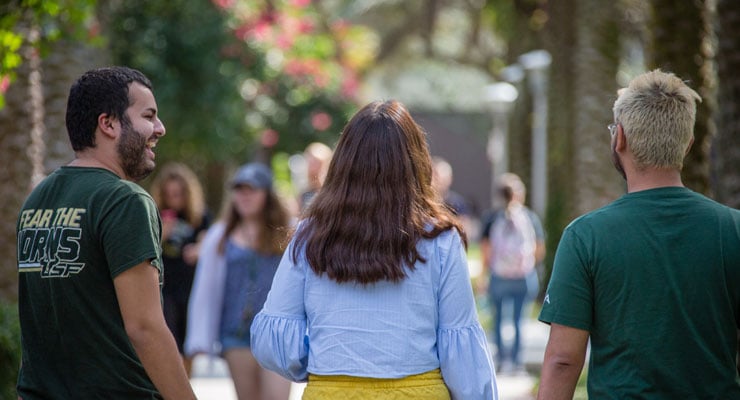 Get Connected
Many students struggle during their first year of college because they can't find a group of friends. Fortunately, universities have a variety of campus activities, clubs, groups, and intramural sports to help you join the student community.
Student Affairs is always a good place to start if you are trying to get connected. Large colleges have tens of thousands of students and typically offer more services to help students connect. USF, for example, has a New Student Connections page.
This page lists six great ways to connect, including Week of Welcome, WOW and First Fifty Days. You can even get a Peer Advisor Leader, or PAL. These students provide you with individualized peer coaching.
If you need help, odds are there is something or someone on campus who can help you. Networking with other successful students is always a good way to find resources.
Have Fun
Your first year at college is packed full of firsts. With all those new experiences, the time will fly past, so make sure you're doing everything you can to stay successful. If you're ever feeling stressed or overwhelmed, just put one foot in front of the other and try to enjoy yourself along the way. College is about making fun memories as well.
I mentioned a lot of tips and services, but the most important thing to remember is to get connected and ask for help from the right student support service. At USF, that's the Office of Student Affairs, but you can generally find the equivalent office on any college campus.