Is a 5-Year Combined Degree the Right Choice for You?

Did you know it's possible to finish college with not one degree, but two?
5-year combined degree programs allow students to earn a bachelor's degree and a master's degree in an accelerated timeline of just five years.
For students confident in what they want to do and know that a master's degree will help them get there, combined degree programs can offer many advantages. However, these programs also usually combine two years of additional full-time study on top of the four it takes to earn a bachelor's degree, which means a lot of hard work.
We'll dive into the pros and cons of combined degree programs so you can decide if it's the right choice for you.
How Do Combined Degree Programs Work?
The details and requirements for a 5-year combined degree program often vary depending on the school, they typically combine or fast-track course plans to condense the time it takes to complete a master's degree. Students will typically take a standard undergraduate course load until their junior year or senior year, and then they'll begin taking courses that count toward the master's degree. Some courses may be shared between the undergraduate and graduate degree, while others will only count for one or the other.
Combined degree programs typically have special admission requirements, including GPA requirements, AP credits, letters of recommendation, advisor approval, competitive GRE scores, and more. Applying for the program typically takes place before or during undergraduate studies.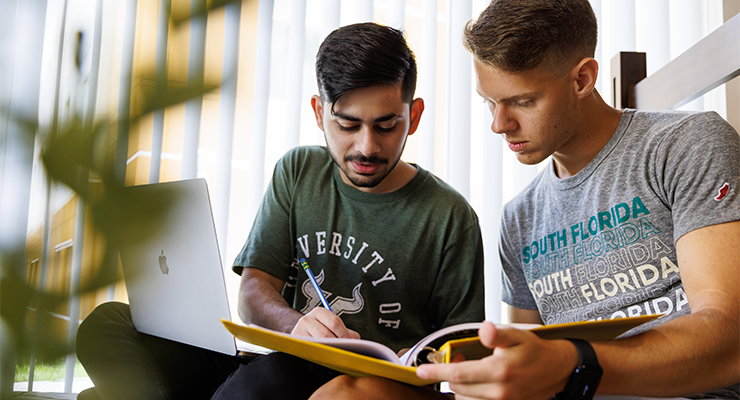 What are the Advantages of Combined Degree Programs?
The primary benefit of combined degree programs is saving time — you don't have to spend six years earning a bachelor's degree and then a master's degree. If you start your undergraduate degree already knowing that you want to pursue a master's, then this can be a great way to get ahead on your academic journey.
Combined degree programs also benefit from financial savings since you don't have to pay tuition for two separate degrees. Also, students may be able to apply their financial aid to assist with the graduate degree portion of the program. Money may also be saved on application fees, as students only need to apply to one university for a bachelor's and master's program.
In addition to money savings during school, students can usually enter the workforce sooner and be a more competitive applicant, since master's degrees can help distinguish you from other candidates during the hiring process.
If you know what field you are interested in, another benefit is that a combined degree program allows you to immerse yourself in your chosen field of study immediately. This can be exciting for students passionate about zeroing in on their area of study and challenging themselves with advanced coursework.
What are the Disadvantages of Combined Degree Programs?
Since combined degree programs occur on an accelerated timeline, they are academically challenging, as students typically have a heavier course load. This can mean that you won't have as much free time to pursue extracurricular activities or enjoy the full "college experience."
In addition, you should be fairly certain about what you want to do to pursue a combined degree. One-third of students change their major at least once, which is something to keep in mind before you commit to a five-year program.
In college, you typically have time to explore different areas of study with electives and other course options so you can find what you're passionate about. Due to the accelerated schedule of a 5-year degree plan, you won't have as much room to explore your academic interests.
Finally, you may want to attend a different school for graduate school for various reasons, so you have to consider if you'll want that as an option before starting a combined degree program.

What are the Common Fields for Combined Degree Programs?
Combined degrees are typically available for B.A./M.A. degrees or B.S./M.S. degree programs. Business, healthcare, liberal arts, engineering, education, and communications are all common areas of study for combined degrees.
5-Year Combined Degree Programs at USF
At USF, bachelor's/master's pathways allow students who meet the academic requirements to complete an undergraduate bachelor's degree and a graduate degree (usually a master's degree) in an accelerated timeline.
USF offers the following bachelor's/master's pathways programs, also called concurrent programs:
Advertising M.S.
Art History M.A.
Biomedical Engineering M.S.B.E.
Chemical Engineering M.S.C.H.
Civil Engineering M.S.C.E.
Computer Science M.S.C.S.
Electrical Engineering M.S.E.E.
Engineering Management M.S.E.M.
English M.A.
Environmental Engineering M.S.E.V.
Information Technology M.S.I.T.
Liberal Arts M.A.
Material Science and Engineering M.S.M.S.E.
Medicine M.D.
Pharmacy Pharm.D.
Public Health M.P.H.
As you can see, there are a variety of combined degree programs available at USF. It's up to you to consider if pursing a 5-year combined degree is the right choice for you. Think about what your goals are and if you are ready to commit to your chosen field of study for a bachelor's and master's degree. You may find that the cost and time savings are worth it if you're dedicated enough to pursue this path.
Interested in learning more about combined degree programs at USF?