5 Life Lessons for College Students from "The Last of Us"

You already know "The Last of Us" is good TV. (We honestly don't know what we'll do without Joel and Ellie until next season.) But did you know this show also offers life lessons for college students? Yes, we are totally giving you an excuse to rewatch it. (And if you haven't seen it yet — like maybe you've been living in Bill's bunker? — catch up before you read this post. There will be spoilers.) As we recover from the finale, let's dive in to these 5 Life Lessons for College Students from "The Last of Us."
Wait, What's "The Last of Us" About?
In HBO's "The Last of Us," based on the popular video game, hardened survivor Joel (Pedro Pascal) takes 14-year-old Ellie (Bella Ramsey) on a cross-country journey to save humanity. It's kind of like a buddy comedy, but with fewer jokes and more fungus zombies. You are guaranteed to cry at the end of 50% of the episodes.
5. Make Yourself at Home
Episode three teaches us important lessons, like how much we can cry from a Ron Swanson rendition of "Long, Long Time" (a lot, it turns out!) and how to create a sense of home. This romantic bottle episode follows gruff survivalist Bill (Nick Offerman) and sweet artist Frank (Murray Bartlett), who transform their deserted neighborhood into a cozy sanctuary. "Paying attention to things is how we show love," Frank says, convincing Bill to let him paint the neighborhood. This is good advice, especially for college students.
Moving into your new place — whether on or off campus — is a big life change. At times, you may feel like Bill, charging delightedly into Home Depot to stock up on DIY supplies. But it's also normal to feel overwhelmed or lonely. How do you make this new space your own? How do you feel at home? Start by paying attention to details.
Bring comfort items from home.

Did your mom always put lavender soap in the linen closet? Take a bar with you so your sheets can smell familiar.

Embrace greenery.

Research shows

that taking a 40-second break to look at nature (even digitally) can boost your concentration. Set a succulent on your desk, frame a beach photo, put a rain forest screensaver on your laptop, plant some cordyceps… Okay, maybe not that one.

Express yourself.

For Frank, that meant adorning the walls with charcoal sketches of Bill and self-portraits in oil. For you, it could mean hanging pictures of friends back home, painting the walls (if your landlord or dorm allows it), or hanging a poster of your favorite sports team (go Bulls).

Be practical.

This tip is brought to you by Bill, who is keen on resource management. You'll be spending a lot of study time here, so make sure your space is ergonomic. For example, an adjustable standing desk can help you study without straining your neck.
Once you fix up your digs, it's time to explore your surroundings. "Home" is bigger than just your dorm or apartment, as Frank understands. Even though he doesn't have any neighbors, he fixes up the entire block, repainting the wine shop, furniture store, and boutique. Then he builds community by inviting the "nice lady on the radio" for lunch (more on that later). Make yourself a campus bucket list and identify:
The best study spot (bonus points if it's under a palm tree).

The on-campus medical services (you know, just in case fungus zombies do become a thing).

The quietest corner of the library (where you can hopefully check out Will Livingston's books of puns).

The coolest hang out (where you might just meet the Frank to your Bill).

The shopping options, like

USF Tampa's own Publix

(where you can get ingredients for a Bill-approved dinner of filet mignon and roasted vegetables).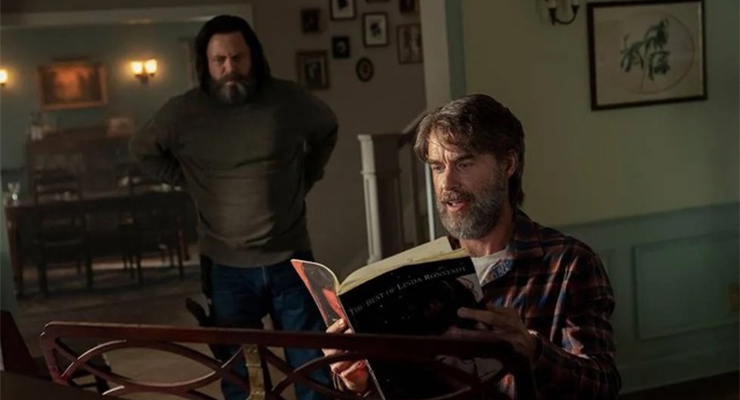 Bill (Nick Offerman) and Frank (Murray Bartlett) know how to make a cozy home, even in a fungus-infected world. Photo courtesy of HBO.
4. Be Vulnerable
Joel is great at most things. Fighting fungus zombies. Looking ruggedly handsome (where does he find time to shape that beautiful beard?). Explaining how things work, Apocalypse Dad style. But what Joel isn't so great at is coping with his feelings. Ever since his daughter's death, he has refused to let himself process grief. When his situationship-partner dies, he won't even speak of her. ("If I'm taking you with me," he tells Ellie, "there's some rules you gotta follow. Rule one, you don't bring up Tess, ever."). But when Ellie comes into his life, Joel has a choice: To love and risk loss, or to remain an emotional zombie forever (see what we did there). The show isn't truly about a fungus apocalypse. It's about Joel's inner journey and the choices he makes.
We may not have suffered the same trauma as Joel, who carries multiple tragedies on his muscular shoulders. But we all experience difficult feelings: anxiety, grief, loneliness, confusion, heartbreak, anger, panic, lack of energy, and more. Plus, we've all gone through our own version of a (non-fungus) pandemic.
"Since the start of the COVID-19 pandemic, rates of anxiety and depression among college students have increased substantially," says this Mayo Clinic article. "A recent study found that one in three college students experiences significant depression and anxiety." If you're feeling down, you aren't alone. But unlike Joel, it's important to be honest — with yourself and others — about how you feel.
Keep an emotion journal to help you process difficult feelings.
Tell a trusted friend what you're going through. (The odds are, they're going through something, too. They'll understand.)

Make an appointment at your

campus counseling center

. Like most universities and colleges,

USF offers free, confidential counseling for students

— in person and online. You don't have to wait for a crisis to talk to a counselor. Even if your life is going well right now, therapy can help you gain the tools to help you when times do get tough.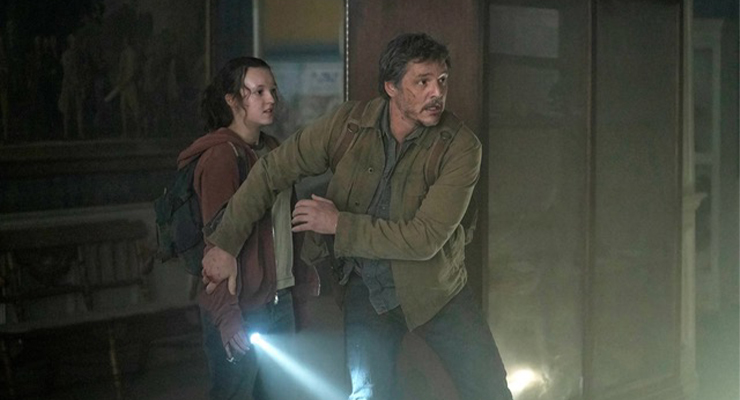 Joel (Pedro Pascal) isn't afraid of anything — not even cabbage-head zombies! — until he meets Ellie (Bella Ramsey). Now he's terrified that something bad will happen to her. Who else will tell him terrible puns? Photo courtesy of HBO.
3. Keep in Touch with Friends and Family
Poor Joel travels across a zombie-filled America to find his brother, Tommy, who stopped responding to his radio messages. When he finally reunites with Tommy, he discovers his brother has been living in an end times version of a Hallmark Christmas movie. Inside Tommy's new town, everything looks kind of like a ski resort. Children build snowmen. Snowcapped mountains stand guard over the festive town square. People eat pumpkin pie instead of mystery meat jerky. Joel, who has been living in a musty quarantine zone, is hurt. Tommy is nervous because rough-and-ready Joel just doesn't belong in a Hallmark Christmas movie. All of this could have been avoided if the brothers had been better at long distance communication.
Like Tommy, you probably don't want your relatives showing up unexpectedly at your dorm room. And like Joel, you probably don't want to lose valuable relationships back home. Here's how to keep in touch and set some boundaries with your loved ones:
Agree on the best method to communicate.

Zoom? Postcards? A 1980s song over the radio? "There are alternatives to constant written communication, such as leaving voice memos or having a group chat dedicated to funny photos and memes," says this

Guardian article

. "A 2018 study found that friends have the same neural responses to videos, so sharing visuals might do just as much to maintain your bond as asking: 'How are you?'"

Put a twist on traditions.

If you and your childhood BFF love movie nights, schedule a virtual watch party or call each other after watching each episode of "The Last of Us." If you used to read each other's tarot, continue that tradition and do it over video chat.

Make a plan.

Schedule trips in advance so you have something to look forward to (and so your parents don't show up unexpectedly on campus… hopefully). You can schedule low key connections, too, like a weekly phone call with your best friend.

Be real.

If you haven't heard from your friends for a while, don't make assumptions. As this

NPR article

says, "it can be easy to get in your head about your relationship and withdraw when you think things are off." Instead of imagining their motivations, ask them what's going on. Use "I" statements to help your friend understand how you feel, suggests a friendship expert and psychologist quoted by NPR: "I felt hurt when you bailed on our phone call last minute." Listen to their side of the story and make a plan that works for both of you going forward.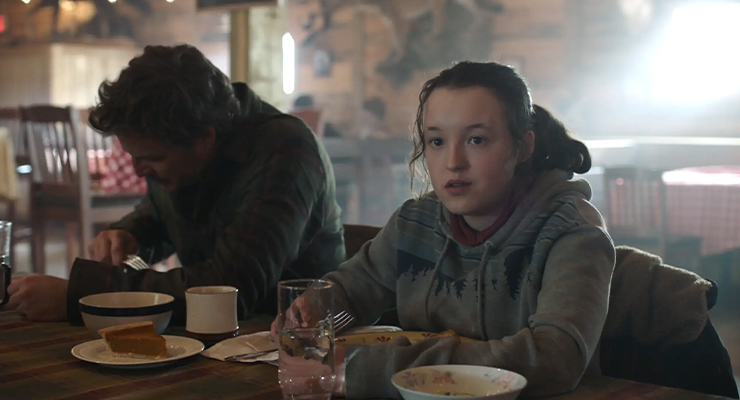 Joel (Pedro Pascal) doesn't understand why his brother (Gabriel Luna) ghosted him. Meanwhile, Ellie (Bella Ramsey) is just thrilled to find herself in this pumpkin pie utopia. Photo courtesy of HBO.
2. Reach Out
"The Last of Us" is different than other zombie shows because it encourages trust and collaboration. It rewards the protagonists for helping other people. If Bill hadn't invited Frank in for lunch — even though he definitely was not running an Arby's — he wouldn't have met the love of his life.
When you first start college, you might feel, like Bill, that "there are no friends to be had." It's normal to feel lonely at first or to worry about fitting in. But like Bill, you've got to step outside your comfort zone and reach out to other people — both to help them and to start building your own friend group. How do you do this? If you live in the world of "The Last of Us," you make friends with the first guy you've seen in four years, who conveniently fell into your booby-trap. In college, it's not quite that straightforward, but it's also a lot more fun.
Get involved.

Campus life is designed to help you make friends through activities. At USF, for example, you can choose from more than 600 clubs and student organizations and 19 varsity sports. Even opposite personalities — like fast-talking Ellie and quiet Joel — can find common ground when they see each other regularly. (Or when they travel across a zombie wasteland, but honestly, joining student government is way easier.)
Attend freshman events.

Residence hall parties and orientations can help you bond with other incoming students. Don't just make small talk — be honest about the ups and downs of freshman year. This can help forge a deeper connection because you're talking about real issues.

Build friendly rapport, then share a tiny secret

, says this

New York Times article

. Ellie could do this by telling Joel why she really carries that book of puns everywhere. You could do this by sharing that you have a crush on the Pedro Pascal doppelgänger in Comp One.

Invite people to hang out.

Sometimes you have to be the Frank in your group and host a lunch at your place. Or you can start a regular activity of your own, like a study group with Doppelgänger Pedro Pascal.

Be kind.

Take notes for a student who missed class. Complement your roommate on their window cactus. Talk to a student who looks lonely at the cafeteria. These good deeds might just lead to friendships, but even if they don't, helping other people will make you feel better: "In the UK, researchers found that being kind could boost happiness in as little as three days," according to this

CNN article

.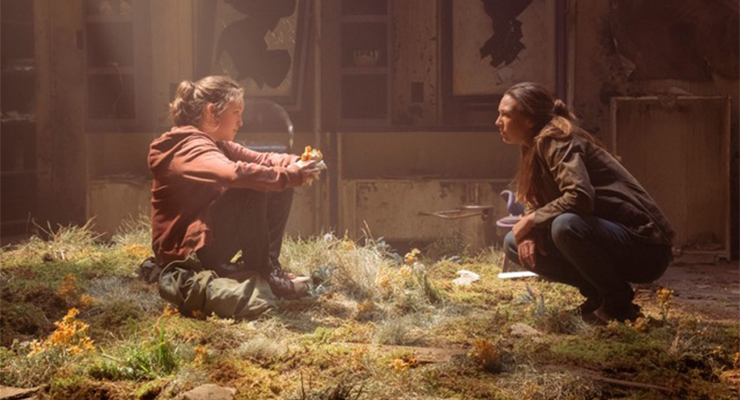 Tess (Anna Torv) takes a risk by helping Ellie (Bella Ramsey), who appears strangely unaffected by a zombie bite. Photo courtesy of HBO.
1. Embrace Wonder
You'd think that living in the post-apocalyptic landscape of "The Last of Us" would kill any sense of wonder. But the show is permeated with Ellie's childlike awe, which makes even a fungus-consumed Boston look beautiful. It turns out that Ellie is onto something.
Wonder is one of the most important emotions: it can be defined as what we feel "when we encounter something powerful that we can't easily explain," like a star-filled night sky or an act of kindness, according to this Harvard Business Review article. When you look at that starry sky, you feel part of something bigger than yourself, which can help you feel less stressed and boost your sense of well-being. How do we tap into this emotion?
Try new experiences.

When Ellie sneaks into an abandoned mall and sees it lit in neon glory, she feels wonder. (Bella Ramsey should win an award for Best Awestruck Expression.) To us, going to the mall is just another day of shopping; to her, it's like being on another planet. ("No way! Electric stairs?" she exclaims over the escalator.) For her, driving in a car is "like a spaceship" — even the seatbelt delights her — and the idea of airplane travel is unreal ("Dude, you got to go up in the sky"). In college, a ton of new experiences are at your fingertips. Take advantage of them, whether that means embarking on a study abroad experience or trying a new hobby, like kayaking.

Practice mindfulness.

Mindfulness is a

meditation technique

that helps you pay attention to the present moment. (And we know from Frank that paying attention is how we show love!) Take a walk every day and notice what you smell, see, hear, feel, and taste. "How do you find awe? You allow unstructured time. How do you find awe? You wander. You drift through. You take a walk with no aim," says a psychologist quoted in this

Washington Post article

. "How do you find awe? You slow things down. You allow for mystery and open questions." You can

try these exercises

to practice mindfulness.

Enjoy the arts.

Take a dance class, where you will quite literally become part of something bigger than yourself. Make a playlist of songs that fill you with wonder. Explore a local art museum, like the famous Dali Museum near the USF St. Petersburg campus.

Notice the kindness around you.

"One of the most reliable ways to experience awe… [is] in the simple act of witnessing the goodness of others," says this

New York Times article

.

Find an awe-inspiring place and visit it regularly.

If you attend USF, you'll be a short drive away from some of the world's

best beaches

. Schedule a regular date with yourself to sit and look at the ocean.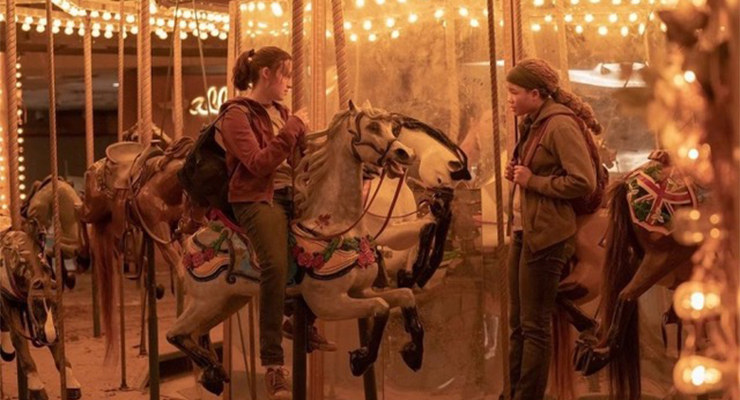 Ellie (Bella Ramsey) is enchanted by a carousel, which is part of a Mall Wonders tour with her best friend Riley (Storm Reid). Photo courtesy of HBO.
Start Your Adventure
Life won't be the same without the weekly adrenaline surge of "The Last of Us," but while we wait for season two, we can have our own adventures. (With less zombies!) Your adventure starts by enrolling in a college that helps you pursue your dreams (whether you want to be a singer like Joel or an astronaut like Ellie). Reach out to the Office of Admissions online to find out how we can help you achieve your goals.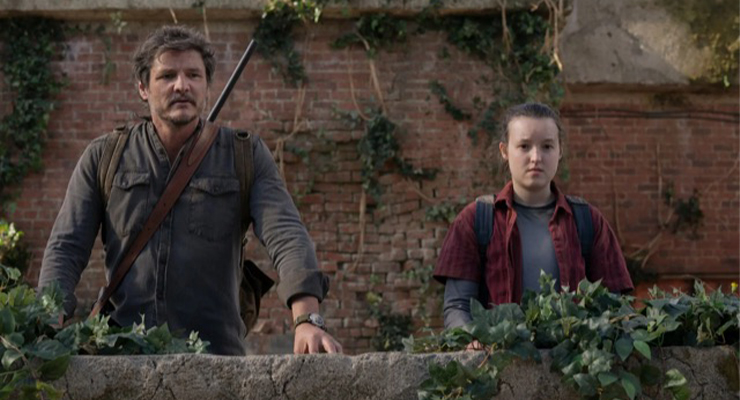 In the season finale, Joel (Pedro Pascal) and Ellie (Bella Ramsey) near the end of their journey and witness a rare moment of beauty — a herd of giraffes roaming the city ruins. Photo courtesy of HBO.