7 Easy Ways to Reduce Stress for College Students

Feeling stressed? You're not alone. Students across the U.S. are wrestling with college decisions, taking classes, or preparing for entrance exams. We're here to help. This week, try one of these 7 easy ways to reduce stress for college students.
1. Practice Mindfulness
Mindfulness is about living in the moment. When you regularly practice this form of meditation, it may provide mental health benefits: "It can reduce your anxiety, the feelings of hopelessness and the stresses that come from constantly worrying about the future or ruminating on the past," explains this CNN article. Today, try taking a break for 10 mindful minutes:
Try an app like Headspace, which offers discounts to college students, to learn the technique.
Try this basic meditation exercise, which can help you reset at the end of a long day or even manage test-taking anxiety.

2. Exercise
It can be hard to find time to exercise when you're cramming for tests. But not only is exercise key to improving your mood, it might even boost your brain function. Here are three easy ways to weave exercise into your day:
Try this six-minute full-body workout.

Go for a walk in a park or your neighborhood. (Just remember to wear a mask if you'll be in a crowded area, and stay at least 6 feet away from other people.)
3. Enjoy an At-Home Spa
Bring the spa to your house with these relaxing activities:
Rub calming essential oils on your wrist.
Create your own soothing face mask by mixing two tablespoons raw sugar with one tablespoon coconut oil. Let it sit on your face for five minutes, then scrub for 30 seconds and rinse off.
Make a relaxing, lavender-scented bath bomb by following this guide to bath-time essential oils.

Turn your space into an oasis by listening to meditative music, dimming harsh overhead lights, and embracing candles or twinkle lights.
4. Get Creative
Connecting with your creative side can be a great way to destress. Here are a few ideas to get you started:
Read a poem. (We've been loving "Wild Geese" by Mary Oliver.)
Color one of these free Crayola templates.

Start that creative project you've been dreaming about. Remember, creativity isn't about perfection: It's about expressing yourself. Give yourself permission to experiment with new forms of art, whether painting or writing a song.
5. Unplug
Between FaceTiming with friends, taking online classes, and scrolling through Twitter, it's harder than ever to unplug. But limiting screen time can help reduce anxiety.
Use an app like Apple's Screen Time or Google's Digital Wellbeing to find out how much time you're really spending on your phone.
Try to spend no more than 30-60 minutes on social media per day.

Make an effort to engage in screen-free activities, such as playing with your dog or reading a book.
6. Practice Self-Compassion
Whatever you're experiencing today (worry about the future; anxiety about your recent test scores; confusion over college decisions), practice self-compassion:
Give yourself permission to express your feelings: "I'm really stressed right now."
Think about what you'd say to your BFF if they were in your situation. What comfort would you offer? Turn it around and give those kind words to yourself.

Give yourself a hug. Say to yourself, "Stress is part of life. I'm not alone."
7. Find Support
In these stressful times, we can all benefit from the support of friends, family members, and professionals:
Be honest with a friend about what you're going through.
Contact an online therapist.
Find out what therapy services are offered through your college, if you are currently enrolled.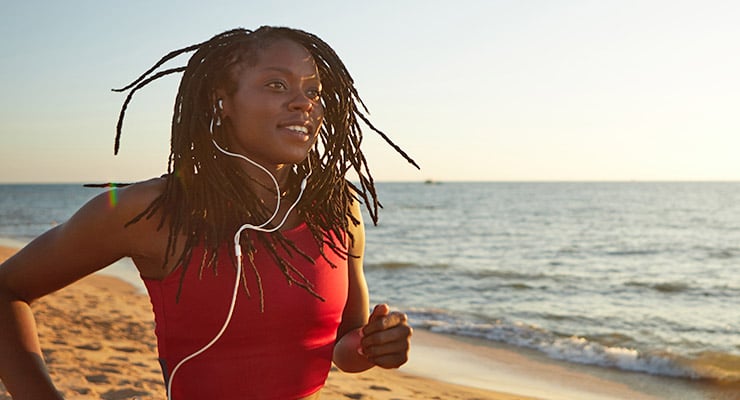 We know the world feels scary right now, but USF is ready to support you. Reach out to the Office of Admissions online to find out how we can help you achieve your goals.