National Merit Scholars at USF: A Parent Perspective

Before Chris came to visit the University of South Florida with his son, a National Merit Scholar, he admitted he was hesitant: "I was skeptical of this place. Just not knowing anything about it." Chris and his family are from Rochester, Minn., about 1,500 miles away, so it's no surprise that the University of South Florida wasn't on the family's radar.
In fact, they'd all but committed to another university before they found out about USF. "We were pretty much all set on Oklahoma State," Chris said.
Then one day, his son Max came home and told him about an email he and his National Merit Semifinalist classmates received from USF's Tampa campus inviting them to come for a visit: "We want to go on a little trip," his son told him. "Will you go along as the parent chaperon?"
"I said, 'Yes, but we're going take a look at this school,'" Chris explained.
It wasn't long after that first call that Chris and Max came for a visit in February, and they were impressed with the welcome they received. "Here, they saw Max, and the red carpet was definitely rolled out."
It wasn't just the warm welcome that stood out to Chris. Once they got the chance to explore, they were pleasantly surprised by what they saw on campus. Here are a few of the highlights that stood out to Chris as the parent of a National Merit Scholar at USF Tampa.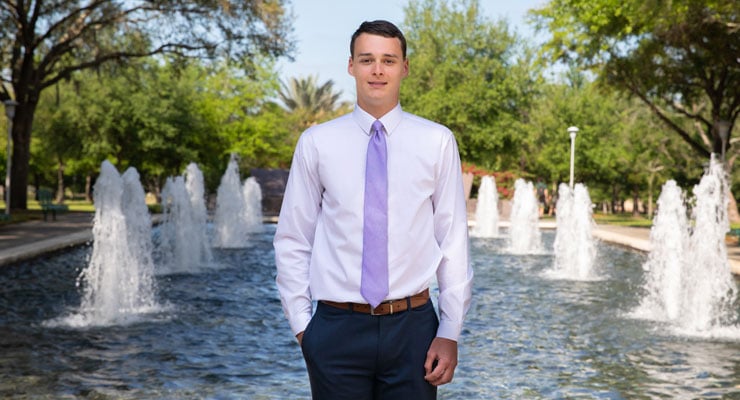 Finding Your Fit
Early on, Chris knew his son had found his fit as a National Merit Finalist: "He wanted big. He wanted (a) public university with research opportunities." USF Tampa is often described as a "city within a city", and Chris was struck by the energy and activity on campus.
"It's such a unique vibe. I don't know if it's the weather, that kids are outside more, but it just seems so welcoming, and so many kids around. I don't remember that being the case in the Northern climate, in the Northern schools."
Tampa boasts some of the country's most inviting weather. The city is near Florida's Gulf Coast, and USF students enjoy warm, sunny weather most of the year. In addition, students are just a short drive from some of the nation's most loved beaches.
Our stunning climate draws students from all 50 states, and we've invested heavily in the on-campus amenities they can enjoy here. Among the many recent on-campus investments is The Village, USF Tampa's newest residential community. The complex features five residence halls, a recreation facility, multiple dining options, and a new grocery store.
"The campus itself seems very nicely contained, and (there are) a lot of things to do." Chris said his son plays sand volleyball and is on the table tennis club. "He says he hardly leaves campus."
In all, USF Tampa offers more than 600 student clubs and organizations, including those for academics, professional preparation, and special interests.
USF Tampa also offers generous scholarships and benefits just for National Merit Scholars:
Scholarship covering your full cost of attendance during fall and spring semesters
Scholarship options for study abroad
Admission to the Honors College
On-campus housing in our new Honors College Living-Learning Community
And much more
"Even though Max is here completely cost of attendance free, I mean, I'd send my daughter here in four years even if she didn't have that. If she wanted to come here."
USF at a Glance
Founded: 1956
Undergraduates: 31,389
Graduate students: 10,005
Student-faculty ratio: 22:1
Diversity: 43.4 percent of students are African American, black, Asian American, Hispanic, Native American or multiracial
International students: 4,730
See page 14: https://www.usf.edu/ods/documents/system-facts/usf-system-facts-2018-19.pdf
Tampa Talking points does not include a stat for the countries represented; I did find this stat on the System Facts doc, so included it. See page 14: https://www.usf.edu/ods/documents/system-facts/usf-system-facts-2018-19.pdf
Welcoming Diversity
For many students, finding a college atmosphere that feels right includes a diverse student population. "We're very, very impressed with the diversity on campus. He comes from a very diverse high school," Chris said.
At USF Tampa, our diversity is one of our defining features and something we proudly welcome and celebrate. Every year, USF holds an International Festival (iFest). The Martin Luther King Jr. Plaza lawn is transformed into four different regions of the world, with traditional experiences found in each corner. The festival includes information booths, food, music, and much more.
"This is very much reflective of what Max was used to and what his high school was," Chris said.
Our university's emphasis on education abroad and numerous trip options also helps students gain a valuable global perspective that they will carry throughout life.
Helpful USF Links and Resources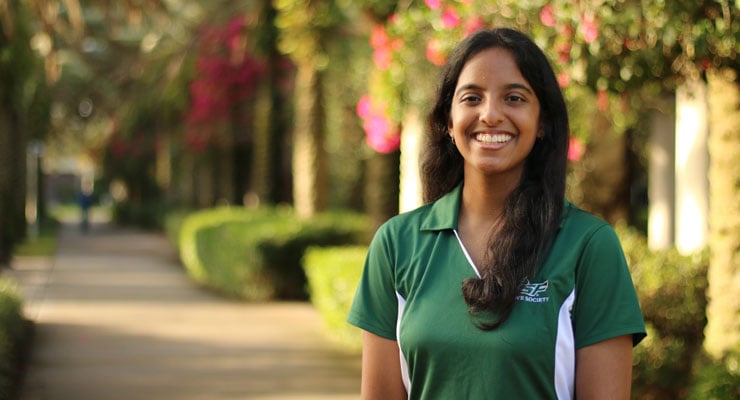 Education Quality
Although Chris admits he didn't know much about USF when his son first mentioned the university, it didn't take long to realize the educational opportunities offered here.
"And like I said, we came down here and were just blown away by the amenities and the opportunities that seem available for first-year students with the Moffitt Cancer Center and USF Health right here."
Because his son plans for a career in medicine, proximity and access to the on-campus medical amenities immediately appealed to Chris. "It has medical right on campus. I think he could probably walk from his dorm to Moffitt in what, 10 minutes?" The USF Tampa campus also is home to the Shriners Hospital for Children.
Unlike his experience with other universities they visited, Chris was also impressed by the accessibility of research opportunities, especially for first-year students. "The opportunities for freshmen to get involved in labs seem superior here." USF's Office of Undergraduate Research helps facilitate these opportunities for students.
As a major research university with more than 180 undergraduate majors and concentrations, program options include STEM disciplines, education, fine arts, humanities, and more. With all these academic offerings, support services, and recent accolades, it was clear to Chris that USF Tampa offered the respected academic options his son needed.
"I didn't know of its science and medical reputation and how it's just leaping up the U.S. News & World Report-type rankings every year. That's been very impressive to see."
Visiting Campus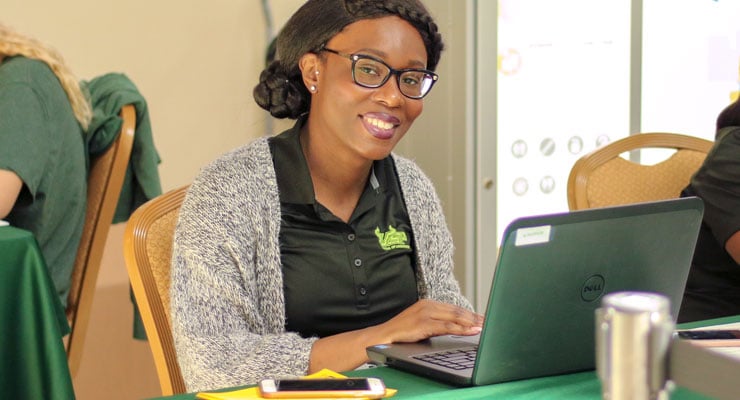 Chris was immediately impressed with the accessibility of USF Tampa faculty, advisors, and representatives who took their calls and answered questions during the enrollment process.
"Some of the top people at the university are very, very personable also. I don't know if every school is like that. I don't have a lot of comparisons, but we definitely feel at home here."
In addition to Winsome Nisbett, USF Tampa's scholarship coordinator, Chris' son had the opportunity to speak to representatives of the Honors College, Office of Undergraduate Research, biochemistry department, and more when he took the Scholars Experience tour.
The Scholar's Experience, USF Tampa's campus tour for National Merit Semifinalists and future finalists, is a personalized visit where you decide who and what you see. Students can get a hands-on feel for the classrooms, labs, and study spaces. Visitors also are able to meet the professors who will guide them through their studies.
"Picking us up on the golf cart and making you feel wanted, like the red carpet's being rolled out, it's a nice touch," Chris said.
USF also makes it affordable for National Merit Semifinalists to do the Scholars Experience visit. If you are an in-state National Merit Semifinalist who applies to USF, we cover the cost of your hotel during the visit. For out-of-state National Merit Semifinalists, we also pay for your flight.
Schedule Your Visit Today
Ready to discover all the highlights of USF firsthand? Join us for USF's Scholar's Experience campus tour. Schedule a personalized tour just for National Merit Semifinalists, finalists, and their families. You can also contact Winsome Nisbett with your questions by calling 813-974-1749.