What Are College Entrance Exams?

Chances are, you're familiar with the most common college entrance exams, such as the SAT and ACT. What you may be less sure about is the real purpose behind these high-pressure, timed tests. Contrary to popular belief, most college entrance exams are not designed to test how well you absorbed your classroom lessons. Though some do, they're mainly a supplement to another aptitude test. So, what are college entrance exams? Most of them are tests designed to predict your potential for performing well in a college classroom.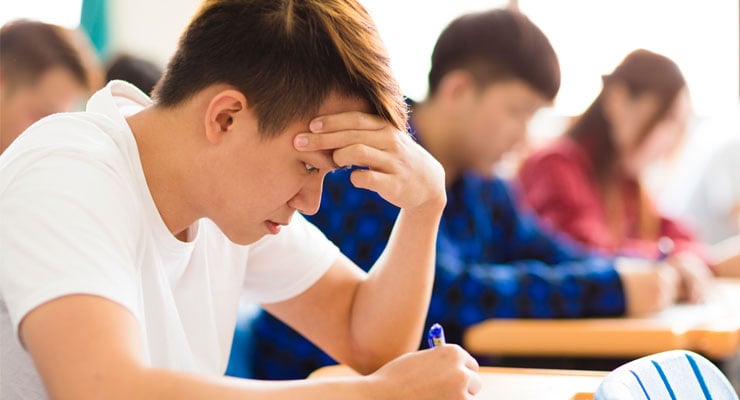 Which Entrance Exam Is Right for You?
There's no "one size fits all" entrance exam, so avoid the temptation to choose the same one all your friends are taking just because. Before jumping in to prepare for one of these tests, it's important to carefully determine each one's purpose and usefulness to you. Not all schools require or accept the same tests, so you need to research the exams required for all your colleges of interest. Course placement and field of study can also influence the tests you should take, so get with your college counselor if you think this could come up for you.
Use our guide to figure out what are the college entrance exams that you should consider taking and which you should skip.
Preliminary Scholastic Aptitude Test 8/9 (PSAT 8/9)
This is the earliest SAT preparation course and is designed to give students in eighth and ninth grades a head start on the skills they most need to improve. According to The College Board, it "helps students determine what they need to work on most so that they're ready for college when they graduate from high school—and it supports educators as they guide the way." The test is two hours and 25 minutes long and has two main components: evidence-based reading and writing and math.
Verdict: This test is best for serious eighth- and ninth-grade students aiming for admission to highly competitive and Ivy League colleges, as well as those hoping to qualify for merit scholarships.
Preliminary Scholastic Aptitude Test 10 (PSAT 10)
Much like the PSAT 8/9, the PSAT 10 measures the skills you learn in high school and the tools you need to succeed in college. It is designed to familiarize you with PSAT and SAT formats and timing and includes reading, writing, language, and math assessment sections. As the name hints, it's designed for students in 10th grade.
Verdict: As another test designed to introduce students to SAT content, this one is perfect for sophomores who want to qualify for admission to the most academically stringent colleges.
Preliminary Scholastic Aptitude Test (PSAT) or National Merit Scholarship Qualifying Test (NMSQT)
As the final test before the official SAT that colleges use to evaluate candidates, this practice test is your last chance to get familiar with the SAT's format and timing before taking the real thing. It's designed for high school juniors and is a bit shorter and less challenging than the actual exam. Although your scores on this test will not be released to colleges, this exam qualifies you for the National Merit Scholarship Program.
Verdict: If you are a high-achieving student seeking merit-based scholarships, take it. Note that to qualify for the National Merit Scholarship Program, you must take the PSAT in the fall of your junior year. If you take it any time before or after, you will not qualify for the program.
Scholastic Aptitude Test (SAT)
For nearly 100 years, the SAT has been used as a benchmark to evaluate college candidates. Colleges and universities use your scores on this test as a major determinant in your admission decision. It includes sections that test your reading, writing, language, and math skills. Unlike the ACT, it does not include a science component.
Verdict: All colleges and universities accept both the SAT and ACT for applications. Therefore, it is not essential to take the SAT unless you are attempting to become a National Merit Scholar.
SAT Subject Tests
Once known as the SAT II, the SAT Subject Tests "test you on your knowledge of subjects on a high school level." This is in contrast to the SAT and ACT, which measure your aptitude and potential to succeed. You can choose the admissions test that best highlights your academic strengths, illustrates your interests, and reinforces any outside programs or classes you completed. You can choose from 20 SAT Subject Tests in given subject areas: English, history, languages, mathematics, and science.
Verdict: If you want another opportunity to showcase your strengths, consider one of these hour-long exams. Some colleges may recommend or even require you to take a Subject Test, so always check.
PreACT
According to ACT.org, the PreACT "offers sophomores an early experience with ACT test items, provides a predicted ACT test score, and offers a wealth of information to help students get the start they need to be college ready." If you plan to take the ACT, this new practice exam familiarizes you with the content, structure, and scoring of the official college entry exam.
Verdict: This is a great way for 10th-grade students to prepare for the ACT exam by getting familiar with the test and identifying weaknesses.
American College Testing (ACT)
The multiple-choice ACT exam tests English, science, math and reading skills. It also includes an optional writing test that does not affect composite scores. The ACT's inclusion of a science section may help students interested in the STEM fields. Like the SAT, all U.S. colleges and universities accept the ACT as an entry exam. Students generally take this exam in their junior or senior year.
Verdict: With the inclusion of science as a tested subject, this test is a smart option for students who excelled in this subject.
TOEFL (Test of English as a Foreign Language)
The TOEFL is a widely recognized and accepted standardized test that measures your ability to speak and understand English at a college level. This exam includes four subject tests, one each on reading, writing, speaking, and listening.
Verdict: Although not what you may initially think of when you hear "entrance exam," this test is often required for international students applying to U.S. colleges. International students can take this test over the internet or as a written exam.
International English Language Testing System (IELTS)
Like the TOEFL, The International English Language Testing System (IELTS) is designed to measure the language proficiency of those "who want to study or work where English is used as a language of communication." According to IELTS, this test avoids any cultural bias and accepts all "standard varieties of native-speaker English." It even offers two test versions depending on your needs: Academic for those applying to a higher education program and General Training for those migrating for higher education, professional registration and work purposes.
Verdict: If a U.S. college or university needs proof of English proficiency, this test may satisfy that requirement. However, it's always important to find out if the institute prefers the IELTS or the TOEFL.
AP (Advanced Placement)
Much like the SAT Subject Tests, AP exams offer you the opportunity to highlight your skills in a particular subject area. There are 38 different tests, though few schools actually offer classes for every subject. AP exams are generally taken in May after you have completed the course. Most colleges and universities will even allow a high enough score to count toward college credits.
Verdict: If your school offers an AP exam in a subject you enjoy and perform well in, consider it. They offer a great opportunity to boost your college application and display a specific subject aptitude.
Pick Your Ideal Entrance Exam
When determining your ideal entrance exams, it's a good idea to review the requirements of the colleges you're interested in attending. At USF, that information is listed on our Requirements and Deadlines page.
Our USF admissions advisors are happy to answer your questions about the USF admissions process, so contact us online or by phone at 813-974-3350.