5 Steps to Turn Your PSAT Score into an SAT Game Plan

After you take the PSAT, the temptation to try pushing the memory of that test out of your mind may be strong. That's understandable. With the strict rules and format, it was probably one of the most frightening, uncomfortable tests you've ever taken.
But instead of letting yourself relax until the SAT sneaks up on you, it's best to build an SAT game plan based on your PSAT score. Think about it. The content and testing format are still fresh in your mind. Start your SAT prep now while you have some momentum by following these five steps.
5. Review Your PSAT Score
The first step is to review and understand your PSAT score. This includes reviewing the test section scores you need to focus on (total score, math score, evidence-based reading & writing score), as well as the difference in the scoring rubric used for the SAT. Look for patterns in your incorrect answers to help hone in on those areas you need to improve.
Reviewing your PSAT score doesn't just mean looking at the numbers. Take an honest look at your performance on test day to identify other weaknesses. Your biggest issue may be a specific test section, but it could also be a lot of other things that you didn't anticipate.
The test format, testing location, or time of day could have all hurt your score. You may find your pre-test preparation itself was your biggest obstacle. You may not be able to address all of these factors, so make sure to manage those challenges that you can control. The point is, it's important to take a long look back when deciding on how to move forward.
4. Note the Differences Between the PSAT and SAT
Your next step is to review how the PSAT and SAT differ. Although very alike, there are a few differences that could seriously hurt your score if you're going in to the real thing unaware:
Essay: The PSAT has no essay. That means your SAT prep should include some essay practice if you decide to take it. Yes, the essay's optional, and its score (on a 2-8 scale) will be listed separately from the other sections. Note: Some colleges require the SAT essay, so always check the schools where you're applying to see if they do require it. When in doubt, take the essay.
Length: The SAT is longer and has more questions, but it generally works out to the same amount of time per question. What does this mean for you on test day? Your stamina and focus will be tested. Make sure to simulate test day as closely as possible during your preparation to adapt to this marathon exam.
Difficulty: The SAT is harder. Big surprise, right? What does this mean to you? The reading and writing sections may require more abstract thought and interpretation, and math is a little more challenging with more advanced-level questions.
A great rule of thumb is to come prepared by knowing the test format and length. Whether you realize it or not, that lingering uncertainty before you turn to the next page in your SAT booklet could be enough to derail your focus and hurt your score.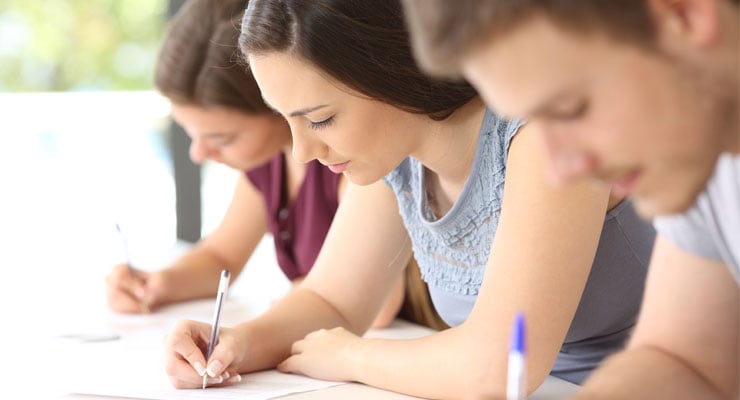 3. Set a Target Score
Why do you want to set an SAT target score? It will give you the best chance of acceptance to your preferred colleges. For better or worse, your standardized test scores will be one of the first things admissions officers look at to determine if you're a good fit for their school.
How do you set a target score? Review the schools you want to apply to and see their score breakdown. You can find the admitted student SAT scores on the admissions website (USF's scores are on the requirements and deadlines page). This will give you a good idea of the score you need to hit for your best chance of acceptance.
2. Develop a Study Plan
Once you've identified your test weaknesses and set a target score, it's time to develop a study plan:
Determine the resources you need: From professional tutoring to practice tests, you need these resources to bump up your scores. Check with your high school's college counselor if you're unsure where to turn for help. You can find many free SAT practice tests, so you can start there if you're still unsure which resources you need most.
Improve your test-taking strategies: Great test-takers know better than to dive into the SAT in order. They skillfully prioritize, eliminate incorrect answers and make educated guesses to earn the best score.
Determine how long you need to study: This includes the period of time you need to study before the exam, as well as the actual number of hours you need to commit during your practice sessions. Obviously, longer is better for both. The sooner you start studying, the more familiar and comfortable you'll be with the SAT. The longer you commit to learning the material, the more confident you'll be going in to each section.
1. Choose the Right Test Date
The test date you choose should do a few things for you:
Get your scores to your selected colleges in time
Align with your academic and work commitments
Provide you with enough time to prepare
Did you rock the PSAT? A few months of prep may be sufficient. If your PSAT scores landed a little lower than you hoped, you may need to schedule a later SAT test date to give yourself more study time.
Remember, you can always take the SAT a couple of times. Many schools even offer superscoring, which could improve your chances of acceptance.
Ready, Set, Study!
You probably don't need any more reminders about the importance of a great SAT score. From scholarship opportunities to acceptance into the most competitive schools and academic programs, a great score can open many doors for you.
Our USF admissions advisors are happy to answer your questions about the USF admissions process, so contact us online or by phone at 813-974-3350.