Benefits of Online Learning from Your Future Instructors

If you're going to attend college in fall 2020, you may spend at least part of your semester learning online. Many schools are embracing virtual instruction during the COVID-19 pandemic. (At USF, we plan to offer a mix of online classes, on-campus classes, and flexible hybrid classes.) We know you have a lot of questions, especially if you've never taken an online class before. Let's take a look at the benefits of online learning from your future instructors.
Choose Your School and Instructor Wisely
Online classes are like any other college course — your experience depends on the instructor. A traditional classroom lecture is no guarantee of excellence.
"Even with in-person courses, if they're not designed well, you're still going to miss out on a lot of content," said Rocky Haynes, an instructor and coordinator of USF's undergraduate minor in applied behavior analysis. On the other hand, if you sign up for online courses "that are designed well to be interactive, you really do get a lot out of those."
How do you know whether an online class is designed well? Put on your detective hat and make sure your chosen school has a history of excellence in online education. You should also research potential instructors using tools like Rate My Professor and LinkedIn, said Jennifer Friedman, an associate professor in USF's department of sociology. Take note of the professor's experience teaching online.
You can also schedule an informational interview with a professor to gauge their passion for teaching. Like Friedman, they should "try to make learning fun," whether they're online or in-person.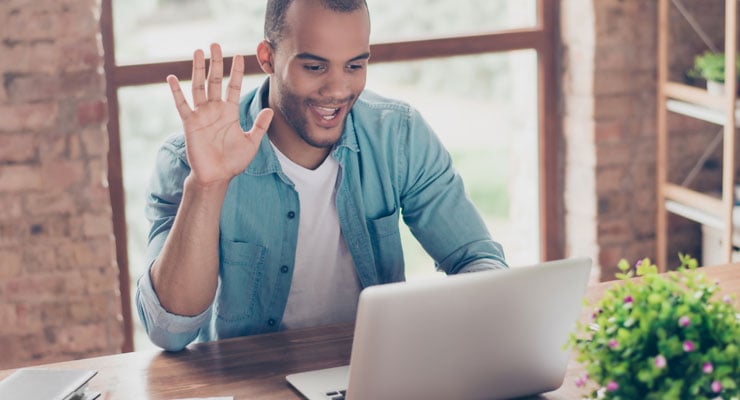 Know the Benefits of Online Classes
Although every course varies, you can expect to experience some of these unique benefits of online learning:
Flexibility
"I think one of the really big benefits that we're going to find is that it's offering students a lot more flexibility," said Vanessa Marasco, an instructor and coordinator of clinical education at USF.
You can choose from different formats of online classes:
Synchronous classes

are "live." Think of it as a traditional classroom format, where you interact with peers and professors in real time, except in a virtual setting from the comfort of your home.

Asynchronous classes

are not live. That means you don't have to log in to class at the same time as your classmates or professor (although you'll probably still have opportunities to interact through discussions and group projects).

Hybrid Classes

provide a

mix of on campus and virtual learning.
If you do choose an asynchronous style, you decide when to dive into lessons. This flexibility is ideal for night owls or busy students juggling work and family responsibilities.
Online classes can also help students learn at their own pace, explained Marvin Karlins, a professor in the Muma College of Business at USF. You can't rewind your professor during an in-person lecture, but you can watch online video lessons as many times as you need.
Creative Discussions
Classroom discussion boards might look like the traditional text-based format, where you write your thoughts and respond to your peers. Or they might resemble popular social media apps.
Flipgrid is similar to the TikTok app, explained Haynes. In Haynes' ethics course, students use Flipgrid videos to engage in discussions and build a sense of community: "They're getting to know each other through their videos."
In Marasco's courses, aspiring teachers read a children's book, then post a visual response on a Pinterest-like platform called Padlet.
Communication
Does raising your hand in class make you cringe? Do you prefer to take your time before answering a question? Karlins said that online classes offer "a level playing field for introverts," who may not feel comfortable speaking up in class.
"You're not in person and, you know, that makes some people feel more comfortable asking questions," said Carlyn Vogel, an instructor in USF's College of Behavioral and Community Sciences. In her class "Death and Dying," students engage deeply with the sensitive topics of bereavement and the experience of loss. Many of them seemed more at-ease communicating through the online platform, Vogel said. "I found that I've gotten a lot more questions through the chat."
Vogel worked with USF Innovative Education's Digital Learning team to create a 360 VR tour of the Sunset Funeral Home and Memory Gardens in Tampa Bay. Students explore the Gardens through an interactive map and are guided through the virtual reality experience by the funeral director.
Interactivity
When COVID-19 closed down campuses across the country, professors got creative as they took their courses online. Guest lectures were swapped for podcasts. Field trips became virtual experiences. Students gathered in video chats for small group discussions. Senior art exhibitions were uploaded into digital showcases. Some professors were surprised at the benefits of online learning.
"I've been teaching since 1966, so this is my 55th year of teaching. And until the middle of last semester … I had never taught online," Karlins said. "It's been amazing."
Thanks to new technologies, online classes offer plenty of opportunities for engagement. Depending on your instructor, your class might include:
Virtual Tours
"I think that the virtual platform gives students a lot more opportunity to see things and go places that they've never gone before," said Sarah Semon, a visiting instructor in the College of Education at USF. For example, Semon's students explore global issues as they virtually "travel" between farmer's markets in Wisconsin and Africa.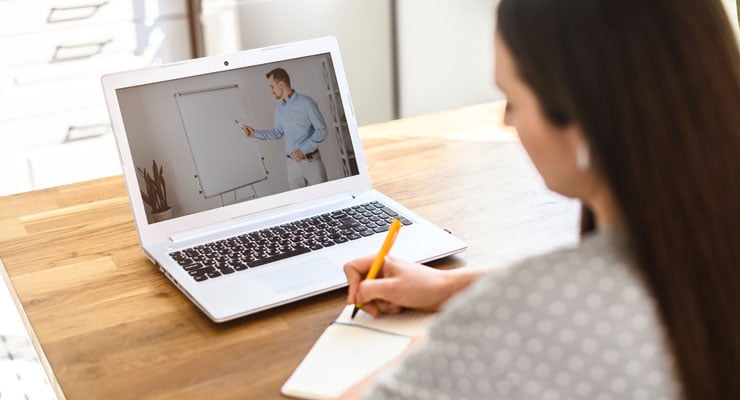 Social Reading
Perusal is a "social reading experience" that Semon believes is "going to revolutionize how we are asked to read material in college." An online version of a textbook (or an article) lets you take notes, view classmates' comments, and respond. Professors get a report of the most difficult passages for students so they can clear up any confusion, Semon said.
Hands-on Activities
With the right instructor, almost any classroom activity can be translated to an at-home assignment.
This summer, Erika Greenberg-Schneider, an associate professor of graphic design at USF and Chevalier de l'Ordre des Arts et Lettres., faced a challenge. How do you teach an online printmaking course when students don't have access to a printing press from their living rooms? "I thought about all the ways ... mankind has transferred images simply from one space to another," Greenberg-Schneider said. No printing press is needed: Just imagination and creativity.
Students in her class will explore everything from potato prints inspired by the artist Louise Despont to frottage, which Greenberg-Schneider learned in Paris. "I used to make notebooks, to remember certain feelings or things that I would see. And one of the techniques that I learned about when I was over there was something that the famous surrealist Max Ernst used in his work, which is called frottage or rubbing."
An important component of at-home art? Make sure materials don't stain. "I remember the face of my mother when I started doing alternative photo processes at home and the bathtub was turning blue. I remember her complete panic. And I don't want to do that to parents.
Practice the Skills for Success
Online classes do require a different skill set.
Staying in contact with your professor is key to success.

"

The number one thing that I would encourage students to do is not be afraid to communicate with their instructors with any question," said

Katie Tricarico, an instructor and coordinator for the elementary education MAT program at USF.

"There is no question that is a bad question."

Manage your time carefully. While it may be tempting to wake up at 7:55 a.m. for an 8 a.m. Zoom meeting, resist the urge. Make sure you give yourself time to be prepared and focused for your online course, just as you would for an in-person class.

Set aside a physical study area where you won't be distracted, Tricarico said.
Remember, you're not alone: Your professor is there to help you succeed. Study groups with peers are another valuable resource. If you'd like to connect with fellow students, Friedman said you can ask your professor, "Is there any way that you can have me meet with a group or suggest other students that might be open to working a little bit more collectively to get through the assignments?"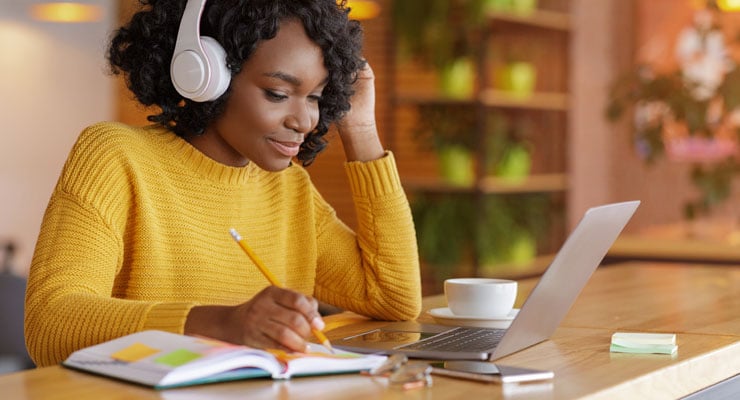 Keep an Open Mind
As you embark on your college journey during COVID-19, your experience might look different than you'd expected. That's OK. We're all in this together – professors, university staff, and students. "You have to be intellectually mobile, you have to be able to move, and you have to be able to invent new spaces, invent new ways to look at things, and invent new ways to communicate," Greenberg-Schneider said, "So, this is all a big lesson for everyone. And I think it's a good one."
Remember that we're here to answer any of your questions. Contact USF's Office of Admissions online or by phone at 813-974-3350.