How to Find Your Passion and a Career You Love

In a perfect world, everyone would start college knowing what they would love to do for a living. Students would already have a plan to apply their interests to career challenges and curriculum choices. They'd intuitively know how to use college as a stepping stone to a career that makes them a productive individual, as well as financially and emotionally fulfilled.
Regardless of how completely you've planned your path from the classroom to the workplace, college is the perfect place to discover how to find your passion and a career you love.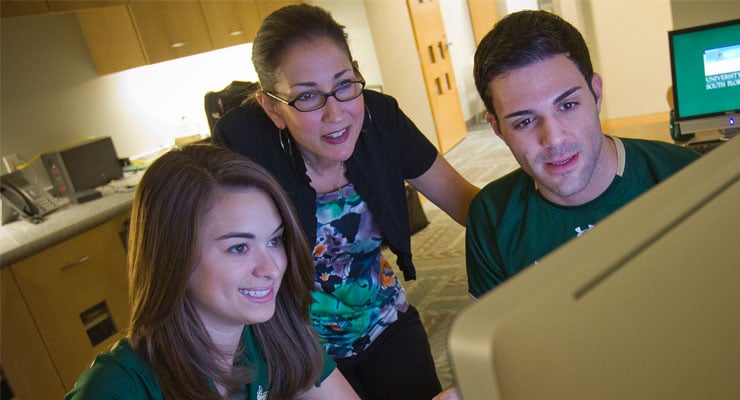 Find the Door to Your Future by Exploring Your Past
If you have known what you wanted to be since the first time you picked up a baseball bat, protractor, paintbrush, spatula, or pen, congratulations and good luck. Most people, however, are still looking for their driving force when they get to college. A quick inventory might help with that hunt:
What are the pursuits you have stuck with that bring you the greatest pleasure?
What are the material things with which you most strongly identify?
What are the non-material things, primarily habits and personal pursuits, that define you?
What opinions would you form about yourself if all you had to base them on was a look around your bedroom (furnishings, knickknacks, belongings)?
Finding your passion isn't as simple as it sounds. For most people who haven't been consumed by an idea or ability since it first surfaced, labeling what puts a smile on their face takes serious introspection.
So, where do you find your passion in the clues surrounding you? Let's say you have a softball trophy on your bedroom dresser. What was it you liked most about earning that trophy? Was it the pleasure of using the physical and mental skills you possessed? The strategy of the game? The teamwork? Inspiring teammates? Leading? Following?
Therein lies your passion, or a piece of what constitutes your passion. And you don't have to wait until college to start identifying your passion and a career you love.
Look for Passion in Your Skill Sets and Interests
There are countless tools to help you find your passion and inventory your skill sets. Yes, aptitude and assessment tests often just affirm what you know, but the results can sometimes surprise you as well. They can prove, for instance, that the reason you cherish that softball trophy on your dresser is the role you played as a team leader, not the sport itself or your batting average.
For some, making sense of self-assessment that focuses on likes and dislikes is a starting point in the hunt for a career built on passions. Taking the hunt to the next level can include:
Career counseling. In the words of the National Career Development Association, a career counselor can help you learn more about yourself, gain educational and occupational information, learn about decision-making and career planning, conduct a job search, apply to graduate or professional schools, join other training programs, and cope with career challenges and transition issues.
Self-assessment tools that help you explore your values, interests, and personality can help, including these free career aptitude and assessment tests.

College Lets You Explore Your Interests and Options
The ultimate career tool is college, which can train you for a traditional job that has always been your dream or even prepare you to create one based on your talents and unique skill sets. Even an undeclared student taking basic courses will encounter more career ideas than they have time to explore.
Students can explore career-oriented outlets for their passion formally through class selection and internships or informally through employment opportunities in college. Volunteer work on campus and in the community also can help you develop skills and connect with issues, pursuits, and people who inspire you and evoke passion in a new cause. At USF, we even have the Center for Student Involvement, a department set up to help you get involved and connect with others.
Not even sure what to study once you arrive at college? USF offers Exploratory Curriculum Majors where students can discover career fields and disciplines they may not be familiar with.
Questions about pursuing your passions at USF? Our USF admissions advisors are happy to answer your questions about the USF admissions process, so contact us online or by phone at 813-974-3350.