Written by: Joe Emerson // Jun 15, 2020
---
Last updated: Jul 22, 2020
Successfully advancing from high school to college isn't easy. It gets particularly difficult when a highly infectious disease becomes one of the risks of communal life on campus. That's the new reality, but incoming freshmen will find they only need to adapt and overcome to successfully transition from high school to college during COVID-19.

A 2-Track Approach to the Academic Transition
There's no boot camp for the college-bound, no structured training, but taking the Marine Corps as a model might help. How do the Marines overcome obstacles and achieve goals? They adapt. Not a bad approach in the age of COVID-19.
This isn't Parris Island (Marine Corps boot camp in South Carolina), but it is a place in time to learn how to adapt and overcome the obstacles between you and that college degree. The obstacles are the traditional challenges high school graduates long have faced in preparing for and transitioning into college life, amped up by the challenges of the coronavirus.
Let's begin with a few informational drills on traditional challenges, then shift to adapting to COVID-19 complications.

Transitioning from High School to College – the Old-School Challenges
Most college freshmen will be living independently for the first time in a strange place a long way from home. There are countless firsts on their horizons and for parents. They, too, are going to have to do some adapting and overcoming when their students leave home.
This first section of tips on the standard college transition process from USF's Admit-a-Bull blog is for parents:
Tips for Parents on Prepping Students for Independence
Make sure your student is ready for the academic challenge.
Consider summer activities that can boost confidence, independence.
School them on skills they'll need in college.
Make sure they know what to expect.
Be sure they know about their school's support systems and how/when to use them.
Ensure they know how to build a social safety net to shield them from stress, loneliness, and homesickness.
Make sure you are prepared to let your student become truly independent and largely self-sustaining.
Discuss your student's hopes, dreams, goals, and expectations.
Discuss your hopes, dreams, goals, and expectations for them.
Talk about those difficult-to-approach issues.
Discuss potential college-era parent-student clashes and how to avoid them.
Know What to Expect; Knowledge Is a Game-Changer
USF Bull Riley Herr said these were the five biggest changes she experienced in the transition from high school to college:
Your circle of friends is going to change – radically.
You will have a much greater say in your course load.
There will be new opportunities for internships and jobs, and you'll be making the choices.
There will be a surprising amount of expert guidance available.
Your time management responsibilities will balloon, and meeting them will make or break you.
USF Bull Shayanne Dove shared things she wishes she'd known before her freshman year:
You need to be sure that your passion (think major) really is your passion.
Maintaining a part-time job pays off in many ways that don't involve the wallet.
Letting go of toxic people is a must.
Finding a student organization to join is a social networking godsend.
Renting your textbooks pays.
Exercising your body helps you exercise your brain.
Campus isn't a fashion show catwalk. Take your sweats.
Leave the early class seats for the early birds.
Taking college seriously is a must, but having fun is important, too.
And USF Bull Chaveli Guzman was pleasantly surprised that:
You make your own schedule, and you alone are responsible for meeting it.
You can pull pre-exam all-nighters in the library.
The freedom is exhilarating, but it comes with accountability.
You don't have to get up before 8 a.m. unless you choose to.
What You Need to Do Once You're There
Transitioning is about carving out a niche for yourself, usually on an unfamiliar campus in an unfamiliar community and often in a state that's new to you. A few concise to-dos are in order.
Make your studies a priority. Grades matter. A lot.
Make your physical and mental health your No. 1 priority. Everything else flows from that.
Stay active, physically and mentally. It's a good way to control homesickness.
Find your balance and maintain it. That means a balance of activities and priorities, play and work.
Get connected to campus resources, organizations, social circles, and activities.
Enjoy yourself during this first year at college as you explore new paths in myriad directions.
Visit the campus before you move in, even if you have to do it virtually.
Sharpen your organizational and time management skills, and become a master scheduler and list maker.
Craft a budget and learn to live by it.
Use your newfound freedom wisely, which includes limiting the late nights and eating properly.
Prepare for the inevitable homesickness, which, once again, means creating a social safety net and getting connected to campus resources that help you stay safe, healthy, and on top of your academic game.
Life Skills – Got Some?
All those things others have been doing for you – laundry, housekeeping, shopping, cooking – will be your responsibility. You need to know:
How to keep your living space clean and orderly
How to cook for yourself, from shopping to meal prep (Think healthy.)
How to navigate an unfamiliar city/state
How to manage time
How to make new friends and forge positive relationships
How to present yourself as a professional (Think internships, jobs.)
How to stay safe (Know your territory and the resources that can keep you safe.)
How to manage your money
How to manage your health
How to be a leader (Think intramural sports, classrooms, study groups, fraternities, sororities, student government.)
Going to School in an Unfamiliar State? Distance Matters
Prepare for an adventure. Translation: Get ready for unfamiliar things in unfamiliar places. And remember that it's an adventure, not a trial by fire. Mindset matters.
Prepare for different terrain and weather. Pack accordingly.
Prepare for social differences that extend beyond the campus and can fuel homesickness. It's a vast and varied country, geographically and culturally.
Prepare for the physical transition as framed by your new location. Meals. Housing. Transit. Medical care. Basic needs such as banking.
Prepare for the costs of attending an out-of-state school.
Be Advised That Academic Challenges Are Many Degrees More Difficult in College
The college transition, in the end, is about a physical and mental metamorphosis undergone for the sake of academic performance. If you don't have the skills to handle the big three – studying independently, crafting college-level prose, and doing analytical reading – you might benefit from a stint in community college or a summer of remedial education.
If you feel comfortable with your academic skills and don't need to burn every available minute shoring them up, use your free time to expand your reading horizons. Reading tops most to-do lists on prepping for college classes, along with:
Communicating with your instructors before courses begin
Learning where to find academic assistance on campus
As you can see, there's a lot to the academic transition. Now there's COVID-19, too.
Transitioning from High School to College in the Time of COVID-19
USF, like many colleges, got its introduction to the realities of COVID-19 when it had to shift from brick-and-mortar to totally remote education in the space of one spring break. Students were notified after the break began that their return would be a virtual one to online instruction.
It was a technical challenge. Those with no remote learning experience had to adapt to Canvas (USF's main remote learning platform), eduroam (a roaming access service), and other remote learning tools ranging from Office 365 to Microsoft Teams.
Never taken a virtual class? Don't go in cold. At the very least, check out these 10 tips for succeeding in online classes.
How USF Is Adapting to Overcome the Coronavirus
As of this writing, USF expects a return to campus life in the fall. That means students will have to adapt to a strategy and protocols for staying safe. That guidance is coming in phases as the pandemic evolves, so getting the lowdown on what to expect when the school year starts is an ongoing process. Students can go online for campus community updates or dive into a stream of emails flowing to personnel and students.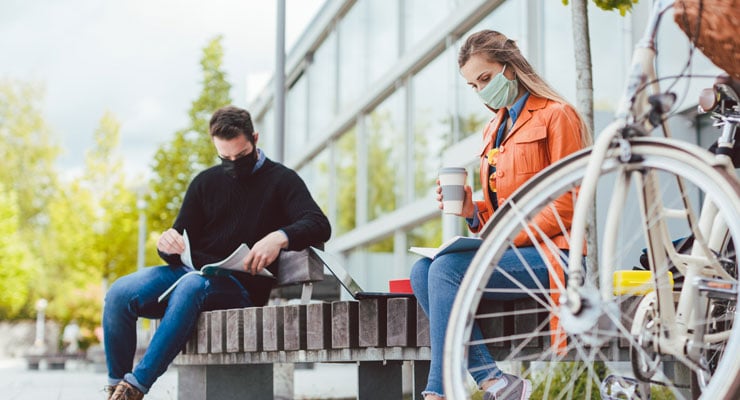 Here are excerpts from USF community updates that are bringing fall into focus:
"(W)e intend to offer some face-to-face classes in the fall. We have decided that after Thanksgiving, however, all classes and final exams will be delivered in a quality online format. These modifications are intended to avoid potentially thousands of students, faculty and staff from returning to our campuses after traveling for the holiday. A full array of support services, such as advising, tutoring and counseling, will continue to be available to students remotely during this transition near the end of the fall semester."
"Life on campus will be different with the introduction of practices that will most likely include enhanced cleaning protocols, physical distancing, required face coverings, testing, contact tracing, and quarantine, or self-isolation when necessary."
The USF website also tracks campus-related instances of COVID-19 and events. (Summer commencement was canceled.) And it has a section for frequently asked questions. Here's one posted May 15: "Will tuition and fees be adjusted for fall 2020?" The paraphrased response: The board of trustees hasn't weighed in on tuition and fees yet.
The difference between preparing for college and the academic transition in 2020 versus 2019? In 2020 you have to prepare to meet the old-school challenges while walking the coronavirus tightrope: stringent adherence to evolving state, local, and campus guidelines designed to help you adapt and overcome.
Basically, it's the same academic transition dance – but in high heels.
Connect with Admissions Offices
Since schools' COVID-19 strategies must continually adapt to the disease's progression, it's a must to stay connected with your school online, by email, snail mail, or phone. The mother lode of guidance flows from admissions offices, which are clearinghouses for critical information.
The USF Office of Admissions is always ready to engage. Contact us online, check out our new student and parent toolkit, or reach us by phone at 813-974-3350.