Myths About SAT and ACT Tests

Everyone loves studying for college entrance exams. Real or not real?
Okay, that's an easy claim to bust. But other rumors surrounding ACT and SAT exams can be trickier. Your job is to make yourself the most well-rounded college applicant possible, with a strong high school GPA, impressive course work, solid extracurriculars — and good test scores. Our job is to help you sort through the quagmire of information. Let's start debunking those myths about SAT and ACT tests.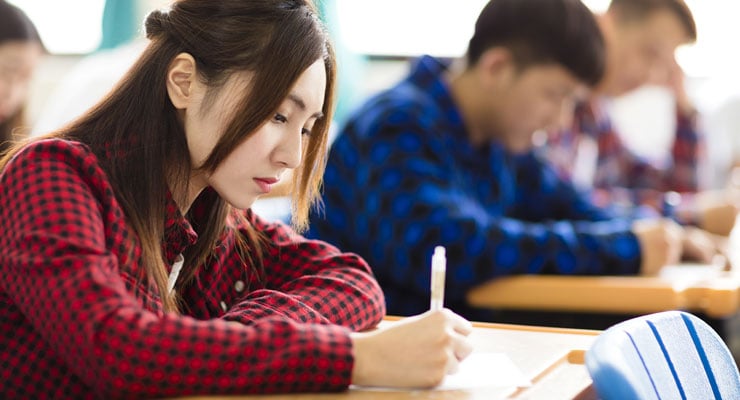 Myth: I have to spend thousands of dollars on test preparation.
Reality: You can prepare for your exams with minimal costs.
Some people spend more on test prep than others spend on a semester of college tuition. You'll be happy to know this is unnecessary. To successfully study for the ACT or SAT, all you need to do is that: Study. How you study is entirely up to you. So is how much money you spend.
First, think about your learning style:
Do you like learning within a structured class environment, under the guidance of an instructor? You may benefit from an in-person class. Before signing up for a test prep course, you should know that they do not significantly boost scores. A 2009 report showed these courses provide an average gain of 30 points for the SAT and less than a point for the ACT.
Do you enjoy the structure of a class, but struggle with a busy schedule? You may need the flexibility of an online test-prep course.
Are you good at motivating yourself? You may thrive with a study guide and myriad practice tests and resources online.
Do you need one-on-one support? You may want to work with a tutor.
As you examine what fits within your budget, consider these free resources for SAT and ACT test prep:
If the cost of taking the test itself is prohibitive, you can apply for a fee waiver for the SAT and a fee waiver for the ACT.
Myth: I don't have to worry about studying for college entrance exams until my senior year.
Reality: Start taking those practice tests much sooner.
First, decide which test to take: the ACT or the SAT. Then, study for your chosen test. Both steps take time.
Exactly when you start studying will depend on your schedule, needs, and goals. This is one possible timeline:
Sophomore year: Free, full-length practice tests can help you decide whether you prefer the SAT or ACT. You can also take preliminary tests that will give you an idea of each entrance exam: the PSAT/NMSQT, which corresponds to the SAT, and the PreACT, which corresponds to the ACT. (Here's another reason the PSAT/NMSQT is worth taking: It may qualify you to be a National Merit Scholar.)
Junior year, fall term (if not sooner): Start studying for the ACT and SAT. Use full-length practice tests to evaluate your progress during this study period. U.S. News and World Report recommends that you take at least one practice test "at the very beginning, one at the midpoint and one near the end." This will help you fine-tune your strategies.
Junior year, spring term: Take the ACT or SAT. Some experts recommend taking both tests if you are still unsure which you prefer; others say you should focus your efforts on just one exam. Either way, taking the exam(s) junior year will help you identify where you need to refine your study strategies. Again, space those full-length practice tests throughout the process so you can assess progress.
Junior year, summer term: Retake the ACT or SAT. Doing this the summer before senior year allows you the flexibility to take the exam a third time in the fall. It may also prepare you for early admissions deadlines.
Senior year, fall: Retake the ACT or SAT for the last time. We don't recommend taking college entrance exams any more than three times, because your scores are unlikely to improve on a fourth attempt. Use your time to prepare for college in other ways.
Myth: I am a bad test-taker, so I'll never do well on the ACT or SAT.
Reality: Test-taking skills can improve with practice.
It's true that some students find test-taking more difficult than others. This is because everyone processes stress differently. A Washington Post article explains it like this: "Our performance improves with increasing stress, perceived as excitement, but only to a point, beyond which performance suffers. We all have a peak point … and where that peak falls is very individualized."
In other words, some people's brains process the stress of test-taking as excitement, boosting performance. Others find the stress overwhelming, making them go blank on test day. These responses have nothing to do with a person's intelligence, courage, or potential. It just means that we each have a performance "sweet spot," where the amount of stress is just enough to motivate us.
Here's the good news: You can change how your brain responds to tests. To do this, a neuroscientist quoted in the Washington Post suggests "more practice, with some stress." Take full-length practice tests under stressful circumstances, like a time limit, to help yourself get used to the anxiety of a big, timed exam. You'll be more resilient come test day.
For some students, test-taking difficulty can also be due to a learning difference. If you have a learning disability, you can request special accommodations before you take a college entrance exam. Admissions officers won't know that you received these accommodations, so it will not affect their decision. Make sure you request these accommodations in advance because the process may take a while.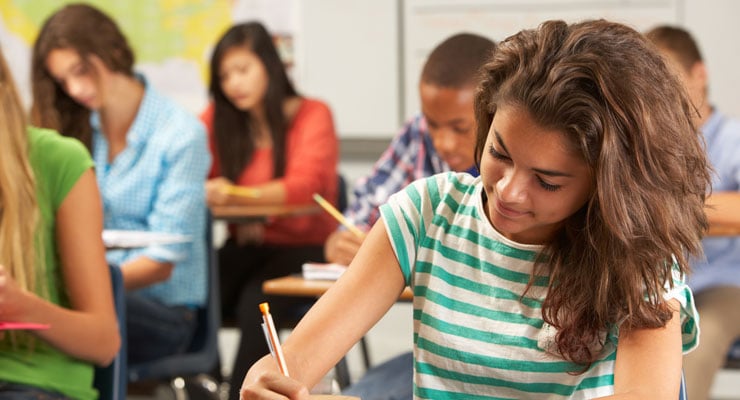 Myth: If I bomb the ACT/SAT, my life is ruined.
Reality: Your test scores do not dictate your academic future.
First of all, it's common for students to take the test more than once — and to score better the second time. According to the official ACT website, 57 percent of students from the class of 2015 who retook the test earned a higher composite score on their second attempt. Many colleges superscore results, which means your lower test scores won't count against you. Because USF superscores, we encourage students to take the test a maximum of three times. The university will only use your best section scores.
Second of all, maybe this is your third test-taking attempt, but you just can't get the score you want. That's okay, too. Your scores aren't even the first thing colleges pay attention to. When admissions officers look at your application, your grades rank highest in importance, your course rigor ranks second, then your SAT or ACT scores rank third. Colleges look at the whole picture: If you have high grades and a strong record of academic achievement, an admissions team will take that into account. (And if your grades aren't ideal, find out how to get into college if you don't have all A's.)
Finally, you may think that very low scores deprive you of college choices. In reality, you can choose from more than 1,000 accredited schools that are "test-optional" or "test-flexible." You may also consider starting at a community college that does not require SAT or ACT scores.
Myth: I don't have time to study for the SAT or ACT.
Reality: You can break studying into small tasks and make the most of a busy schedule.
Test preparation can feel overwhelming. But it is possible to find study time, even with a jam-packed high school schedule. Try these strategies:
Make it a fun challenge. Shaan Patel, who achieved 2400 on his SAT, suggests tacking a vocabulary "word of the day" to your fridge and incorporating it into at least two conversations. You'll be erudite in no time.
Sign up for a daily practice question through the ACT or SAT. Take the time to fully understand and analyze the question. In standardized test prep, "the quality of review often trumps the volume of review questions," according to U.S. News and World Report.
Create or join a study group. Spend time with friends while making valuable progress on your test prep.
Build rewards into your study strategy. It's a good idea to take a full-length practice test once or twice a month — but that means giving up a weekend afternoon. When you're done with the practice test, reward yourself by doing something you enjoy.
Myth: The ACT is better than the SAT (or vice versa).
Reality: The tests are equally challenging and equally respected.
In the past, the SAT was preferred by the East Coast, and the ACT was preferred by the Midwest. Today, schools across the United States have no preference, which means you have the freedom to choose which test you like best.
Both tests are challenging in different ways. The ACT has been described as an "achievement" test, with more straightforward questions to assess what you've learned in high school. The SAT has been described as an aptitude test that assesses the skills necessary "to succeed in college," with questions that ask you to apply problem-solving skills.
The content of the tests also varies:
The ACT includes a Reading Test, an English Test, a Math Test, and a Science Test. There is an optional Writing Test (which is an essay).
The SAT includes a Reading Test, a Writing and Language Test, and a Math Test. There is an optional essay.
Only by taking practice tests will you be able to see which exam you prefer.
Note: Since it was revised in 2016, the SAT test, like the ACT, does not deduct points for incorrect answers. So, for either test, never leave an answer blank — just make your best guess.
Myth: I need to spend all my time studying for the SAT or ACT.
Reality: Schedule time for self-care.
This is for all you overachievers: Put down your pencils, go for a walk, and get a good night's sleep. (Remember this advice the night before exam day, when cramming will do more harm than good.) A well-balanced lifestyle is important to your study strategy.
Eat nutritious foods (and avoid skipping meals just to knock out more study time).
Exercise. This will boost your mood, especially after long study sessions. And it may improve your skills in math and reading.
Get 7–9 hours of sleep a night. It's essential for your health and your ability to remember what you've learned during your last study session.
Practice emotional self-care, whether that means meditation, yoga, or talking with a counselor.
Use your support system. Spend time with family and friends who are healthy influences on your life.
Engage in positive self-talk. You're not going to achieve a perfect score on your first practice test. Don't let setbacks keep you from pursuing your goal.
Find time to do what you love. Colleges care about you, not just your test scores. If you're passionate about volunteering in the community, creating an artistic project, or leading a school club, prioritize these activities alongside your test prep.
Do you have more questions about college entrance exams or the admissions process? Reach out to the USF Office of Admissions online or by phone at 813-974-3350. We're ready to help.