Provost's Scholars Program: Benefits from a Student's Perspective

What is the Provost's Scholars Program? At USF, it's an engaging and immersive program that allows students to graduate from USF in three years instead of four. In addition to an accelerated classroom experience, students get access to high-impact educational activities such as research, internships and community-based service experiences.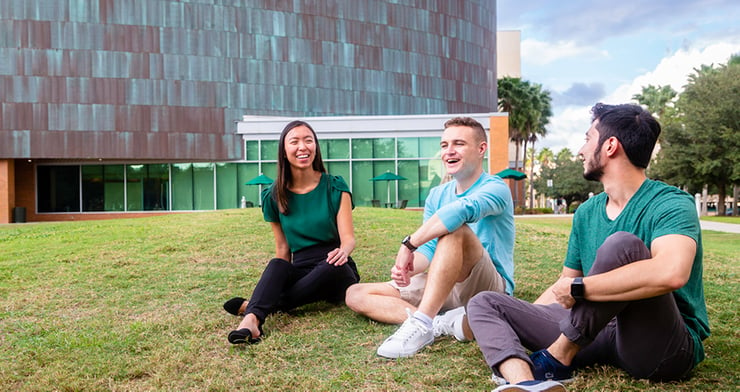 What's the Provost's Scholar Experience at Other Colleges?
It's important to recognize that there is no single definition for a college's "Provost's Scholar." The program requirements, benefits, and even term of entry can differ widely across colleges. Some colleges welcome in a cohort of provost's scholars in their first semester of freshman year, while students at other colleges may not join this program until their junior year. Some schools don't even offer a "Provost's Scholar" program.
Despite all the program differences among colleges, scholars frequently receive a few common benefits:
Accelerated program completion
Special scholarships
Exclusive housing options
More flexible schedules
Service, leadership, and professional development opportunities
What Our Students Are Saying
Here's what our students are saying about their experience as students in the USF Provost's Scholars Program:
Gabrielle Messe
Major: Chemistry
Minor: Criminology
Class of 2020
The Provost's Scholars Program is allowing me to complete my degree in three years and introducing me to ways to be more engaged with my community. Earning a chemistry degree in eight semesters requires rigorous coursework and time management ability, but the advisors and Provost's Scholar Program community have guided me successfully through the program.
To someone considering joining Provost's Scholar Program, I would tell them to do it — the benefits far outweigh the challenges. No other program offers the community and encouragement to expand your world view while also providing opportunities for professional development. People I have known since orientation are still my closest friends, and we are always there to help each other.
Once I finish my undergraduate degree, I plan to continue to graduate school for a master's degree in forensic science. From there, I hope to work for the government or local police department in forensic science. Provost's Scholar Program has helped me decide my future by offering tailored advice on how to reach my goals.

Alexandria Ramos
Majors: Biochemistry and German
Class of 2022
Graduating early was something I always knew I wanted to achieve as an undergrad, and Provost's Scholar Program provided the tools I needed to accomplish this goal. Not only does the program provide students with the structure to plan for early graduation, but it also encourages leadership and global citizenship. Provost's Scholar Program also provides extra financial support so students can afford to engage in activates such as study abroad.
There is much I want to accomplish and not a lot of time to do it all, but I have a ton of support from my Provost's Scholar Program advisor. Unlike other advisors, she has a lot of availability dedicated to Provost's Scholar Program students only. She is there for you and responds quickly to your questions and concerns. If she doesn't have the answers, she takes the time to ask around until the issue is resolved.
Overall, I think Provost's Scholar Program is a great program to develop characteristics that make for a well-rounded student, and you'll gain an edge on the competition by graduating early and participating in both leadership and global activities. Even at times when it feels hard or seems overwhelming, you are not alone! You are surrounded by a community of other students taking on the same challenges, and you can support each other along the way. Don't be shy – come join the Bulls Provost's Scholar Program Family!

Emily Moore
Major: Psychology
Minor: Women and Gender Studies
Class of 2020
I chose to join Provost's Scholar Program when I discovered that it was a way for me to graduate early by using the college credits I earned in high school. One of the advantages of Provost's Scholar Program was the chance to study abroad, which I took advantage of this summer on the USF in London trip. Also, the priority registration is a great relief when registering for classes for the coming semester.
The best support I've had in the program has come from the program advisor. She is so open and inviting to all students and works so hard to coordinate fun and interesting activities. She's great at building relationships so everyone can feel comfortable bringing questions to her. Other Provost's Scholar Program students also have been a great support, too. The mentor/mentee program that connects younger Provost's Scholar Program members with more senior Provost's Scholar Program mentors really helps you stay on track.
My favorite part about Provost's Scholar Program is the community of students who are experiencing the same things throughout their college career. If someone was considering joining the Provost's Scholar Program, I would tell them to first meet with the Provost's Scholar Program advisor and to make sure they are ready for the dedication of keeping up with a pretty heavy course load. However, I'd also tell them to get ready to be included in a great group of students and to make friendships that will last a lifetime.
In the future, I am planning to pursue my master's degree, potentially at the university I attended in London during my study abroad trip. Without Provost's Scholar Program, I never would have been able to attend the trip in the first place or gain the confidence in my academic ability to know that I could pursue a higher degree!
How Do You Choose the Right Program?
With all the benefits of joining a provost's scholars program, the criteria for entry often exceeds the college's general acceptance requirements. Choosing the right program for you may depend on your GPA, test scores, and earned college credits.
As an accelerated program at USF, students must also be prepared to complete a rigorous, three-year academic track. This tight timeline requires you to have fully committed on a program of study. Note: Some academic majors may not qualify for the Provost's Scholars Program due to their length, outside requirements, or other factors, so double check when you apply.
When evaluating programs, you should also weigh the individual benefits, such as academic support. If this is important to you, pick a program that offers exclusive services, like priority registration and dedicated advisors. USF also offers study abroad scholarships. If you want to broaden your horizons through international travel, consider a school that helps pay for your trip.
Join USF's Provost's Scholars Program
Ready to find out more about how the Provost's Scholars Program can save you an entire year's worth of tuition while putting you on the fast-track to your most successful future? Visit our website!