Is College Worth the Cost?

If you're a high school student, every adult in your life is likely pushing you to attend college. However, student loan debt is skyrocketing, and the average cost of college tuition has more than doubled in the last 30 years. This may have you wondering: Is college worth the cost?
In most cases, the answer is "yes." But making good choices is key to ensuring you benefit financially from a bachelor's degree.

Why College is a Good Investment
Although there are other paths to success, for most students, earning a bachelor's degree is still the ticket needed to lead a middle-class life. Keep reading to see why the cost of college is worth it.
College Graduates Earn More
In multiple national surveys, first-year students cite the ability to get a better job and make more money as motivations for enrolling in college. By and large, a college degree delivers on those aspirations.
According to a recent study by the Federal Reserve Bank of New York, the median income for a high school graduate is $30,000, while those with a bachelor's degree make around $45,000. That's a salary difference of $600,000 over the course of a 40-year career. For most students, these additional lifetime earnings cover the initial cost of college many times over.
The Majority of Jobs Require a College Education
A college degree wasn't always necessary to earn a good living, but times have changed. According to a recent report by the Georgetown University Center on Education and the Workforce, 70 percent of jobs will require a college degree by 2027. Without higher education, it may be difficult to secure a high-paying job. Additionally, having a college degree may put you ahead of other candidates for jobs where a degree isn't required.
College Offers Access to More Opportunities
Internships and co-ops are one of the best ways to get your foot in the door at a company and gain practical, on-the-job experience. However, in most cases, these opportunities are only available to current college students.
Colleges also offer ready access to career centers, counselors, job fairs, networking events, and other opportunities that can help you land a good position quickly.
How to Get the Biggest Return on Your Investment
While the cost of college can be a worthwhile, the choices you make regarding where to attend college, how to fund your education, and what to study can drastically affect your return on investment. Indeed, poor choices can saddle graduates with crushing debt that negates the value of a degree. Here's how to ensure you end up in the black:
Choose Your College Wisely
When creating your list of target colleges, be sure to add only those schools that are a good financial fit for you and your family. You may have your heart set on a small private college, but it will likely cost significantly more than attending an in-state public university.
Here are the average costs of tuition and fees for 2020-2021, according to U.S. News and World Report:
In-state

public college

:

$9,687

Out-of-state public college: $21,184

Private college: $35,087
No matter which college you choose, the end result is the same: graduating with a bachelor's degree. The difference lies in how much it will cost you to earn it.
Limit the Amount of Debt You Accumulate
College should not be a debt sentence. Unfortunately, many students take out enormous loans to attend a "dream school," only to spend the next 30 years paying them off – to the detriment of buying a house, getting married, or hitting other financial goals.
To maximize your ROI, focus on colleges that will allow you to graduate with the least amount of debt. Also, apply for scholarships and grants. Unlike loans, they do not need to be repaid. Getting a part-time job while you study may help reduce your need for student loans, too.
Select Your Major Carefully
Some of the highest-paying jobs require the most schooling, leaving students with more debt. Some low-paying jobs do, too. If it takes a long time to graduate, if you have a lot of student debt, or if you're entering a low-paid field, your return on investment will be reduced (or in some cases, eliminated).
For example, a sociology degree might earn a starting salary of $35,000 while an electrical engineering degree might earn twice that. Consider whether what you'd be making is worth what you'll pay for the major you selected.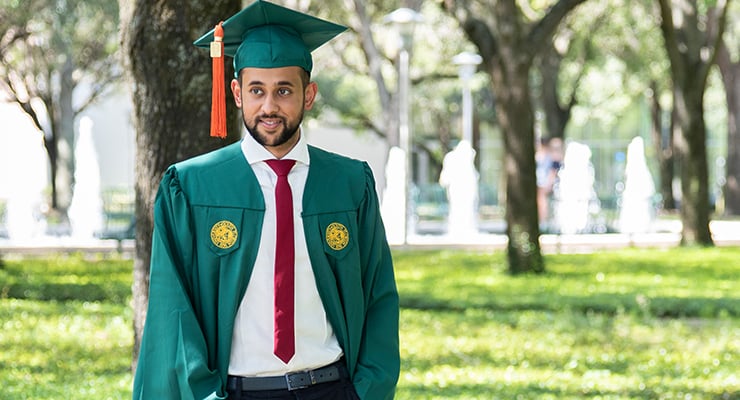 Finish in Four Years
According to the National Student Clearinghouse Research Center, only 58 percent of students who enrolled in college in 2012 earned a degree within six years. The rest of the students were still in school or dropped out.
A bachelor's degree was designed to be completed in four years. Every semester you spend in school beyond that will rack up additional expenses. Worst of all, if you never finish college, you'll have to repay any debt without the benefit of a degree.
Fortunately, many colleges have placed a renewed focus on ensuring students graduate in four years. In fact, USF's commitment to this effort placed the university at No. 4 on Eduventures Student Success ratings in 2018. When coupled with some of the lowest tuition rates in the country, our student success initiatives ensure that the time and money invested in a degree is worthwhile.
For more information on how to apply to our leading university, please visit the USF Office of Admissions website.