Start College Applications with These Simple Tips

Let's face it, the process to even start college applications can be intimidating and stressful. You need to gather documents, write about yourself, and complete what seems like a series of never-ending applications that grows longer with every page you complete. At the end of all your hard work, your only reward may be a cold "thanks but no thanks" letter. When you look at it all at once, it can paralyze you with fear and uncertainty.
Take a deep breath and resist the temptation to reconsider the whole college path altogether. Instead of adding up all the hoops you need to jump through, break the college application process down into small steps that won't send you into a fit of panic.
Talk about the College Application
The first step to getting off to a good start on college applications is to talk it over and get advice. This discussion can include application specifics, but it should also focus on your target schools and future goals. You're going to devote four long years of your life to a particular college, so make sure you're evaluating more than the pretty architecture and residence halls.
When discussing your college options and application steps, it's best to listen to people you trust who can offer informed advice. Turn to counselors, teachers, parents, and older relatives. You want someone who's been there, done that, and gotten the T-shirt.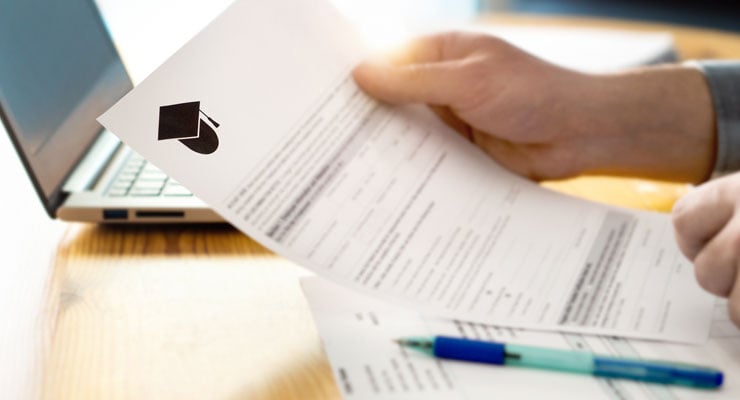 Chart Your Deadlines and Targets
How can you hit the admissions deadline if you don't know when it is? Once you know which schools you could see yourself attending, gather those important dates and deadlines. Mapping this timeline allows you to set some targets and form a plan of attack for these important dates:
Application process opens
Preferred admission deadline
Free Application for Federal Student Aid (FAFSA) deadline
Priority deadline for financial aid consideration
Scholarship deadline
Final application deadline
When you're forming this plan to hit these milestones, it's important to remember this tip: Stay realistic. The college application process can be exhausting, especially when you're applying to multiple schools. Thirty-five percent of rising freshmen in Fall 2016 applied to seven colleges or more.
Don't set overly ambitious personal goals that you can't possibly hit. You'll only end up more tired, frustrated, and discouraged when you miss them. Applying to college should be like a marathon, not a sprint, which brings us to our next point.
Start Early
Sure, you may think you work better under pressure, but this isn't your sophomore book report. College applications include a ton of moving parts, additional documents, and editing. Do not procrastinate when you should be working. The quality will suffer if you're scrambling to submit them by the deadline, and colleges will see that you didn't make their applications a priority. Plus, you won't have the opportunity to apply for early decision or preferred admission.
Some of the things colleges look for in potential students are responsibility, maturity, and a good worth ethic. Rushing through an application at the last minute sabotages your chances to look like a well-prepared student who's ready for the pressures of college academics. Remember, this is likely to be the first formal contact you'll have with the college. Make that first impression count.
Find yourself falling behind? Check out our article on applying at the last minute.
Get Organized
The best way to conquer the uncertainty and fear of college applications is to get organized. This includes everything from application documents to achievements you'll want to highlight. Getting organized will empower you with a sense of control by tackling those tasks that are in your power:
Make a list of all required fees, documents, and transcripts.
Report your standardized test and advanced-study scores (Advanced Placement, dual enrollment, International Baccalaureate, etc.).
Brainstorm answers to the questions about yourself you'll get on the application.
Reach out for a letter of recommendation from your college counselor.
Ask a trusted teacher or advisor to review your admissions essay.
Don't Forget Scholarships, Grants, and Aid
When you're in the midst of gathering documents and completing applications, it's easy to lose track of college finances. Don't let this happen. Getting accepted to your dream school is only part of the challenge. Paying for it is the other half. Fortunately, you have several ways to keep your college costs down:
State student grants
Institutional grants
Work-study opportunities

Start Strong and Finish Stronger
A great finished college application that grabs the attention of admissions staff and puts you on the list to receive the thick "accepted" envelope requires a strong start. Download our "College Application Start Guide" for a quick reference as you start your college applications.
Download Our Free College Application Start Guide
And as always, reach out to our USF Office of Admissions online or by phone at 813-974-3350 if you have any questions.