Written by: Leigh Perkins // Jan 17, 2020
---
Last updated: Mar 11, 2021
If your top-choice college is a large public school, it could be part of a university system, meaning it has a flagship or main campus as well as several regional, branch, or satellite campuses. Before you start clicking the send button on your applications, you might want to ask yourself if you're clear on this important question: What's the difference between the main campus and a satellite campus? Our handy guide to the advantages and challenges of both campus types can help you decide on the right choice for you.

Why Do Universities Offer Multiple Campuses?
Geography often plays a role in the creation of affiliate campuses, usually decided on by a board of trustees or regents, who oversee the public funding of new state campuses. Often, a university system is referred to as a multi-campus university, with its main campus as the primary location and its satellites serving communities geographically distributed across the state or region. Other times, a large state such as California which has 10 campuses in the University of California system and 23 campuses as part of the California State University system, nurtures a network of schools without promoting a single campus as its primary location. Each campus becomes known for its own distinct focus, personality, and areas of excellence.
A new campus might emerge where geography could have been an impediment to enrollment. A main campus near the coast, for instance, might serve its students living in the mountainous interior of a state by building a satellite campus closer to that community. Likewise, schools might offer multiple locations to serve a different demographic than the typical 18-year-old high school graduate enrolled on the main campus – for example, a smaller commuter school for working adults in a suburban neighborhood. In addition to regional branches of university systems, private colleges and for-profit universities sometimes offer an overseas location, allowing students abroad to pursue an American education even if they do not wish to relocate to the United States.
What Should You Consider Before Applying?
If you have narrowed your school choices based on your areas of academic interest, potential to meet enrollment standards, and costs, it is time to compare the merits of a satellite campus and a main campus.
Consideration No. 8: Convenience
Should the convenience of a campus located close to home influence your decision to apply there? Short answer: Maybe. But convenience is more than just proximity to your childhood home, assuming you're considering a satellite campus near your hometown. Excellent commuter bus service to campus from nearby apartments is a form of convenience, as is a wealth of housing options, opportunities for internships and part-time work, and proximity to your brand of fun – beach or nightclubs, houses of worship or climbing walls, big-city bustle or green fields spotted with cows.
Back to the convenience of residence halls: On-campus housing simplifies your life in a hundred ways and makes getting to class, activities, and your extra long twin bunk bed a million times more convenient than commuting from your parents' house to a suburban campus. The main campus will have residence halls. Smaller branch campuses may not. The main campus usually offers shuttle service from nearby neighborhoods. Smaller branch campuses may not. The main campus likely has a network of organizations for local internships. Smaller branch campuses may be more isolated, requiring you to seek internships far from campus. Of course, some branch campuses offer fantastic housing options, easy transportation to nearby attractions, outstanding internship opportunities, and the convenience of a world-class destination city right outside your door.
One final point when considering convenience: Even if you do not intend to complete all four years on a satellite campus, you might find it is a better choice for your first two years than a community college because your credits will transfer seamlessly to the main campus. There is nothing more inconvenient (and costly) than having to repeat a course that didn't transfer.
Consideration No. 7: Cost
Smaller satellite campuses often charge lower tuition rates than the main campus, but there are other cost considerations, too. Travel is one. Will you have to fly to and from your campus during holiday breaks? Will you have to buy a car and pay for gas and insurance to get to the satellite campus across town?
Another consideration is the cost of housing. Residence halls can be more expensive than an apartment near a small-town campus. A range of options near a big-city campus might prove more cost-effective than limited housing options on a rural branch campus. Of course, if a branch campus is located near your hometown, no option will be less expensive than living at home, with meals and utilities paid for by your parents, so weigh those potential cost savings, too.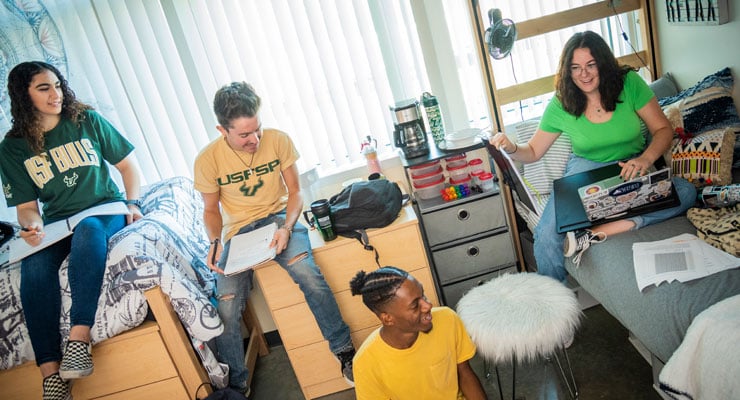 Consideration No. 6: Course Offerings
General education requirements are fairly standard across a university system, so your main consideration needs to be your major. Does a satellite campus offer the breadth of courses for the major you're considering (and, to be safe, your second-choice major)? Does the main campus only offer the popular, broad topics for majors and no specialized degrees? Let's face it, if you really want to become a blacksmith or learn the finer points of marine biology, you have to choose a campus that offers not only the curriculum for those topics, but also ideally a forge or a shoreline. If you know you want to be a general business major, either campus could work for you, so you might need to weigh other factors. If hands-on experience is your goal, a branch campus might fit the bill.
Consideration No. 5: Campus Life
Chances are, if you are a college football fanatic, the branch campus might come up a little short for you. Likewise, if you want a state-of-the-art gym, a majestic clock tower in the center of campus, nonstop activities in the student center, weekend concerts on the quad, and a green market in the courtyard, a branch campus might struggle to meet your needs. If, however, you are wild about finding your kindreds, taking a leadership role, getting in the mix, making an impact, and getting to know your classmates and professors, a smaller satellite campus might feel perfect for you.
Consideration No. 4: Quality of Instruction
University systems pride themselves on the expertise of their professors, but there are satellite campuses that must rely on adjunct professors rather than full-time faculty. This is not always an indication of lack of quality instruction. In fact, instructors with current professional expertise often impart market-ready skills to students as they prepare to enter the working world. Highest level academic credentials are critical, however, if you are planning to pursue a graduate degree, so consider the teaching staff before committing to a program at either a main campus or a branch.

Consideration No. 3: Personalized Attention
If one-on-one or small-group interaction with your professor is important to you, it might seem that a smaller satellite campus is the only choice for you. And it often is a great decision for students who learn best up-close-and-personal, with smaller classes, more frequent office hours, and a culture of collaboration between students and professors. But, if you do your research, you may find the main campus also offers research opportunities for underclassmen and living-learning communities, as well as small study groups, allowing you to learn directly from and be mentored by your professor. Group chats and social media can provide insight about the classroom give-and-take: Do students feel like a number on campus or like VIPs?
Consideration No. 2: Prestige
If you're worried you might have to qualify your degree by stating that it's "just from the satellite campus," be assured that a diploma from a branch campus features the same calligraphy as the sheepskin (or, more likely, parchment) from the main campus. A degree from one has no less status than a degree from the other, giving a boost to your credentials no matter where you studied.
It is important to note that a branch campus does sometimes offer a specialized program that is more widely recognized and respected than the main campus program, or sometimes a satellite offers a program not available at the parent location. In those cases, your satellite degree holds considerable prestige in your field of study. Likewise, a degree from a prestigious university – earned at a branch location – looks great on your resume and nobody needs to know you never stepped foot on the main campus.

Consideration No. 1: Vibe
How the campus makes you feel is as important as any other consideration. The best way to know if the vibe suits you is to visit campus, either in person or with a virtual tour. To get an honest evaluation, tour the main campus and the branch campuses you're considering. Go with an open mind and your own personal list of priorities. Once on campus, you'll know. You'll just know.
USF is a Preeminent State Research University that includes three distinctive campuses: USF Tampa, USF St. Petersburg, and USF Sarasota-Manatee. We invite you to compare our programs, amenities, convenience, and welcoming campuses to find the right fit for your academic future. Questions about applying? The Office of Admissions has answers. Contact us online or by phone: 813-974-3350.