Written by: Emily Young // Aug 6, 2020
---
Last updated: Nov 18, 2020
You want to make a positive difference in your world. Who knew it would be as easy as putting a piece of fabric over your face? Wearing a mask might seem like no big deal, but it's actually one of the simplest and most effective ways you can save lives. You've got questions about this hottest new piece of fashion. We've got answers. Let's dive into why and how to wear face masks during COVID-19: a guide for college students.
Wear a Face Mask to Save the World
By now we all know that wearing a face mask helps protect the lives of others. Those lives could belong to your grandmother, your neighbor, your little brother, your best friend's mom, your teacher, the person who bags your groceries. Be part of the solution. Wear a mask.
Pro tip: Should you wear a mask if you feel healthy? Yes! You can spread COVID-19 even if you have no symptoms. (About 50 percent of all COVID-19 infections happen this way.) This virus is very contagious, and you can infect someone simply by talking or breathing near them. That's why it's vital that we all wear masks anytime we're in public.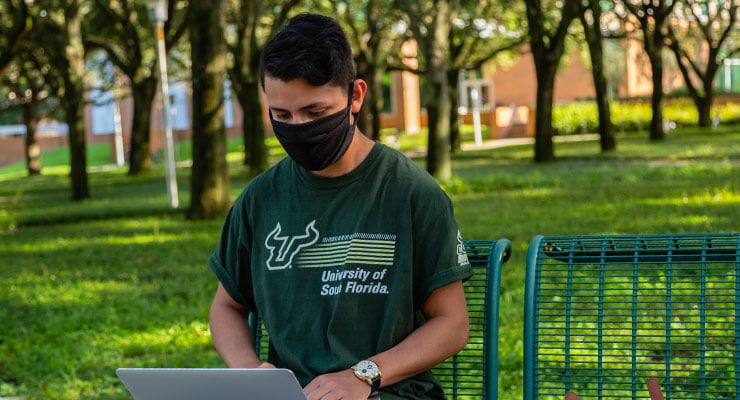 How to Choose a Face Mask
There are three main kinds of face masks:
N95 masks
Medical masks
Cloth masks

Most N95 and medical masks are reserved for health care professionals. That's why many people are using cloth face masks, which can help protect you and others from virus particles that are expelled when people talk, sneeze, cough, breathe, or sing. "Depending on factors such as the fabric thickness and the fit around the nose and mouth, these (masks) can be anywhere from 50 to 70 percent efficient at capturing particles," explains this Washington Post article explaining the importance of face masks.
If you're crafty, you can make your own mask using an old T-shirt. (This video tutorial shows you how.) If you want to purchase one online, our favorites are from Matteo and Rifle Paper Co.
A good mask should:
Be made of tightly woven, 100-percent cotton
Have at least two layers of fabric
Fit tightly against your face, forming a "seal" against your skin (If you have a small face, you may prefer a mask that has adjustable ties, rather than straps.)
Have pleats or folds
Be comfortable so you're more likely to wear it
Have a wire or copper nosepiece
Have a pocket for a filter

What do we mean by a "filter?" It's an extra piece of material you place inside the mask for additional protection. Here are two kinds of filters:
The easiest: two facial tissues folded over into four layers of tissue
The best: polypropylene (brand name Oly*fun), available at stores like Walmart. (This material uses static electricity to trap viral droplets and keep you from inhaling them. If you put two layers of polypropylene inside a two-layer, tightly woven cotton mask, it could block 70 percent of small particles, according to this NPR article.)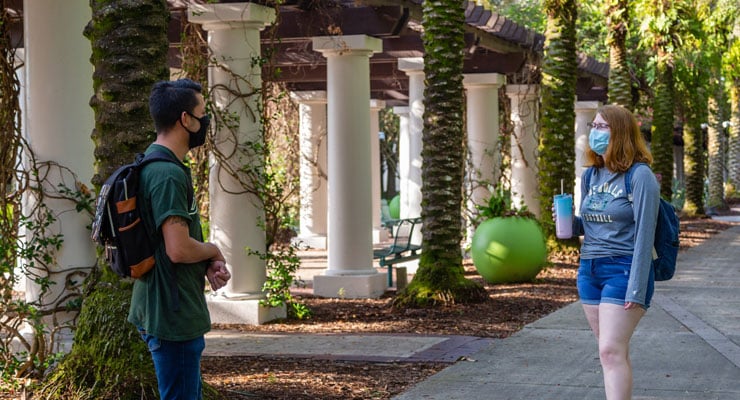 How to Wear a Face Mask
Do a trial run in your house before wearing your mask in public. It might take you some time to adjust to the feeling, says Mayo Clinic: "Wear your mask at home for a short time, such as while watching television. Then wear it during a short walk. Slowly increase the time until you feel more comfortable."
It's a good idea to know how to properly put on, and take off, a face mask:
Wash your hands.
Put your face mask on. Make sure it fits snugly around your nose, mouth, and chin. (Your mask won't work if your nose is peeking over the top.)
Leave your house.
Even while wearing your mask, stay at least 6 feet from other people. A sneeze can travel 26 feet, so remember that 6 feet is the minimum, not a true safety zone.
Don't touch your mask or your face while you're in public.
When you get home, wash your hands.
Remove your face mask by touching the straps, not the front of the mask.
Put the mask in your laundry basket to remind you to wash it before the next time you use it. (Take out the facial tissues before washing, if you're using them as a filter.)
Wash your hands again.

How to Wash Your Face Mask
Wash your mask after each use:
Use soap or laundry detergent and hot water.
Wash by hand or in the washing machine. Just like any other piece of clothing, your mask will probably come with instructions that tell you whether you can put it in the dryer or lay flat to dry.
Let the mask dry fully before wearing it.
Start the week with at least five clean masks so you'll always have one handy.
If you use a polypropylene filter, washing it will make it lose its static charge. You can "recharge it by ironing it or by rubbing it with a plastic glove for around 20 seconds," says the NPR article cited above.
How to Enjoy Face Mask Fashion
Masks aren't just medical equipment: They're also the hottest fashion trend of 2020. Want to represent your favorite TV show? Show off your love of embroidery? Rock that post-apocalyptic vibe? There's a mask for that. Unleash your inner Billie Eilish and express your personality by sporting a mask with style.
Cool eye makeup is trending along with masks. This is the perfect opportunity to embrace bold looks, from rainbow eyeshadow to glittery liner. Don't bother with any foundation, lipstick, or blush. Instead, channel all your energy on the eyes. We're loving these looks from Allure.
(Just make sure that if you do use makeup, you aren't tempted to reapply it or touch your face while you're out in public.)
Take Other Precautions, Too
Face masks can help protect you from getting sick. But they're not magic. "Masks do make us feel safer, but any benefit of wearing a mask will be quickly negated if we lose our resolve about social distancing and hand washing. Don't start lingering in grocery stores or spending time with friends because you are wearing a mask. A mask alone will not protect you from the coronavirus," explains this New York Times article.
Along with wearing your mask, take these germ-fighting precautions:
Wash your hands, especially before you eat, after you cough or sneeze, or after you've been in public. Use soap and water and scrub thoroughly for at least 20 seconds.
If possible, hang out with friends through video chat instead of in person. This is especially important if you live in states with a lot of COVID-19 cases, like Florida, Arizona, and Texas.
If you can't avoid being around other people, wear your mask the whole time and stay at least 6 feet away.
Choose outdoor activities, like going for a walk in a park, over indoor ones.
Avoid crowds.
If you're in close quarters (like an airplane), consider wearing glasses or even goggles to keep infectious droplets out of your eyes.

Spread Positivity, Not COVID-19
Every time you wear a mask, you're helping set a trend that makes protection cool. Join the ranks of celebrities who proudly showcase their face masks. Encourage friends to wear them, too. Remember that every time you mask up, you're protecting lives.
We know the world feels uncertain right now, but we're here to help you. USF's Office of Admissions is ready to answer any of your questions about attending college during a pandemic. Contact us online, or reach us by phone at 813-974-3350.